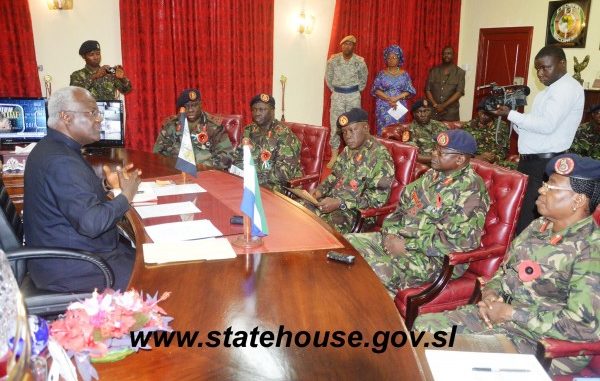 By State House Communications Unit
As the Republic of Sierra Leone Armed Forces (RSLAF) continues to play a pivotal role in the ongoing fight to eradicate Ebola, President Ernest Bai Koroma on Thursday 6th November received additional contribution from the military to aid the fight against Ebola. The RSLAF donated Four Hundred and Twenty-Six Million, Seven Hundred and Ninety Thousand Leones (Le 426,790,000) to help boost the fight against the spreading virus.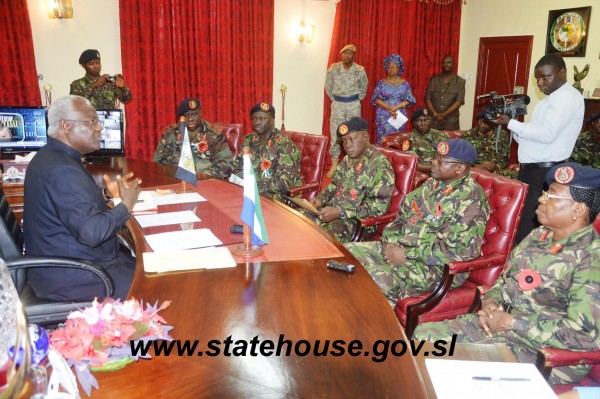 It could be noted that RSLAF has been part of the fight against Ebola in the deployment of forces in quarantined districts and homes and are recently championing the fight to eradicate the disease. President Koroma expressed thanks for the additional contribution made by the military and added that RSLAF has gone beyond the normal expected professional responsibility as they are now involved in every aspect of the fight. He lauded their involvement whilst pointing out the military's involvement in the construction of treatment centres, the running of the burial command center, providing security and facilitating logistical supplies.
"This is a commendable effort," he said. The president furthered that RSLAF has transformed the role of the military in national development and the perception of people about what is expected of the military, saying that such actions represent a kind of transition in the role the military can play in other national activities. Moving forward, President Koroma said, the intervention of the military in national engagement will proffer new ideas as to how "we can engage them in other aspects of national development".
The Minister of Agriculture, Forestry and Food Security Dr Joseph Sam Sesay on behalf of the China Henan Company Limited presented a cheque transfer of One Hundred Thousand United States Dollars ($100,000) to help government to eradicate Ebola. The Chief Executive Officer of the Sierra Leone Investment and Export Promotion Agency Raymond Gbekie as part of their contribution donated One Hundred and Thirty-Five (135) bags of 30kg rice, One Hundred and Five (105) litres of palm oil, and an additional Twenty-Million Leones (Le 20,000,000) to compliment government's efforts in the ongoing fight to fend off Ebola. The Director of the Public Sector Reform Unit Ms. Sidratu Koroma presented a cheque of Twelve Million, and Fifty-Four Thousand, Six Hundred and Twenty Leones (Le 12,054,620) as part of their contribution towards the fight against Ebola.