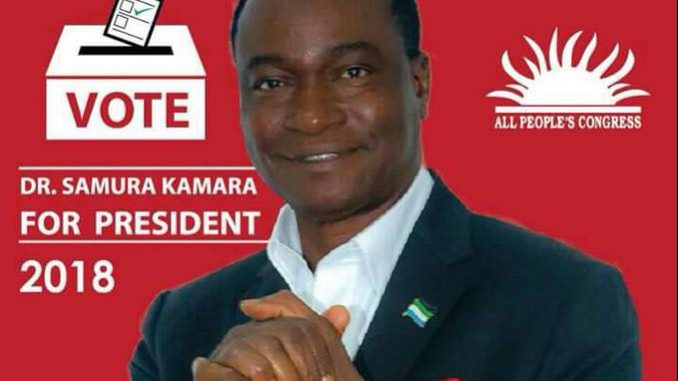 The Presidential candidate of the ruling All Peoples Congress says his main priorities if elected president will be addressing health care, education, water and other social services.
Speaking during his campaign meetings at Marjay Town, Funkia, Coffee Wharf and Dwarzark Communities Dr. Samura Mathew Wilson Kamara says the APC-led government has done tremendous work on infrastructure in the past ten years, a strong foundation he will build on to address challenges in the communities.
At Coffee Wharf, a fishing community at Aberdeen Village, where he is probably the first presidential candidate to visit, Dr. Samura Kamara calls on the people to hope for the better and to put their trust in him as their next president.
Dr. Samura Kamara, the man of the people
"My government will be with you the people as the APC has always been. We'll leave no one behind in our development agenda as we harness economic diversification and empower people," he tells the fishing community.
At Funkia, another predominant fishing community, he assures the people he'll construct the road, build an ultra-modern market and empower local traders, especially women, to be able to earn more income.
At Dwarzark Community, overlooking Freetown, hundreds of supporters warmly welcome the former Minister of Foreign Affairs and International Cooperation. He emphasizes the importance of quality education, affordable health care and access to clean drinking water and commits himself to provide all of this for the impoverished community.
However, Dr. Samura Kamara notes that he can only fulfill these promises the people demonstrate their trust in him through the ballot box in the presidential run-off elections on March 27th 2018.
Meanwhile, in all his campaign meetings Dr. Samura Kamara re-echoes his call for peaceful elections, and appeals to supporters and members of the APC to refrain from any form of provocation which may lead to violence.