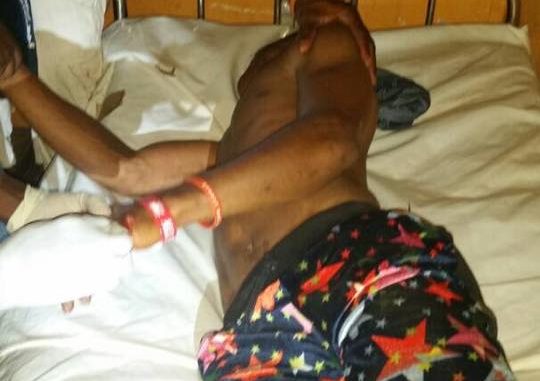 We were sitting down in our veranda when we heard a large group of men coming, some in vehicles and others walking , holding sticks and matchets, singing provocative songs against  Dr. Samura Kamara and his mother . We ran inside at first to take cover, but afraid that they will burn the house and we will die inside , we came back outside. We also thought that running away into the bush to hide would be the best option, not inside the house.
While trying to escape , I saw a group of men arguing with some of the inhabitants of the town. The intruders were demanding that they must paste the poster of Maada Bio on a structure where Dr. Samura Kamara's photo was already posted. The men told them that they cannot post their photo there because Dr. Samura Kamara's photo was already there.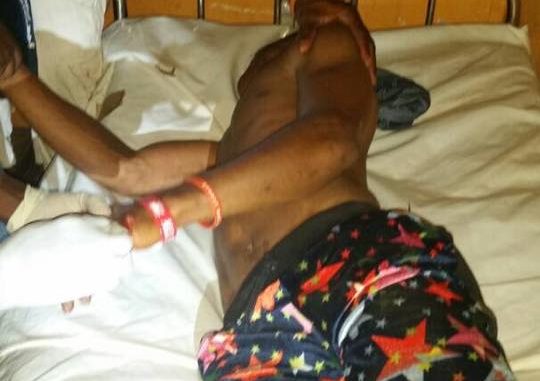 ONE OF THE VICTIMS INJURED IN THE ATTACK
The intruders refused and insisted that the building belonged to the Government and was therefore public property but the men said "No, the building belongs to Dr. Samura Kamara . It is not public property. It is private property " . The intruders said it was not private property . The men insisted that they were going to paste the picture there and a big argument started , with pushing and shoving between them.
That was how the fighting started. Before we knew what was happening, their supporters who came with them started throwing stones. "Den begin for vim we , so some of we begin for run for protection. . Before we know, den begin for tcherr en destroy Dr. Samura Kamara in poster en banner dem from the walls . Dr, Samura Kamara's supporters resisted and that was how the fighting intensified.
Fighting broke out and one of them fired  a gun which missed a woman narrowly. We decided to join the people who were running into the bush.
COCORIOKO : But emi Maada Bio say nar Samura Kamara in supporter dem attack them ?
SANTIGIE KAMARA : Uncle, nar de truth ah don tell you so. Nar dem cam with the gbose-gbose. Nar den cam with fet.
COCORIOKO : But why did they have to post their banners where Samura's banner was already posted ?
SANTIGIE KAMARA : Uncle, nar dat we sef nor understand. Make you see normoh. It is not as if they really needed to, because everybody in the town belongs to the APC .This is Samura Kamara's home town. It would not have made any difference if they pasted Maada Bio's banners   .We are all going to vote for Dr. Samura Kamara. Den bin just wan fen plaba . They just wanted trouble . They just wanted to bulldoze and take advantage of us. So, that was why the people resisted them.
COCORIOKO : So why did Maada Bio inform the world that APC
supporters attacked them ?
S.ANTIGIE KAMARA : Uncle, nar lie de man dey lie. Ask anybody den go tell you. Nar man wey just lek for bulldoze in way. Nar dat make even in compin soja den nor lek am en den nor get for vote for am. Den just wan cause confusion en blame APC.
COCORIOKO spoke to Sorie Kanu, Ya Mabinty Conteh and Faray Kargbo and their versions were the same—That the intruders who turned out to be SLPP supporters were the aggressors. They attempted to forcibly post Maada Bio's photo on a structure which they all said belonged to Dr. Samura Kamara and the quarrel over this triggered the chaos. If den bin just cam campaign, norbody nor bin for attack dem. Nar wey den try for post den photo near Dr. Samura Kamara nar dey de confusion begin.
SLPP SUPPORTERS DENY REPORTS AT FACEBOOK
Jeffrey Macarthy Kabs-Kanu: that's absolutely not true …..but there's one thing I know in Sierra Leone. From perspective its that posterity always judge's and vindicates the righteous one's
Paul Saffa :  Wilfred Leeroy Kabs-kanu, ironically the Police chief gave the interview in first person , but when asked if he was present , he said he met the situation had coiled down. My question is why didn't he use the word 'alleged' or ' from an eye witness 'in describing the incident. That would have saved him his day. Like I often say, I don't believe in political parties but principles and policies and the rule of law