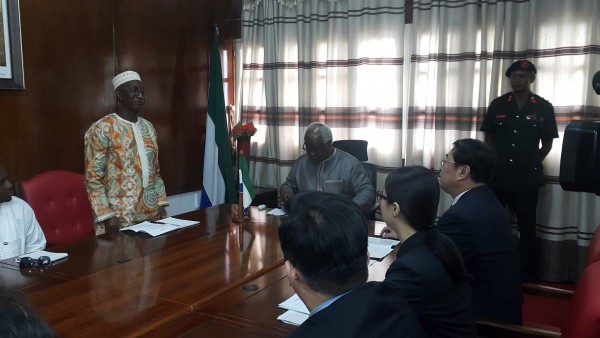 By State House Communication Unit
The Vice Chairman of China Iron and Steel Association, Hou Jun has said that USD$ 700 million will be utilized for the construction of processing plants as a further expansion of the Shandong Iron and Steel project in Sierra Leone. He pointed out that their goal is to work closely with the government to scale up China-Sierra Leone economic cooperation.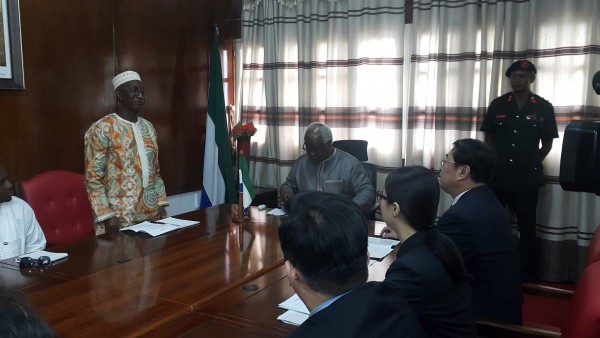 Hou Jun underscored the purpose of their visit saying that they were in the country to discuss the way forward for the project. He informed President Koroma that Shandong Iron and Steel Group has received three batches of iron ore samples for studies and will apprise the government of their outcome. Mr Jun reported that the company had addressed outstanding issues left behind by AML and has compensated local employees.
He explained that the company has taken multiple measures to avert such problems in future, noting transshipment as one of their challenges. He also noted that they had paid taxes and have invested about USD 40m in the operations and need the injection of more funds.
Receiving the delegation which was at State House on Friday November 4 to update him on the operations of Shandong Iron and Steel Group going forward, President Dr Ernest Bai Koroma welcomed the company's proposal to turn the economy around and added that the project had been through a very difficult transition from African Minerals Limited to Shandong Iron and Steel Group.
The transition, according to President Koroma, affected government and the company as it happened at a critical period. He said the situation was compounded by the drop in price of iron ore which was a very difficult moment for not just the company but also the government.
The president encouraged Shandong Iron and Steel Group to scale up its activities through the injection of capital investment into its operations and assured them of government's continuous support. "We will continue to support the project because we believe it's a win-win situation for both the company and Sierra Leone," he assured the delegation.
Owing to the strategic economic importance of the Shandong Iron and Steel project, President Koroma instructed his Minister of Mines and Mineral Resources, Hon. Alhaji Minkailu Mansaray, to be providing him with regular updates on the company's operations. The president also promised to visit the company's headquarters when he travels to China and