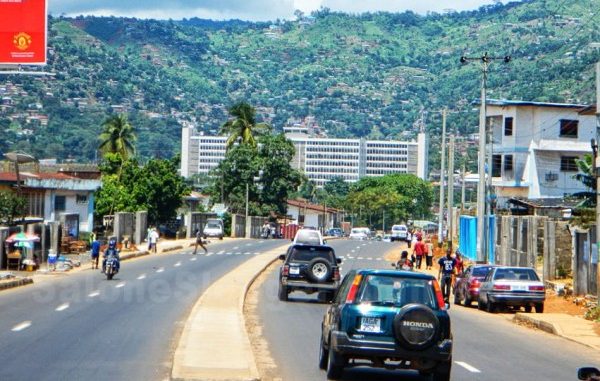 By KABS KANU
When I fled Liberia in 1990 to escape the bloody civil war that had engulfed the country and came to Sierra Leone, I remember a colleague Liberian journalist fleeing with me making this statement: : " Ma mehn, what kinda thing is this ? We thought Liberia was bad , but your country is worse! This is a stone age nation. "
The Sierra Leone then was so terrible some of us used to bow our heads in shame at what the Liberians who were running away from their country were seeing in Sierra Leone.
The roads were so bad , they were veritable death traps. From the border to Kenema, we were virtually ploughing swampy furrows, with the van getting stuck many times. we slept on the highway, stuck near Zimmi. As for the journey from Bo to Freetown, it was a nightmare and a disgrace. There were so many potholes we did not think we could have got to the run down capital of Freetown with the spring of the van still intact. The gallops were hurting our butts and backs. My friend said : "I cannot imagine how a whole people sat down and saw their country deteriorate to this level. If this had happened in Liberia, we would have had our revolution much earlier. "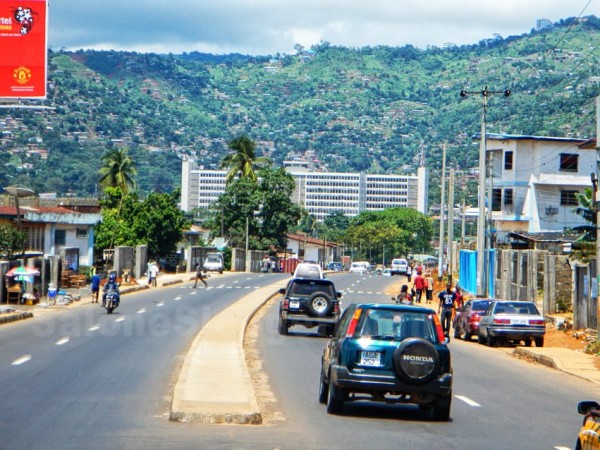 BEAUTIFUL FOUR-LANE HIGHWAY IN FREETOWN
We had long stopped complaining about Liberia and the focus had turned to Sierra Leone, which was more of a hell on earth than the very Liberia from which we were running away. From what we were seeing, Liberia was a heaven and the civil war was ironic. Windows hung on their hinges. The streets were littered with dirt and garbage.
All the beautiful roads President Siaka Stevens had built through the Vianini and Wahnmann Abu Companies had lost their coating and had been replaced by potholes.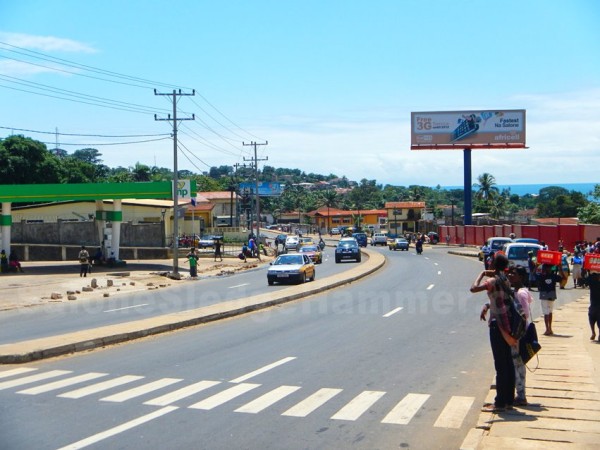 THE OUTSKIRTS OF FREETOWN
The country had no TV. The only radio station could not be heard beyond Waterloo. The buildings in the capital were ramshackled and dilapidated. Billows of dust trailed our van even in the capital.
Sierra Leone then had her own civil war for 11 years and the two governments that followed the Brigadier Momoh regime -' The military NPRC and the civilian SLPP – fared no better.Though President Ahmad Tejan Kabbah injected sanity back into the nation and also initiated many reforms , but executing rapid development projects was not his forte. Sierra Leone continued its downward spiral and became the darkest country in the world , without electricity. The roads remained horrendous. The Liberian journalist was spot on. Sierra Leone was a stone age nation..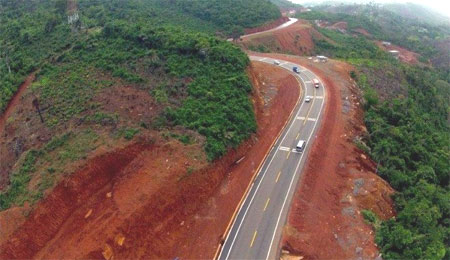 THE PICTURESQUE RURAL HIGHWAY
But if that Liberian journalist who now lives in the U.S should go to Sierra Leone today, he would be rapt in wonders and he would eat his words raw , because between 2007 to 2017, Sierra Leone has undergone a dramatic transformation under President Ernest Koroma that has made her the model of post-war reconstruction in Africa , according to the UN. The Liberian would sing praises for our nation where he once ridiculed us. Though Ghana continues to excel, in no other West African country have development projects been commissioned with fascinating rapidity as it has been done in Sierra Leone during the reign of President Ernest Bai Koroma.
President Koroma realized that Infrastructural transformation is the catalyst for growth and development, to use his own words.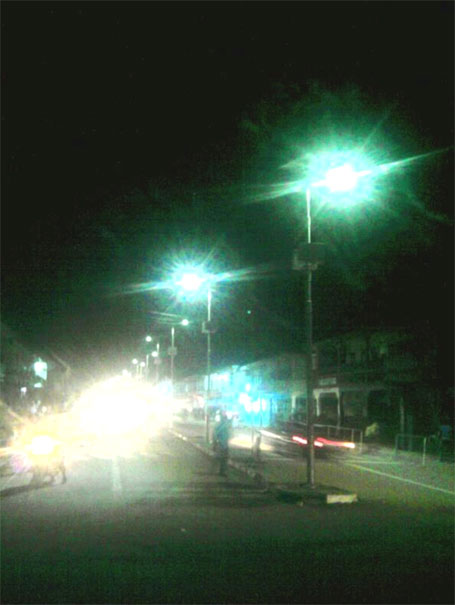 SOLAR LIGHTS ILLUMINATE THE STREETS OF BO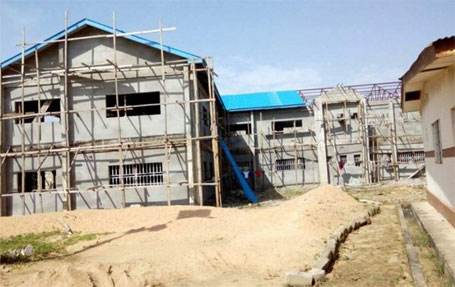 NEW HOSPITAL BEING CONSTRUCTED IN KAILAHUN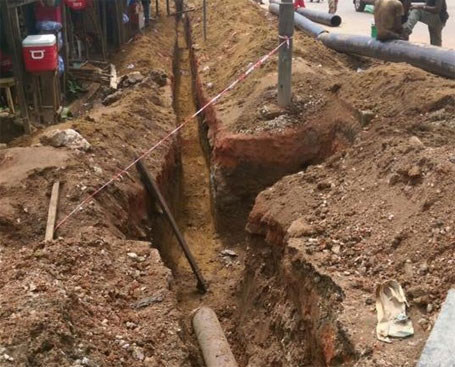 PIPE-BORNE WATER SYSTEM BEING CONSTRUCTED IN CITIES ACROSS THE COUNTRY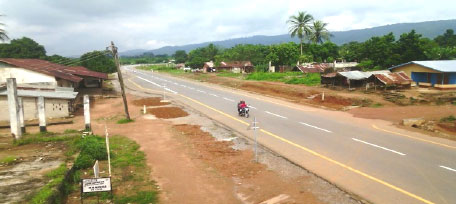 KENEMA CITY HAS A NEW FACE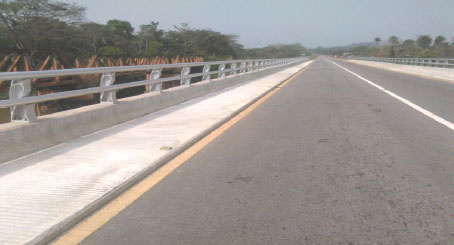 NEW BRIDGE TO KAILAHUN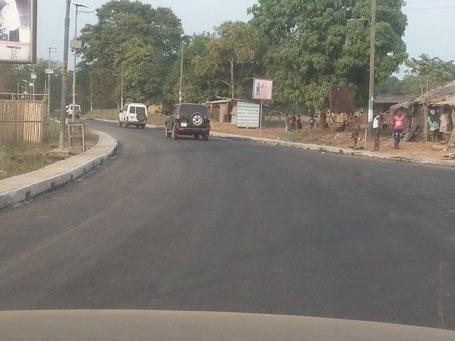 PUJEHUN TOWN IN THE SOUTH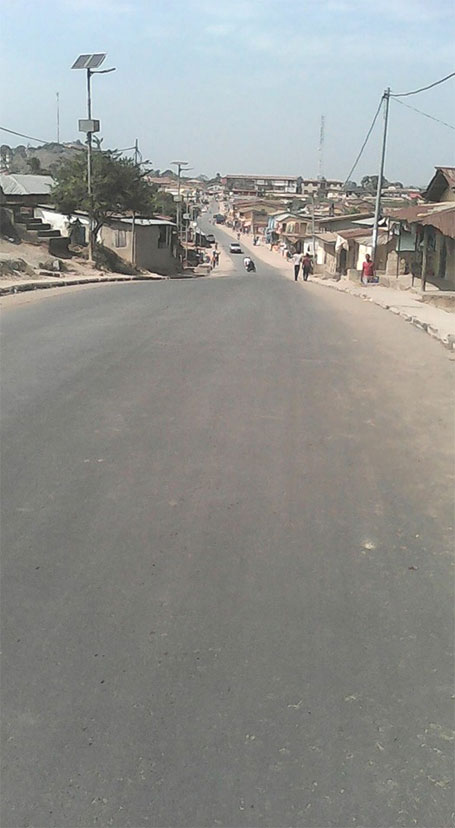 KOIDU CITY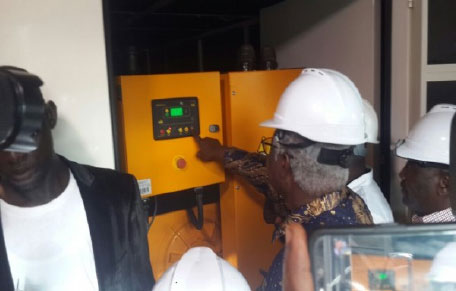 PRESIDENT KOROMA TURNS ON THE LIGHTS
Some cities may still be ahead of us in infrastructure, but if the next President who takes over from Ernest Koroma emulates his national development objectives and priorities, give our nation 10 more years : We will become the most infrastructurally developed nation in West Africa. Also, Sierra Leone would have attained sufficiency in food production and even our health facilities would have approached levels that will see West Africans stampeding our nation to seek medical treatment.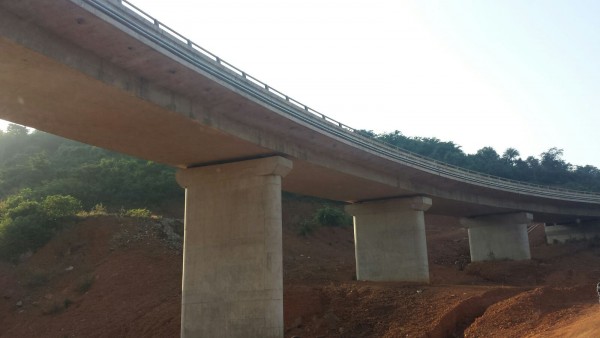 BRIDGE CONSTRUCTION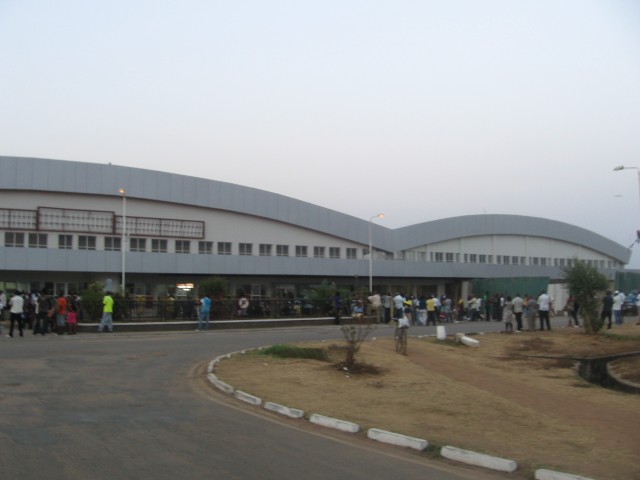 LUNGI INTERNATIONAL AIRPORT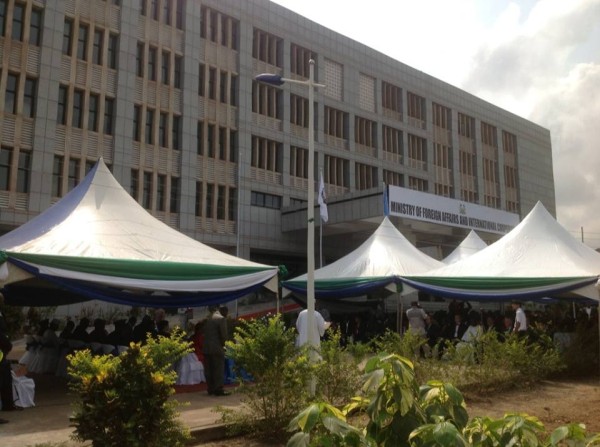 NEW FOREIGN AFFAIRS BUILDING
National development is an ongoing process. That is what the foolhardy critics of President Koroma do not know. One man lights up the initiative. Others come and complement his efforts and in this way, advancement remains in an impressive upwards continuum and more development projects are executed from one government to the other until the country reaches the state where it has knocked other nations off their perch as the most developed nation. This was how the modern state of Ghana was built.
Give us two more President Ernest Koromas and we will reach that goal or surpass it.
Sierra Leone has the potentials to become the most developed nation in Africa. All we need is a President as committed to national development as President Ernest Koroma. While nobody can say President Koroma solved all the problems of the country in his ten years of service , one distinction that nobody will deny him is that he has turned Sierra Leone around from a stone age to a modern nation. And we are still counting the development projects as he continues to deliver them even in the twilight of his rule.
When the former U.S Secretary of State, Mr. John Kerry visited the country in 2014, he emphasized that : "Sierra Leone is becoming one of Africa's greatest success stories".
Two years ago Sir Mark Lyall Grant of the British Foreign and Commonwealth Office remarked that "Sierra Leone has undergone a remarkable transformation. "
Since he came to power in 2007, President Koroma has launched Sierra Leone into a magnificent path of sustained socio-economic and political development. He restored electricity , completing not only the Bumbuna Hydro-electricity Project but initiating solar projects that have transformed our communities into brightly -lit cities and towns. Also, President Koroma has been restoring pipe-born water gradually in the capital and the towns.
He engaged in massive road development projects and transformed the national transportation network. It was the biggest infrastructural development ever accomplished in the history of the nation. This was matched by impressive construction projects. Not only has President Koroma also put up massive buildings ; he has rehabilitated the major government structures in the city and the provinces . In less than 10 years, President Koroma has transformed Sierra Leone into a land of beauty , with good roads and modern architecture.
President Koroma did not stop there. He has worked relentlessly on the health care delivery services, building hospitals and clinics. As a matter of fact, yesterday in the capital of Freetown, President Koroma turned the sod for the construction of a 200- bed hospital . He launched the free health care initiative for pregnant women, lactating mothers and children under five. The picture is not yet rosy but if the next President continues from where President Koroma will stop, the health care delivery future is very promising in Sierra Leone, thanks too to the efforts of the international community, especially after the Ebola outbreak.
President Koroma has also launched reforms in the agricultural sector with the aim of ultimately making Sierra Leone self-sufficient in food production. To enhance productivity, the President launched the Small holder Commercialization Program through which agricultural business centres have been built in the nation, motivating farmers to form cooperatives and organizations . The government even provided tractors for farming communities. Sierra Leone is producing more food now than it used to do 10 years back.
Education has not escaped the President's attention as he has built schools, improved the conditions of service of teachers and lecturers with the result that teachers take home far better salaries today than they ever did in the nation.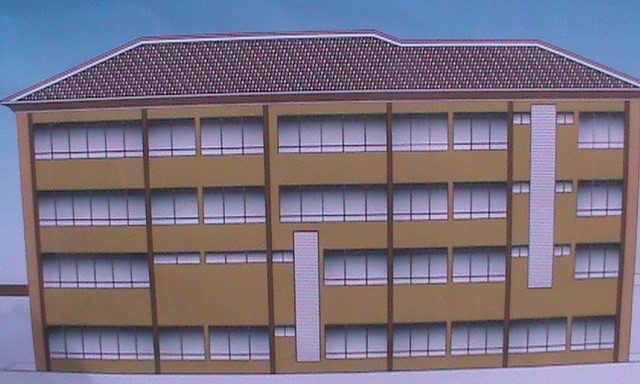 Architectural design of the Waterloo Government Ultra-modern Hospital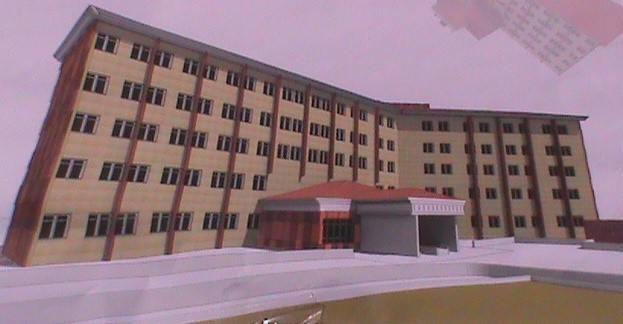 Architectural design of the Lumley Government Ultra-modern Hospital
There is still much work to be done but what is certain is that President Koroma has laid a strong foundation for a modern Sierra Leone that will one day be the envy of other African nations.
Not only has President Koroma pursued tangible development projects but he has improved the quality of his country's politics. Sierra Leone is today one of the most democratic nations in the world.
TO BE CONTINUED