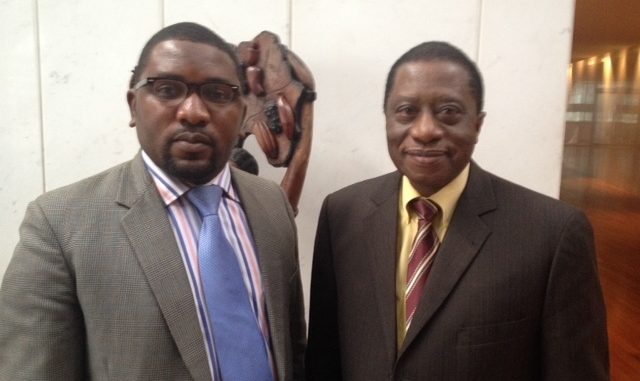 Sierra Leonean born African Union Commissioner for Social Affairs, Dr. Mustapha Kaloko, and Sierra Leone's Deputy Permanent Representative to the African Union Commission, Ambassador Ismael Koroma have told the African Union that the Ebola situation in West Africa is very critical and needs urgent actions from the Commission.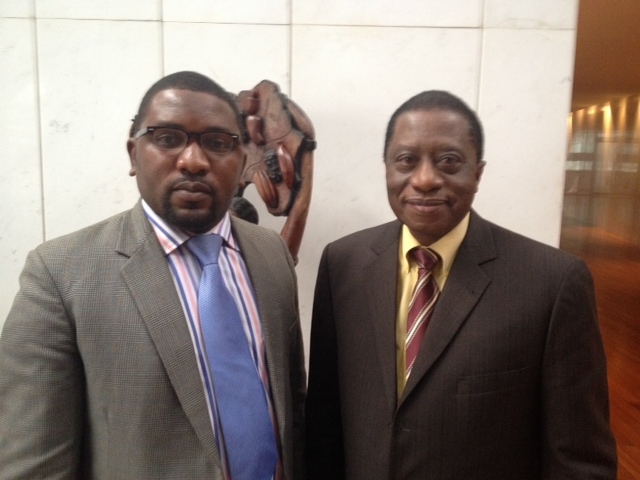 DPR KOROMA -LEFT- AND DR. KALOKOH
In a briefing to the AU Permanent Representatives' Committee (PRC) where both officials made a very strong case on the crisis in the sub region Wednesday, Dr. Kaloko said the AU, whose essence of being was to protect the interest and wellbeing of its people, should be seen at the vanguard of efforts to manage the crisis as well as stem the spread of the virus in the continent.
He affirmed that the grinding effects of the Ebola virus and its painful impact on the socio-economic development on the region, which until recently, was referred to as the "crescent of conflict," compelled WHO to summon an emergency meeting of Ministers of Health, partners and other stakeholders in July to deliberate on modalities to stall the Ebola advance. ''The meeting agreed that the role of the African Union and ECOWAS was essential in providing political and diplomatic support. This was why the last summit of Heads of State and Government of ECOWAS made it a point of duty to place the Ebola Crisis as one of its major agenda items,'' he emphasized.
Dr. Kaloko also informed the PRC that his Department of Social Affairs has briefed the Joint Bureau meeting of the PRC Sub Committee on Refugees and on Relief Fund on the Ebola Crisis in the three Mano River countries, adding that the meeting proposed that the entire PRC be briefed and that the sum of three hundred thousand dollars (USD 300,000) be appropriated from the Relief Fund to each affected country.
He urged the PRC to act on the Ebola crisis with the urgency it deserves, ''It is an African problem that should be handled by all Africans, especially the African Union rather than wait until it is too late to intervene,'' he warned.
In his statement, Ambassador Ismael Koroma described the Ebola crisis in the region as an emergency. He said due to the exigency of time, the PRC should have a special meeting within the shortest possible time in order to ameliorate the suffering of the affected patients and to contain the Ebola virus from spreading to other countries.
Ambassador Koroma expressed grave concern that the Ebola virus has the propensity to spread beyond the West African region, adding that the disease also poses serious security threats to the continent. He passionately appealed to his colleague Ambassadors to treat the issue of Ebola with utmost importance, as the disease was first discovered outside West Africa.
The PRC agreed to convene another meeting to discuss the matter as a substantive item.
Abdul Karim Koroma
Information Attaché
Embassy of the Republic of Sierra Leone
Addis Ababa
Ethiopia
Email: akk23222@gmail.com