A cross section of the Sierra Leone Community in South Korea met today 17th August 2017 at the Sierra Leone Mission in Seoul, South Korea's Capital, to be briefed on the tragic events of Monday 14th August 2017, when a mudslide in Sierra Leone's Capital, Freetown, resulted in massive loss of life and damage to property, leaving over 400 nationals dead and thousands homeless.
At today's event, a minute's silence was observed in commemoration of those who lost their lives, and prayers were also offered for the deceased, as well as for those injured and rendered homeless on account of the disaster.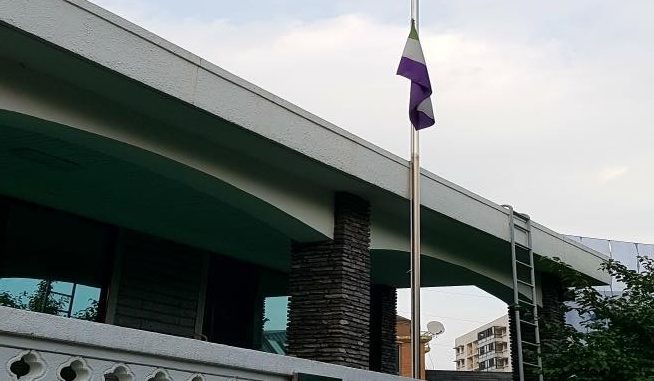 Sierra Leone's Ambassador to the Republic of Korea, His Excellency Ambassador Omrie Michael Golley, who led the proceedings, and who was assisted by the Minister Plenipotentiary and Head of Chancery at the Sierra Leone Mission Mr JTA Sawi, briefed his compatriots on the on-going efforts of the Government in Freetown in dealing with this tragedy, together with an account of meetings held with Government of the Republic of Korea, to whom urgent requests for assistance had been made to support and supplement  the efforts of the Government.
[Picture here: H.E. Ambassador Omrie Golley with a      [Picture here: Sierra Leone flag being flown at halfcross sections of Sierra Leone nationals]         mast at Mission in Seoul]
Peter Hyunji Lee
Copyright: Embassy of the Republic of Sierra Leone in Seoul
SEOUL
17th August 2017