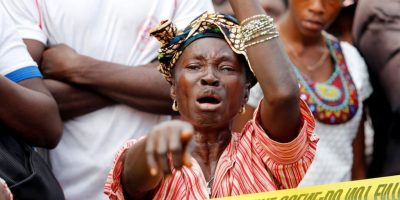 There have been emotive scenes in Sierra Leone throughout the second day of burial ceremonies on Thursday for victims of the devastating landslide which killed hundreds of people in the hilly town of Regent, outside the capital Freetown.
Relatives of the victims wailed and sobbed while they went through the painful motion of identifying bodies, some of them barely recognizable from Freetown's main mortuary already full to overflowing with bodies crammed into every discernible space.
Outside the crowded mortuary, Sorrie Sesay and his teenage sister Marian rolled on the ground still wet from the heavy downpour of the last few days, sobbing inconsolably.
They had just confirmed that their parents and three siblings were among the dead being kept at the mortuary where a strong stench from rotten corpses attacked the nostrils of the living even though they had pads covering their noses.
"Oh papa, oh mama" they wailed intermittently while quiet crowds of grim-faced people milled around, shaking their heads ruefully, still struggling to comprehend much more come to terms with the full magnitude of the disaster that visited Sierra Leone barely a year after the Ebola epidemic ended, claiming thousands of lives since its outbreak in 2014.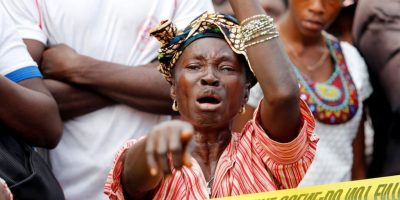 Over 400 people are now known to have died in the mudslide.
The sense of desolation hanging over Freetown and its hilly satellite towns including Regent, where the disaster happened came as burial ceremonies continued for victims in the quiet town of Waterloo, lying 30km outside the capital on Thursday.
By the evening amidst more tears over 200 bodies, wrapped in body bags were laid to rest in a mass burial at the town cemetery established in 2015 for victims of the Ebola epidemic.
Some landslide victims had been buried a day earlier.
Work on the graves was still ongoing by volunteer workers as at 4pm Thursday.
With now no hope for survivors more than 92 hours after the tragedy struck, rescue workers including those of the Red Cross say the number of dead will inevitably climb as they continue to dig for bodies still trapped under the slippery, red mud, pictures of which had traveled around the world.
Health workers also fear the spread of water-borne diseases undermining public health.
Meanwhile, rescue work was still ongoing at the village of Mortema, a small settlement located on the foot of Mount Sugar Loaf, an unofficial extension of the community in Regent, the epicentre of the landslide where over 600 people are still unaccounted for, many believed to be still trapped in homes buried under the mud.
However lack of required heavy-duty equipment was hampering efforts to dig out more bodies.
An official with the Ministry of Health supervising the grave-digging to recoup more bodies told APA that they were tasked with digging over 300 graves ahead of more burial ceremonies which will continue for the next few days.
A visibly emotional President Ernest Bai Koroma graced the mass burial in Waterloo which was characterised by special inte-rreligious prayers for the victims.
Sierra Leoneans are familiar with griefs of a national proportion, not least the carnage brought by an 11-year civil war and an Ebola epidemic which lasted over two years.
COURTESY : APA
Authorities Warn of More Mudslides in Sierra Leone as Toll Hits 350 Dead with Hundreds More Missing
 FREETOWN, Sierra Leone — The president joined with families in paying final respects Thursday to victims of this week's mudslides and flooding in Sierra Leone's capital, while the government warned residents to evacuate a mountainside where a large crack opened.
Approximately 350 people had been confirmed killed and 600 more remained missing from the disaster early Monday. Workers struggled in the thick mud and debris of smashed homes looking for more bodies, picking their way through stools, shoes and other remnants of daily life.
The government hired 600 gravediggers for individual burials taking place in a cemetery that already holds victims of the 2014-15 Ebola outbreak which killed thousands in the West African nation.
"We all share the agony which has befallen the nation," President Ernest Bai Koroma told mourners at the cemetery.
"They had their hopes and aspirations, a bright future — like the six innocent children who went to study in the home of one of their brightest colleagues, like the young man who was due to get married tomorrow, like the husband who has worked so hard to get his family a new home and had just moved them to this new and lovely home," he said.
Dr. Owiss Koroma, the government's chief pathologist, said the confirmed death toll from the mudslide and flooding was at least 350, a third of them children. The bodies of many victims were too mangled and decomposed to be identified.
"I lost my sister and mother. The water took away my mother and sister and they have buried them today. That's why we are here, to mourn and go back home," said Zainab Kargbo, who was among those at the cemetery.
Thousands lost their homes in poor, low-lying areas of Freetown and surrounding communities.
With more rain forecast for the coming week, further mudslides were a threat. The Office of National Security warned people of the danger from the newly opened crack on the side of a mountain and urged residents to evacuate.
The main focus is getting people away from areas still under threat, Zuliatu Cooper, the deputy minister of health and sanitation, told The Associated Press.
"The rains are still pending and there is a possibility that we will have another incident," he said. "We would rather have structures falling down without people in them."
The mudslides tore apart multistory concrete homes, leaving their metal reinforcements tangled like threads. Incongruously, on the same hillsides, near swaths stripped bare by the surging mud, fully intact homes still stand, with untouched, lush vegetation.
Grieving survivors said they were haunted by thoughts of dead relatives.
"Last night, I could not sleep," said Tenneh Bull, who lost a daughter. "Even now I'm still thinking of her; thoughts of her death is lingering."
Sierra Leone has pleaded for international assistance, while Amnesty International issued a statement accusing the government of failing to learn from similar incidents.
"Due to a lack of regulation and insufficient consideration for minimum standards and environmental laws, millions of Sierra Leoneans are living in dangerously vulnerable homes," said Makmid Kamara, the group's deputy director of global issues.
Many poor areas around Freetown are near sea level and lack good drainage, which makes flooding worse during the rainy season. The capital also is plagued by unregulated construction in hilltop areas. Deforestation for firewood and charcoal is another leading contributor to flooding and mudslides.
___
Associated Press writer Carley Petesch in Dakar, Senegal, contributed to this report.