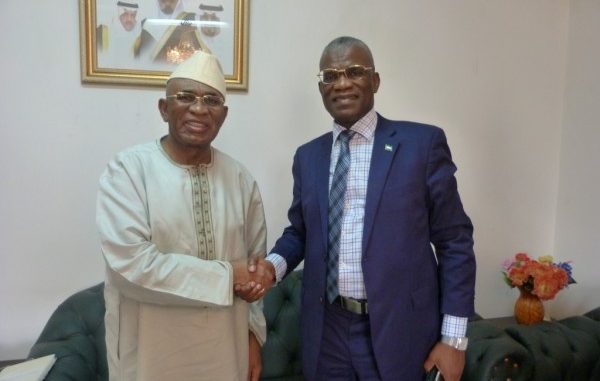 By Alhaji Jalloh :
Sierra Leone's top diplomat in Riyadh, the capital of the Kingdom of Saudi Arabia has said that Sierra Leoneans are highly appreciative of what he described as "extremely good relations between Sierra Leone and the Gambia since the days of the first post-independence Gambian President, Dr. Sir Dauda Kairaba Jawara."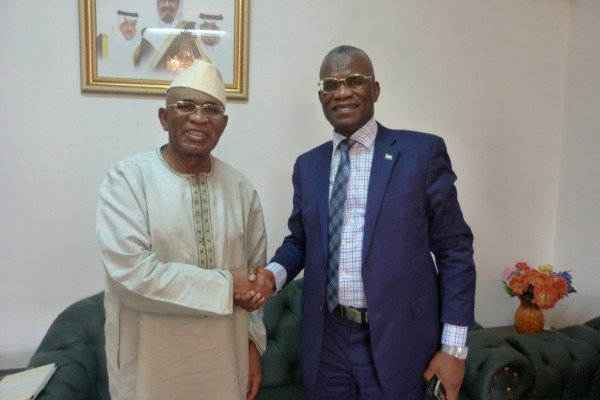 (Photo: l-r Umar Gabriel Salleh Gambia's envoy receives Sierra Leone Ambassador Mohamed Sillah Kargbo
Ambassador Mohamed Sillah Kargbo made the remarks during a courtesy call on his Gambian counterpart, Ambassador Umar Gabriel Salleh  at the Gambia Embassy in Riyadh on Sunday, 13th September, 2014.
Sierra Leone and Gambia, Kargbo added, share much in common, which has made each of the countries a second home. Ambassador Kargbo also used the opportunity to thank President Alhaji Dr. Yayah Jammeh, his Government and the people of the Gambia for donating US$500,000 to the people of Sierra Leone as Gambia's contribution towards the fight against the deadly Ebola outbreak.
Receiving his Sierra Leonean counterpart, Ambassador Salleh said, Gambia also enjoys excellent bilateral relations with Sierra Leone since the days of Sierra Leone's first Prime Minister, Sir Milton Margai to date. "The two countries are bound by strong bilateral ties in various sectors," Salleh reiterated.
During their meeting, the two Ambassadors from the West African sub region agreed to collaborate in areas of bilateral interest for the mutual benefit of the two sister countries. The envoys also exchanged cordial talks and discussed issues of common interest.