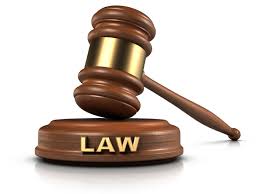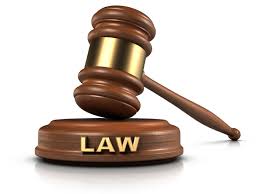 The High Court of the Republic of Sierra Leone  today, Saturday, March 24, 2018 slammed an interim injunction on the presidential election runoff, scheduled for Tuesday March 27.
The High Court, which earlier had ruled against the National Electoral Commission (NEC) that it has unlimited jurisdiction to hear the matter brought before it by a prominent Sierra Leonean lawyer cum activist who prayed the court to rule  an injunction  to stop NEC  from conducting the March 27 polls as a result of the widespread irregularities that marred the March 7 polls and the rampant malpractices by NEC staff , some of whom have been arrested, will hold a hearing on Monday.  .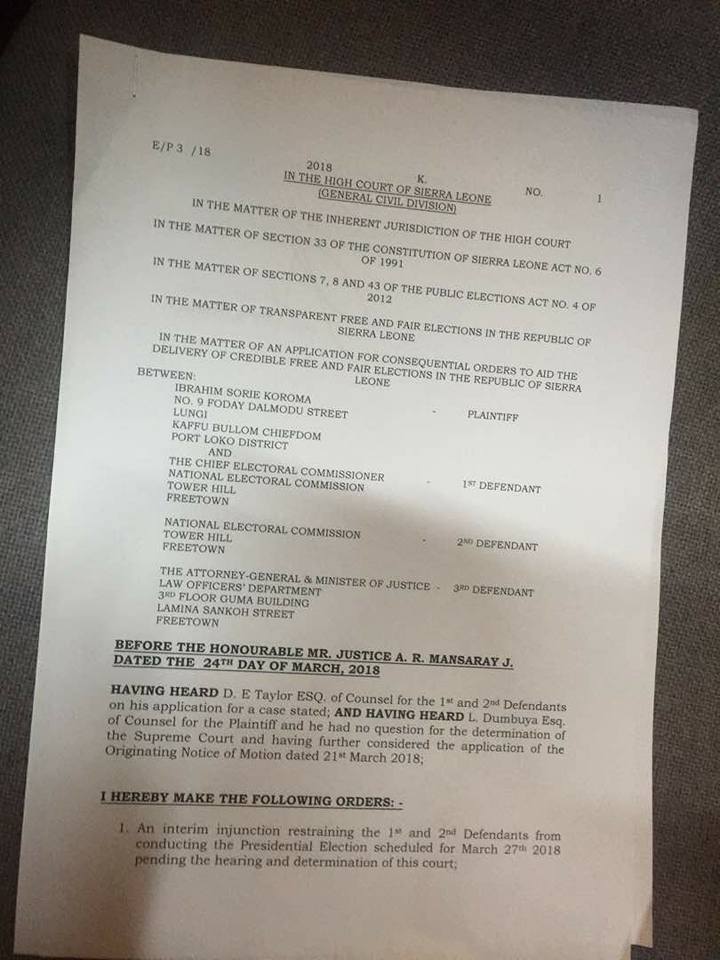 NEC lawyers have  decided to escalate the matter to the Supreme Court next Monday. It's as a result of this pending move by NEC that the high court granted the interim injunction putting all preparation on hold for the holding of the run off. This move by NEC has largely been seen as a delaying tactics and a resistance effort to cover up the many anomalies, including the preprogramming of their computer and IT systems in order to skew the results in favour of a particular party.
The two political parties, the Sierra Leone People's Party and the All People's Congress Party have both called for a technical and forensic audit of NEC infrastructure respectively.NEC is so resisting these calls. The third force, the National Grand Coalition ( NGC ) was also planning similar court action, restraining NEC  from temporarily going on with the elections.
It must be recalled that on Thursday, this week, a private citizen, Mr. Ibrahim Sorie Koroma, went to court and filed for the injunction , asserting that   evidence of massive electoral fraud in the March 7 first round exists and these malpractices should be  investigated before the runoff could be held.
Since the election of March 7, massive cases of electoral malpractices and irregularities had been unearthed with many of  the political parties that contested complaining that the election was rigged. Boxes of ballot papers have been discovered in strange places, including latrines and some electoral officers had been arrested for fraudulent electoral practices.  The situation has been so bad that women who sell patched groundnuts and cakes in the capital have been found to be using abandoned ballot papers to wrap the foods for customers.
When news of the injunction broke out, many people started blaming the APC,  accusing the party of deliberately trying to stall the elections. But it must be noted that the APC  did not file for the injunction. The party has no hand in it. The case was filed by a private citizen , exercising his rights as a citizen and an electorate. He might belong to the APC,  but he acted alone and independently.