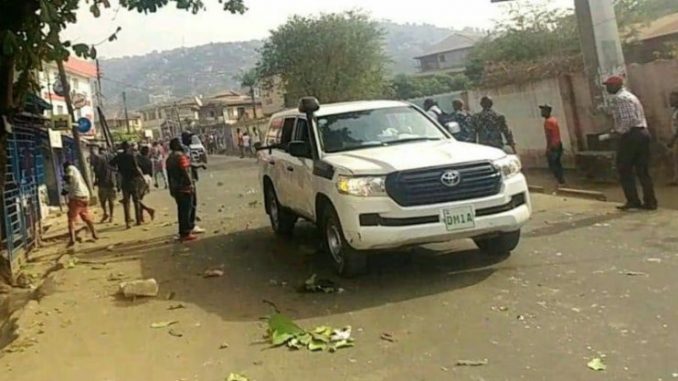 The rate of lawlessness among supporters and operatives of the ruling Sierra Leone People's Party ( SLPP) is becoming frightening in Sierra Leone.
During Tuesday's  attack on the opposition All People's Congress ( APC ) office by supporters of the ruling Sierra Leone People's Party ( SLPP ) ,  the temperamental Deputy Minister of Internal Affairs, Mr. Lawrence Leema, who behaves like a real psycho, was  seen  prowling the APC  office in his official vehicle  with an AK-47  gun trained at APC  supporters.
Leema's behavior and President Maada Bio's silence over alll the atrocities being committed by his supporters and officials have left Sierra Leone disappointed and worried that their country was being led back to war by a sadistic government that has no control over its supporters and officials who have been committing human rights abuses at will since Bio, a former junta leader, came to power in 2018.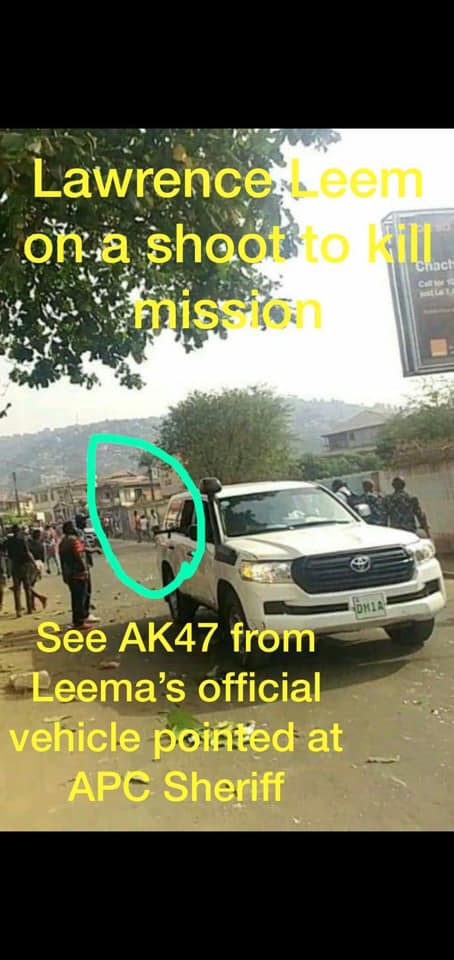 How can a minister of government , who is not a police or military operative, be driving around with an AK-47  pointing at  political opponents from his car ? Is this permissible in a lawful and democratic society ?
During the attack on the APC office on Tuesday, many APC supporters suffered stab wounds and popular APC  activist, Mr. Sheriff Alpha, was intimidated by Minister Leema with the AK-47 gun as seen in the picture.
Sierra Leone is heading for disaster under this SLPP Government and the silence of the international community is even more baffling.
Instead of condemning the act, SLPP supporters are on social media gloating about it and hailing the out-of-control Minister, thereby deepening the animosity between the ruling SLPP and opposition parties and startled Sierra Leoneans.
Commenting on the social media, many Sierra Leoneans warned that Leema is endangering his own life and future, in the event that this government is removed from power.