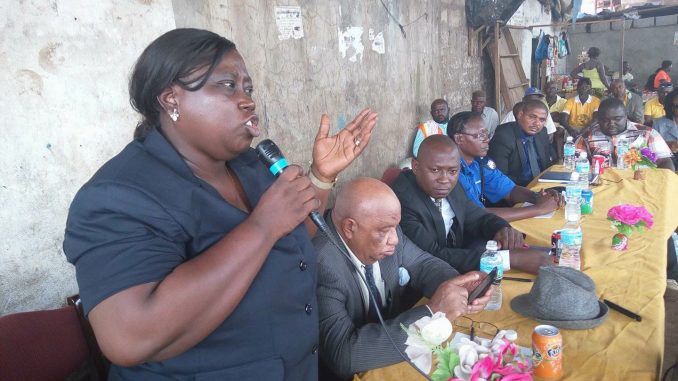 by Derek Nat-George.
Head of Media and Public Relations
The Sierra Leone Legal Aid Board has held a Consultative meeting with Officials and members of the Sierra Leone Commercial Drivers Union, at the Texaco Lorry Park at Kissy in Freetown.
The Executive Director, Sierra Leone Legal Aid Board, Fatmata Claire Carlton-Hanciles said that Elections period is very important to the political lives of people, but should be peaceful. She called for peaceful elections in Sierra Leone by the creation of Anti Elections Violence platforms in different communities in Sierra Leone.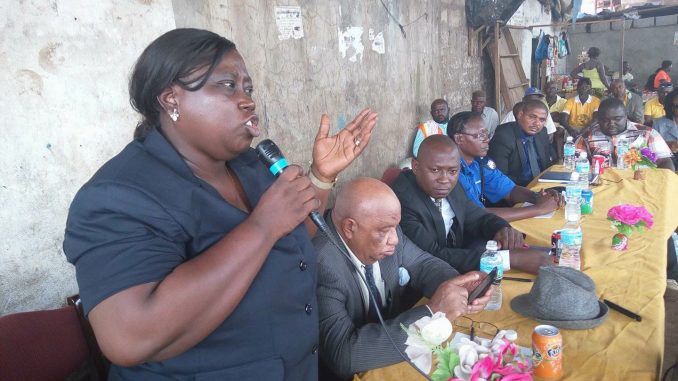 Mrs Carlton-Hanciles called for political tolerance among people in communities, between husbands and wives, tenants and Land Lords and among neighbours. She
therefore called for political tolerance among drivers, traders and between drivers and traders. She called on drivers to be very mindful when transporting people and goods, especially at night. She also called on the drivers to inform and sensitise their apprentices about the consequences of lawlessness, which could likely culminate to their imprisonment
The Executive Director called on the drivers to cooperate with the police to prosecute matters with regards to elections.
Mrs Hanciles dilated on the mandate of the Board which are Legal Representation, Education, Advice and the Alternative Despute Resolution which has been extended to some One Hundred Thousand Sierra Leoneans over the past two years of its existence.
She Reminded the Legal Aid Board Partners of the rule that, 'Ignorance of the Law us no excuse' and that Electoral Courts that have been set up to speedily try electoral matters. Those trials should serve as a deterrent to would-be trouble makers.
Mrs Carlton-Hanciles retreated her advice to her audience to work hand-in-gloves with the police in their different communities, and not relent or be afraid to inform the police of any suspicious activity.
Community cooperation, Mrs Carlton-Hanciles pointed out, will make the Anti Elections Violence Campaign effective, which will ultimately make the coming Elections peaceful, and that a strong message has been sent to the violent people in Sierra Leone.
The Executive Director called on Sierra Leoneans to stand up for peaceful elections with a Peace match on Wednesday 31st January.
Peaceful elections Mrs Carlton-Hanciles concluded, will give people of Sierra Leone the free hand to make their choice for representation in the Parliament.
Some five hundred drivers who attended the meeting, subscribed to Peaceful elections in Sierra Leone on 7th of March, with no alternative.