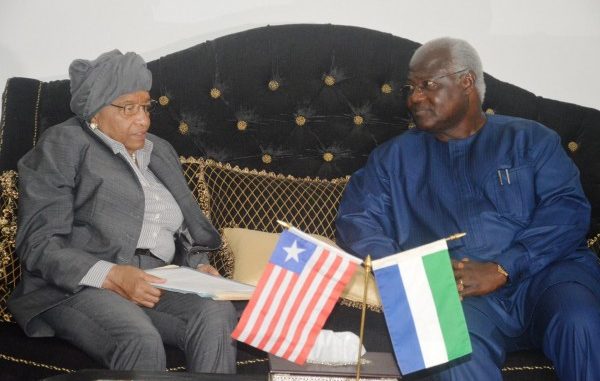 Sierra Leone – Liberia call for more collaboration to End Ebola
The leaders of Sierra Leone and Liberia on Friday 6 May, 2016, called for more collaboration to end Ebola in their respective countries.
The call came following a joint communique signed by both President Dr Ernest Bai Koroma and his Liberian counterpart, Ellen Johnson Sirleaf who was on a one-day working and friendly visit to Sierra Leone.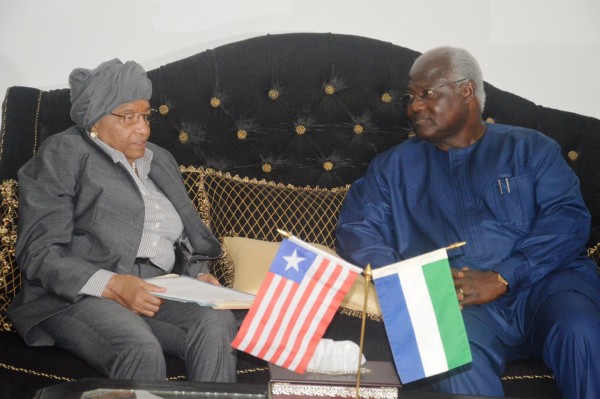 The two heads of state, according to the communique, agreed on not only ending the Ebola epidemic in their respective countries, but also exchanged views on political, security, health, socio-economic cooperation as well as progress and challenges with national dimensions of the implementation of the post-Ebola recovery programmes.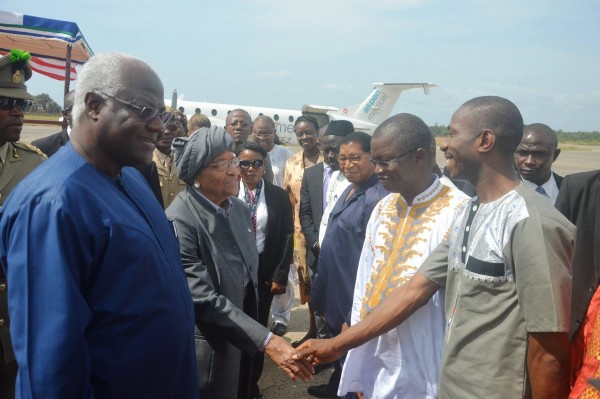 Ending Ebola in the respective countries and in the sub-region, the two heads of state expressed satisfaction and optimism, and reiterated the need for cooperation with each other in the implementation of their post-Ebola recovery/reconstruction programmes.
Both President Koroma and President Johnson Sirleaf also agreed to intensify bilateral teamwork at all levels – intelligence sharing and security alertness, considering recent atrocities caused by terrorist networks in Burkina Faso, Nigeria, Côte d'Ivoire and Mali. They therefore heightened the need for peace and sustainable development in the MRU basin after Ebola.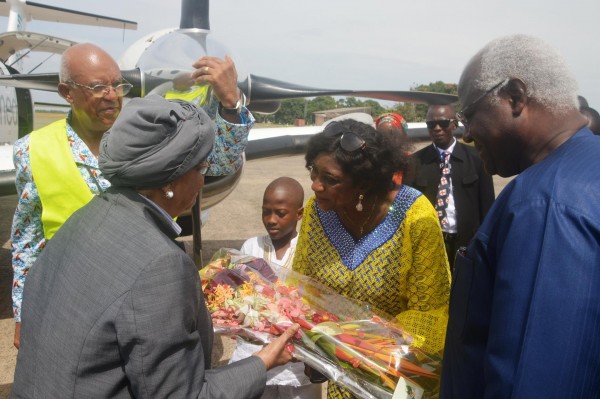 The two leaders agreed on providing support for ECOWAS programmes for political and economic integration and promised to attend the forthcoming ECOWAS summit of heads of state and government in Dakar, Senegal in June 2016.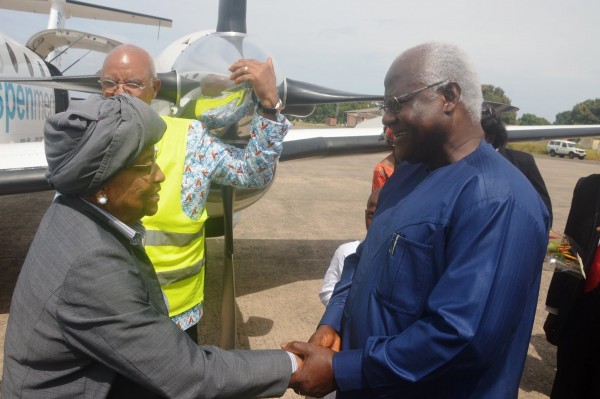 Addressing a meeting shortly after the signing ceremony, President Koroma said Sierra Leone will continue to engage with Liberia to finding lasting solutions to the current economic situation facing the three Ebola hard-hit countries of Guinea, Liberia and Sierra Leone.
President Koroma commended President Johnson Sirleaf for her relentless efforts in defeating Ebola in Liberia.
President Ellen Johnson Sirleaf, in her response, extended gratitude to the Government and People of Sierra Leone for the warm reception on her arrival at the Presidential Lounge in Lungi.
She disclosed that she had, prior to her visit, held similar engagement with Guinean President, Prof. Alpha Conde. She noted that she was making her first visit to the country after the Ebola outbreak and expressed heartfelt condolences to the families of those who lost their lives to the disease. President Johnson Sirleaf promised continuous cooperation with Sierra Leone within the MRU framework.
Madam Johnson Sirleaf also commended health workers for their dedication and diligent service in the fight against Ebola, adding that Liberia will continue to stand by Sierra Leone to push for greater development. She extended an invite to President Koroma for a reciprocal visit.
_____________________________________________
President Koroma Receives Clay Factory Report
By State House Communication Unit
President Dr Ernest Bai Koroma on Monday 9 May 2016 received a report by Legal Aid Board Executive Director Mrs. Fatmata Carlton Hanciles and team on the resolution of the Clay Factory issue as well as the fate of illegal squatters therein.
The president thanked the team for their contribution in resolving the issue and proposed another working visit to Clay Factory together with line ministries to ensure all stakeholders are fully involved. He disclosed that government was reaching out to the informal sector to enhance the transformation of the facility, and cited the Makola Market in Ghana as an example.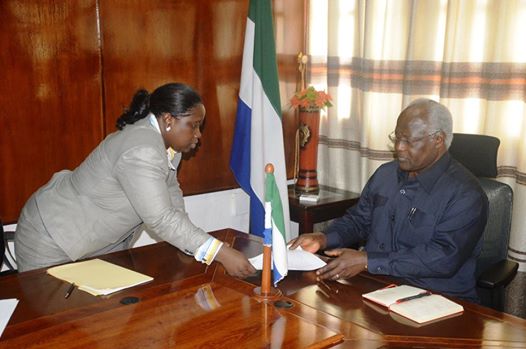 President Koroma observed that no country can grow without the full involvement of the private sector. He encouraged business people to do their trade with utmost seriousness, and called for a halt in all activities on the ground until after his proposed visit.
On behalf of the delegation, Mrs. Hanciles expressed her profound gratitude to President Koroma for giving them the opportunity to look into the Clay Factory matter, and explained that the lorry park was handed over to her organization to look into issues of illegal squatters. She reported that she held several meetings with all stakeholders including civil society organizations.
She also informed that they had discussed the way forward on the proposed transformation of Clay Factory Freetown Central Lorry Park into the Ernest Bai Koroma Lorry Park so as to benefit the entire community.
Madam Hanciles pleaded with President Koroma that the vacant land be utilized for the purposes of shops, stores, a parking lot and market for trade fairs preferably on Saturdays, to encourage periodic interface between and among traders from different parts of the country.
The meeting brought together stakeholders including, Motor Drivers and General Transport Workers Union, United Indigenous Commercial and Petty Traders Union, Sierra Leone United Boat Owners Association, the Indigenous Transport Owners Association, Sierra Leone Commercial Bike Riders Association Sierra Leone Traders Union, Shop Owners Association, market women, concern traders and the National Rogbianbay Traders and Farmers.
___________________________________________
Ambassador Koroma Takes Leave of President
By State House Communication Unit
Sierra Leone's Ambassador designate and plenipotentiary to the People's Republic of China Alimamy Philip Koroma on Monday 9 May 2016 took leave of President Dr Ernest Bai Koroma at State House in Freetown, marking the commencement of his tour of duty.
According to Dr Samura Kamara, Minister of Foreign Affairs and International Cooperation, Ambassador Alimamy Koroma is the 9th Sierra Leone Ambassador to China whose memorandum (agreemo) was received within the shortest time.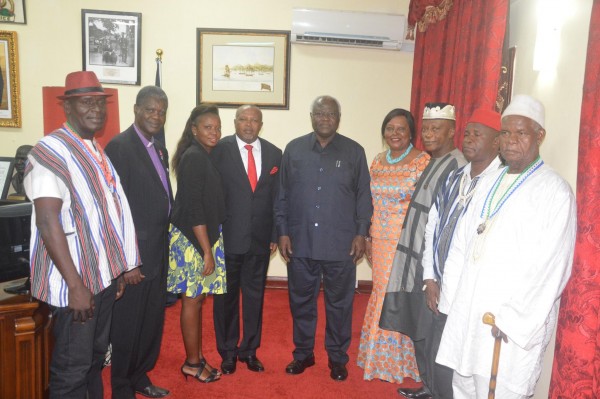 Addressing the new Ambassador, President Koroma described Sierra Leone's relationship with China as unique. He said Sierra Leone had provided support to China at the time the country needed it most and the latter has reciprocated visibly.
The president informed that the trade relationship between Sierra Leone and China is growing and therefore urged the new Ambassador to further strengthen the bilateral ties and also break new grounds that will attract more development.
As Africa is agitating for membership of the United Nations Security Council, President Koroma advised the new Ambassador to not only focus on economic cooperation, but also shift his efforts in canvassing China's support for Africa's common position in the UN Security Council and push for equal representation in the World Bank and the International Monetary Fund (IMF).
He pointed out that Africa will take a radical move in the next AU Summit in that regard. The president also expressed hope that the Ambassador will live up to expectations of the people of Sierra Leone and assured him of government's support.
Ambassador Koroma thanked the president for reposing confidence in him to represent Sierra Leone in China. He said it was a coincidence that being the 9th ambassador, he was also taking leave of President Koroma on May 9. The former Minister of Works, Housing and Infrastructure vowed to put the interest of the country above all else in discharging his duties as Ambassador in China and nine (9) other countries.