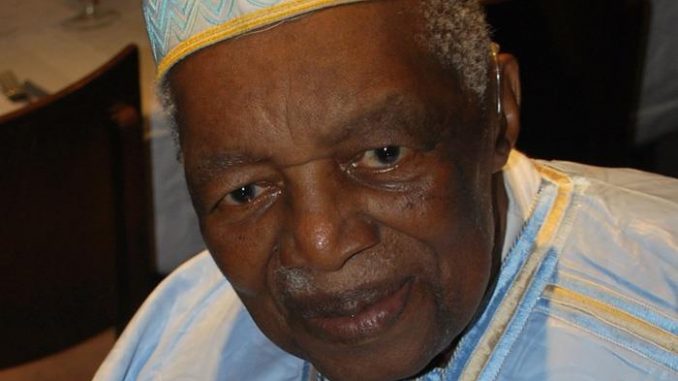 By KABS KANU
Sierra Leone suffered an irreparable loss on Thursday December 28 when one of her remaining short list of ironic former politicians passed away.  Mr. Solomon A.J. Pratt, the man who served the late President Siaka Stevens Government in different ministerial capacities and with his remarkable legal and political acumen helped to shape good governance in the country , died in London at the ripe age of 89.
"A Most Un-Ordinary African Boy" From Street Starch Hawker To United Nations Debate Champion
He was also Sierra Leone's  Foreign Minister at a time when a newly-independent former British colony needed an official  of extraordinary intellectual and diplomatic pedigree  to usher her into the comity of nations .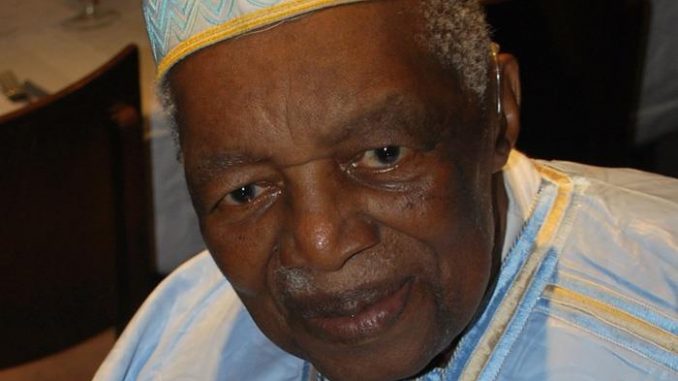 HON . SOLOMON A.J. PRATT : HE GAVE PUBLIC SERVICE A NEW MEANING WITH HIS EFFICIENT WORK ETHIC
The sad news of Hon. Pratt's demise was announced on Thursday by her granddaughter , the former Minister of Social Welfare , Gender and Children's Affairs, Dr. Sylvia Blyden in the following cryptic words : "So sad to announce the death of my maternal grandfather Professor Solomon Athanasius Jolliboy Pratt who just started his 98th year of life a few days ago on his birthday (Christmas Day). He passed away peacefully in hospital this evening here in London. The man nicknamed in his heydays (in the 60s, 70s and 80s) as the DOYEN OF CREOLE POLITICS; the man who was the life-saver of the All Peoples Congress (APC) in so many ways in 1967 and in 1968; the man who AGAIN in 1995 was the life-saver of the APC when he penned down the Legal Preamble that ensured the APC could be re-registered as a continuing political party, has gone home to Heaven."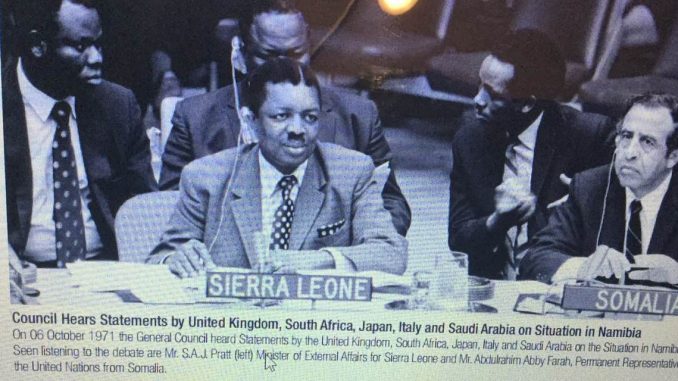 MR. SOLOMON PRATT AS FOREIGN MINISTER AT THE UN 
In his brilliantly penned and absorbing autobiography, Mr. Pratt is described as "A most Un-Ordinary boy  from street starch hawker to United Nations Debate Champion ". Indeed, he was an unordinary man . Born on Christmas day in the Gambia in 1921, he exceeded all expectations at every stage of his life not only to amass a wealth of sound degrees from the cream of British universities. After attending the then C.M.S ( now Sierra Leone ) Grammar School, he enrolled at Fourah Bay College , the then premier university in West Africa which was then an affiliate  college of Durham University in Britain , and graduated with a B.A  in the First Division while also studying for the London University B.Sc ( Econs ) in which he graduated Second Class Honours.
He proceeded to England where he studied Law at Durham and London University . An  exceptionally brilliant scholar, who would not stop aspiring for higher education, Mr. Pratt took a Maters degree in Economics from London University, an LL.M from Durham and a Diploma in Agricultural Economics and Master of Letters from Oxford University. According to Professor Pratt in his autobiography, a colleague of his was so jealous of his outstanding academic qualifications that on return to Sierra Leone , he reported Mr. Pratt to the civil service that he was in England, refusing to return home and taking one degree after the other.
The late Prof.  Pratt's impressive public service included careers  as an international civil servant with the International Labor Organization ( ILO ) in Geneva; Economic Adviser to the late Prime Minister, Sir Albert Margai; General Manager of the Sierra Leone Railway; Minister of Economic Planning and Development ; Attorney General ; Minister of Foreign Affairs; Minister of Transport and Communications; Minister of the Interior ;
The late legal giant helped both the late Prime Minister Sir Albert Margai and President Siaka Stevens to avoid constitutional blunders that would have plunged the nation into governance chaos. While drafting the 1965 Public Order Act, Mr. Margai would have made a mistake of transforming the Police into petty law enforcement magnates provoking hostility from the public but for the legal advice of Mr. Pratt. In 1966, Mr. Margai tried to rush through Parliament a controversial bill , without adhering to constitutional and parliamentary procedures , that would have turned Sierra Leone into a one-party state and a Republican status at the same time just before the 1967 elections , to subvert democracy. It was Mr. Pratt , who in a series of compelling articles in the DAILY MAIL who provided authoritative and brilliant legal education on procedural requirements  to the government that , along with bitter protests from professional bodies and the public,  forced the Prime Minister to withdraw the bill.
In 1970, Mr. Pratt was at it again, this time providing legal advice to another Prime Minister, Siaka Stevens, about the proper parliamentary  procedures about turning Sierra Leone into a Republican state without violating entrenched provisions of the 1961 constitution. He also provided legal assistance  to President Siaka Stevens in 1977  to draft the Republican One Party Constitution . He wanted a constitution with an opposition of sort, but his advice was not followed.
Sierra Leone has lost a man of letters and an extraordinary public servant with  a magnificent record of diligent and patriotic service, devoid of partisan pandering .
The old order continues to pass away, leaving voids that would not be easy to fill.  May his soul rest in peace.