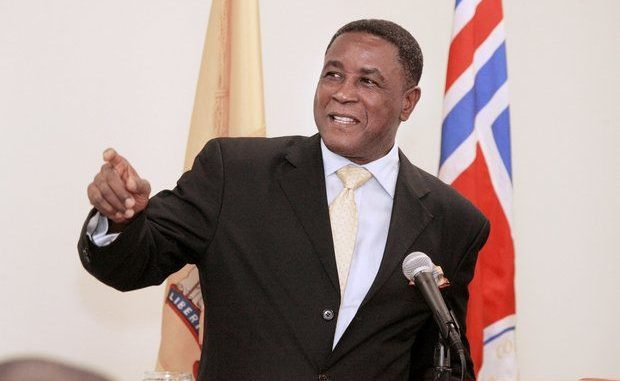 CULLED FROM THE STAR LEDGER NEWSPAPER OF NEW JERSEY : http://www.nj.com/business/index.ssf/2013/09/sierra_leone_open_for_business.html
NEWARK — With 11 years of civil war and 10 years of rebuilding behind them, Sierra Leone's government wants to bolster its economy by doing business with the one U.S. state they say has the highest number of expatriates: New Jersey.
A delegation of the country's officials, including Agibu Jalloh, special assistant to President Ernest Bai Koroma of Sierra Leone, and Alhaji Alpha Abubakarr Kanu, minister of information and communications, visited Essex County College in Newark for an Economic Development Summit on Monday.
Sierra Leone, which is roughly three times the size of New Jersey and is located along Africa's northwestern coast between Liberia and Guinea, feels it has fallen behind in terms of economic development and education.
No trade agreements or business contracts were signed during Monday's luncheon, which also featured Rep. Donald Payne (D-10th Dist.), Essex County College Interim President Gale Gibson and members of the Newark African Commission. It was to put decision makers from both countries in a room together and let them shake hands, exchange business cards, set agendas and talk about the future.
President Koroma specifies New Jersey as a stop on the execution of his Agenda for Prosperity plan because it has the largest cohort of Sierra Leoneans anywhere in the U.S., said Jalloh.
"It's an employment issue. We have youths who are healthy, but have nothing to do. There's an opportunity here for knowledge transfer," he said. "We have gold and diamonds, but don't have the cutting and polishing facilities that get those materials ready for market. We also need supply chain industries and utility service providers."
Congressman Donald Payne at the Sierra Leone – NJ Economic Development Summit at Essex County College on Monday, Sept. 23.Courtesy of Essex County College
The country has already has already attracted wireless service provider Africell, Indian telecommunications giant Airtel and London Mining, which set up an operation at a mine in Sierra Leone last year. Now the country's officials want to add some U.S. companies to that list.
Payne, who holds a seat on the House Committee on Small Business, said other small African nations have expressed interest in doing business with the U.S. and Essex County in particular.
"They seem to understand what needs to happen to grow their economy," Payne said. "They're not the only ones — Liberia, Angola nad Ghana have all expressed interest in doing business with us."
During his keynote address, Kanu, the minister of information, stressed the importance of Sierra Leone training workers to fill the jobs he hopes companies create in his country.
Fourah Bay College, a Western-style university with a 186-year history, lost some of its luster when its classical education was outpaced by the science, technology, engineering and math programs elsewhere.
"We were known as the Athens of Africa. Everybody went there for education," he said. "We can't go back now and invent the wheel. Nobody will say, 'Oh, let's buy it from them.' My appeal is education is a business and technology is a business. It's not just for me to make calls on my mobile phone."
In the coming semesters, Essex County College will begin an exchange program with Fourah Bay College.
"For the study abroad program, of course we'd like students to study business, science, technology and math," said Joyce Wilson, Essex County College's acting vice president of administration and finance. "Really we just students to go and experience the country."
N.J. NEWS ON THE GOOur redesigned mobile sitehas quick page loads and app-style navigation, and lets you join the conversation with comments and social media. VisitNJ.com from any mobile browser.
Dosso Kassimou is chairman of the Newark African Commission, which was created by the city in 2007 to promote city policies and civic engagement among its African citizens.
"I think the summit creates a relationship between the U.S. and Africa. As we globalize, all the big nations like China and India look to Africa as the next frontier," he said. "Africa still has the most natural resources across the globe, but technology doesn't have a presence there. It's a very important time to look for opportunities for business exchanges."
If, for example, a company decided to import food from Sierra Leone's farmers, who account for more than half of the country's gross domestic product, it could create jobs at the Port Newark-Elizabeth Marine Terminal, said Kassimou.
"What we need most of all is to create jobs," said Blonnie Watson of Newark, Essex County Freeholder At Large. "And I'm sure this meeting will help us achieve that.