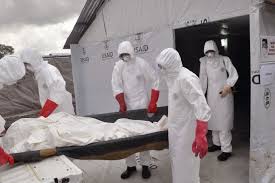 By Silas Gbandia-
Mabinty Mansaray's plan for Christmas and New Year's was the usual: grab her kids and her two sisters and take the bus from Freetown, the capital of Sierra Leone, to her village more than 100 miles away.
For the 27-year-old hairdresser, the holidays have meant getting together for more than a week to have fun, settle disputes, hold rites to remember the dead, and send boys and girls for initiation into secret societies.
Not this year.
"Ebola is reported in every district including Freetown," she said in an interview in her rented apartment. "I don't feel safe to travel with my family in overloaded commercial vehicles as they keep informing us on radio that Ebola spreads through body contact."
Sierra Leone, the hotspot in the Ebola epidemic, is under virtual lockdown. President Ernest Koroma — a former insurance executive — has canceled most travel between districts and banned Christmas and New Year festivities. Church ceremonies are largely restricted, as is market trading and eating in restaurants.
The beach, a popular gathering spot during holidays in Freetown, is closed. Nightclubs? Forget it. Christmas, usually marked by Christians and many Muslims with a mass exodus from cities to villages and an equally enthusiastic flight from rural areas to towns, just isn't on the cards.
Ansumana Gobeh, secretary general of the Motor Drivers and General Transport Workers Union, has noticed the impact at the Clay Factory Central Lorry Park in Freetown, where his office is located.
No Families
"Before Ebola, the number of passengers traveling with their families would outnumber the commercial vehicles in the park," Gobeh said. "But it is all different this year and people have not been coming to the parks as there are so many roadblocks."
The 45-year-old union leader wants to visit his family in Bo for the holidays. "I'm not sure whether I will make it as the police at the Newton Checkpoint are not allowing vehicles to come into the Western Area or get out of the Western Area," he said.
Mansaray would also have trouble getting home to rural Bafodia, in the far Northeast. Commercial vehicles are barred from the Koinadugu District, where her village is located, and private vehicles have to pass through a series of roadblocks to get in.
Contact Fear
She's left in the capital, a little idle. "I am staying in Freetown but I get few calls from customers to do their hair because they are afraid of body contact."
Limiting the contact that spreads the disease is the basis of the restrictions announced by President Koroma. Sierra Leone surpassed Liberia this month as the country with the highest number of Ebola cases. The virus has killed more than 7,500 people in Sierra Leone, Liberia and Guinea.
Traditional initiations into secret societies are banned for now. Street carnivals and mask-devil parades to welcome the new members are off-limits, and a group known as Hunting in Freetown won't go to mountain villages to look for monkeys.
Among Christian believers, anyone who attends a Christmas Day church service is "requested to return home immediately," Koroma told the nation on Dec. 17. New Year's Eve services must be done before 5 p.m., or by radio or television broadcast.
Daytime Only
"What we used to have as a New Year watch-night service has been changed to a New Year watch-day service," Bishop Archibald Cole, president of the Pentecostal Fellowship of Sierra Leone, said in an interview on a state-owned radio station. He has called for the government to communicate more with churches so that information is "well-articulated" to the public.
Koroma had earlier quarantined five of the country's 14 districts, restricting movements to within each region. Mansaray's home district had already quarantined itself.
In Freetown, where the hairdresser will stay put for the holidays, there is a mad rush to get home on motorbikes as 7 p.m. approaches, because the two-wheeled personal vehicles are banned from the streets at that hour. The cacophony mixes with ambulance wails, as crews search areas of the city where Ebola is rife.
"We are indeed having an Ebola Christmas and New Year this time round," Mansaray said.
To contact the reporter on this story: Silas Gbandia in Freetown at sgbandia@bloomberg.net
To contact the editors responsible for this story: Chitra Somayaji at csomayaji@bloomberg.net David Risser, Marthe Fourcade