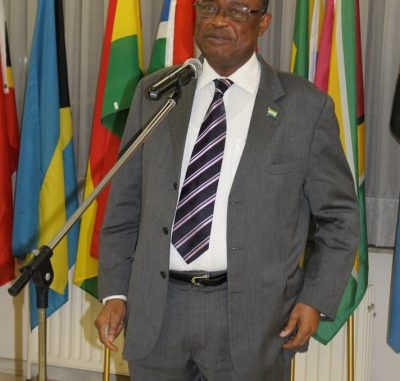 Professor Monty Patrick Jones was on Monday, February 17th installed as President of the European Market Research Center (EMRC) based in Brussels.
The Sierra Leone-born world-renowned scientist and founder of the NERICA rice becomes the first ever African to occupy the Presidency of a wholly European organization established to create the optimum environment for the matching of sustainable business partnerships in Africa in both the private and public sectors.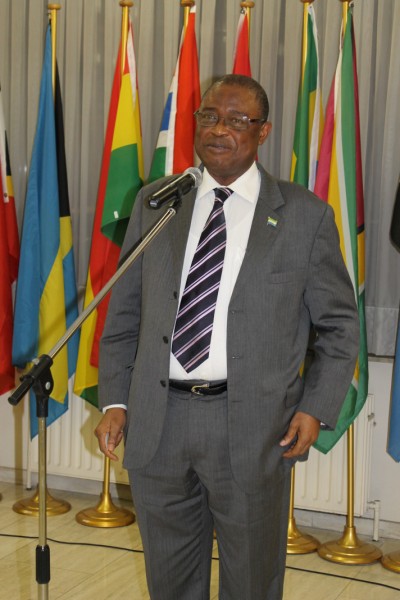 The new EMRC President, Professor Monty Patrick Jones addressing audience during the reception in his honour
Proposing a toast during the reception organized at the ACP headquarters in his honour by Sierra Leone's Ambassador to the Kingdom of Belgium and Head of Mission to the European Union, Hon. Ibrahim Sorie, he described Professor Jones as an icon not only for Sierra Leone and Africa, but the world.  He said Professor Jones is one of the gifts of Sierra Leone to the world.
Responding to the toast, Professor Jones, who also doubles as Special Adviser to His Excellency President Dr. Ernest Bai Koroma and Ambassador-at-Large said, "I feel extremely honoured by this reception and feel very proud to be a Sierra Leonean and one that has contributed in his own little way to the fight against hunger not only in Africa but the world".
. Professor Jones (C) flanked by Ambassador Sorie (R) and wife (L).
The award winning scientist and graduate of Sierra Leone's Njala University, gave a brief synopsis on how the now popular NERICA rice came about. He disclosed that initially, he had no intention to become a Scientist and even his parents frowned at that idea as he is from a highly religious background.
"However, after carefully looking at the worsening situation then in Liberia and around Africa, and how sixty percent of the world's One billion hungry people are living in the African continent, I resolved to do all I could to contribute in my own little way and help to alleviate hunger not only in my country but Africa and the world at large.
"NERICA rice is better nutritious than any other imported rice and could be cultivated throughout the year", he emphasized.
The reception attracted senior diplomats based in Brussels and a cross-section of the Sierra Leone community in Belgium and Holland.
The EMRC was established in Brussels in 1992 as a non-profit International Association composed of a network of Entrepreneurs, Financiers, Consultants and officials based throughout the world to lead the private sector in Africa to sustainable economic development via partnerships.
Professor Jones is Co-winner of the prestigious 2004 World Food Prize. He won the award based on his discovery of the genetic process to create the New Rice for Africa (NERICA), which gives higher yields, shorter growth cycles and more protein content than its Asian and African parents.
Professor Jones started his career at the Rice Research Station in Rokupr, Sierra Leone where he worked as a Breeder. He has served many international institutions including CGIAR, IITA, USAID, WARDA etc.
In September 2001, he received the National Order of Merit of Cote d'Ivoire given by the former Ivorian President. In 2004, he also received the Insignia of the Grand Officer of the Order of Rokel from the former President of Sierra Leone on his work on NERICA. In 2011, he received the Golden Jubilee Award from President Ernest Bai Koroma. In 2010, he was awarded the Niigata International Food Award. He has received honorary doctorate degrees (Honoris Causa) from Universities in the UK, Belgium, Sierra Leone and South Africa and in 2007 was named as one of the Hundred Most Influential Persons in the world by TIME Magazine.
By Chernor Ojuku Sesay,
Information Attache,
Sierra Leone Embassy,
Brussels/Eu.
Notes on pics:
1. The new EMRC President, Professor Monty Patrick Jones addressing audience during the reception in his honour.
2. Ambassador Ibrahim Sorie reading a short profile of Professor Jones.
3. Professor Jones (C) flanked by Ambassador Sorie (R) and wife (L).