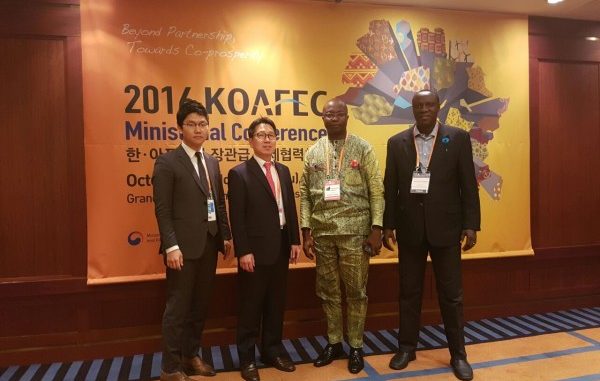 Dr.Patrick S. Conteh Sierra Leone's Minister of State Finance has confirmed and established that Sierra Leone's Economic cooperation with South Korea and African Development Bank aimed at improving infrastructure, advance Agricultural Development and capacitate youths- which have been in existence for some time now, are generally accepted by the Korean Government and the President of African Development Bank and are on track.
Dr. Patrick Conteh made this disclosure to Ambassador Omri Golley and staff of the Sierra Leone Embassy in Seoul South Korea soon after the conclusion of 2016 Korea – Africa Economic Cooperation (KOFAC) Ministerial Conference in South Korea.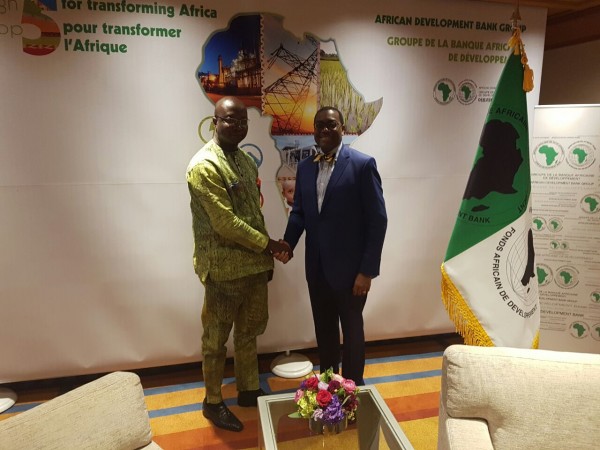 Dr.Patrick Conteh (L) in a warm Handshake with D.Akinwumi Adesina ADB President after a bilateral talks
KOFAC brings all Africa ministers of finance with Korea government with an objective to promote economic cooperation and development, and it is held every two years.
The just concluded sixth (2016) session was attended by forty four (44) African Ministers of Finance.Sierra Leone was represented by Principal Deputy Financial Secretary, Mr. Ansu Tucker and Dr. Patrick S. Conteh Sierra Leone's Minister of State Finance.
At the end of the meeting,  the duo held a follow up meeting with the president of the ADB on President Ernest Bai Koroma's led government request for a special funding window to enable large scale investment in Agricultural development in Sierra Leone, which is in line with African Development Bank (ADB) "Feed Africa Campaign".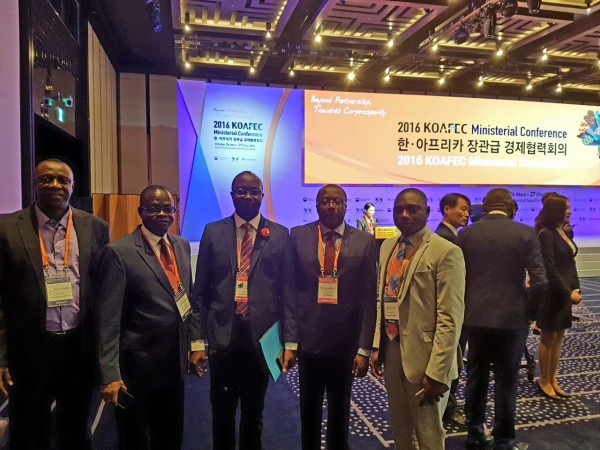 The Sierra Leone delegation including Amr. Omrie Golley
According to him, Dr. Akinwumi Adesina African Development Bank President assured him that the proposal is receiving the attention of the ADB and is expected to be a major intervention in Sierra Leone goal of attaining food Self – sufficiency.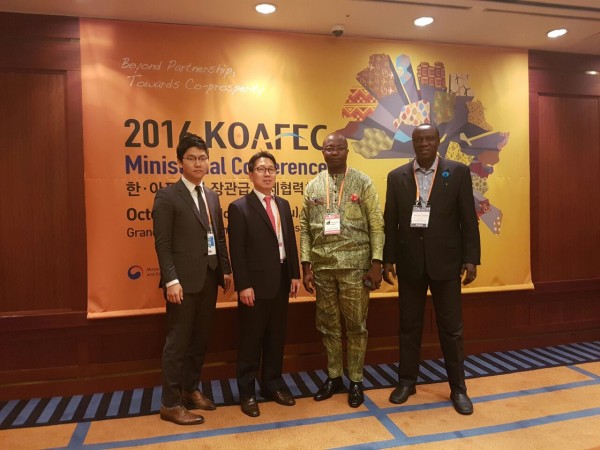 Sierra Leone delegation (R) and the Director of Korea Exim Bank after a bilateral meeting on infrastructural development in Sierra Leone
In a follow up meeting with Mr. Sang Wang Byun Executive Director of Korea Exim Bank, currently funding the construction of a fifteen (15) Storey Freetown City Council Complex at Freetown City Center with the sum of fifty four Million Dollars ($54m), the Hon. Minister of State said he was assured that the project is underway. The minster of state also held discussion with the Executive Director of Korea Exim Bank in respect of an investment of about Twenty Five Million Dollars ($25m) in the marine sector for fishing vessels, construction of a jetty and  fish processing plant. According to him, Mr. Sang Wang Byun gave the firm commitment of the Eximbank and that a mission will be visiting Sierra Leone in early 2017 to finalize the specifics of the investment.
"we also Met with the Founder of the International Youth Fellowship already with presence in Sierra Leone teaching ICT to youths in the Goderich axis in Sierra Leone and further discussed South Korea-Sierra Leone student exchange programs,  and  plans for training sierra Leonean youths in South Korea.
Given the progress that Korea has achieved over a span of 50 years, from a poor and war torn country to being the 11th largest economy in the world, there are countless number of lessons for African countries hence KOFAC, noted Dr Conteh.
The conference was jointly hosted by KPFAC, ADB, and Korea Exim Bank.
Pasco Gerald Temple
Information Attache
Embassy of Sierra Leone to the United States
1701 19th St. NW
Washington, DC
20009