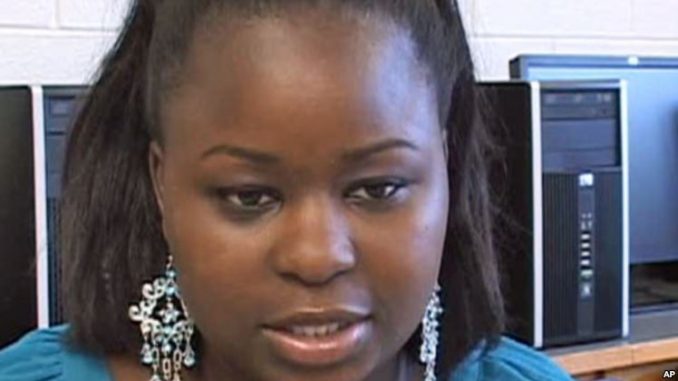 Damba Koroma, a survivor of the 1991 civil war in Sierra Leone
For eleven years, the West African country of Sierra Leone was torn apart by civil war. The war began in 1991, when a rebel group (called the Revolutionary United Front) launched a campaign to control the country's rich diamond fields. The rebels attacked civilians in villages, using machetes and axes to sever their arms, legs, lips and ears. Damba Koroma was only five when rebels cut off her left arm. As a young girl she was brought to the United States, where she has just completed high school.
On the right arm and hand – perfect nails. On the other – only a memory of what once was there. But Damba Koroma doesn't dwell on the past. Cooking is one of her passions. Days before her high school graduation, she is enjoying making a salad in her cooking class. She uses special prosthetic tools.
"I find it really cool how you can make something really good and tasty that people will love and I love to eat," she said.
Teacher Craig Scheuerman helped her get the cooking tools, which were donated by a non-profit foundation. He says Koroma is one of the best students he's ever had.
"I thought she had a disability, and clearly she did not. She's been phenomenal at working in the kitchen," he stated. "She can work as fast as someone with two hands."
Her classmates agree, saying she is very helpful. Daryl Hale says he is impressed by her as she's just a good person all around. Josoph Jackson adds, she is willing to help and shares her knowledge with others.
Growing up during Sierra Leone's civil war, Koroma recalls the day in 1997 when rebels attacked her village, demanding money from her mother who said she didn't have any. The leader of the group said Koroma would be used an example of what would happen if people didn't give them what they wanted.
"They chopped my left arm off and then they did the same to my mother. And then, after that they did the same to several other villagers who were also there on that day," Koroma explained.
Damba says it took three days for her family to walk through the chaos to get to a hospital. After that, she spent several years traveling from one refugee camp to another, seeking help from people in nearby cities.
"My mom and I, during the day, we would go inside the city to beg for money or for food," she recalled.
While mother and daughter were in a camp for amputees, Koroma was given an opportunity in 2000 to come to the United States to be fitted for a prosthetic arm. She was afraid to go back to Sierra Leone.
When her story became known, Sahr Pombor and his wife, Josephine, stepped forward to become her guardians in Alexandria, Virginia.
"I couldn't image how much pain she suffered. It just tore me apart," he said.
The newlywed Sierra Leonean couple, who had come to the U.S. to flee conflict in their country, suddenly found themselves with their first child. They would later have three daughters of their own. Josephine Pombor says her sister gave her advice about how to help Koroma adjust.
"Just grab the hand and kiss it, just tell her you love her and I did that a lot," Pombor recalled. "And as she grew older I began to notice that she was more confident in herself."
Damba says she is not bitter about the loss of her hand.
"Even though I have one hand, even though I have pretty rough background, I'm not going to let it stop me from doing what I what to do," she said.
Last April, Koroma went back to Sierra Leone for the first time since leaving for the United States. She met with other amputees and spoke to students about never giving up. She also reunited with her mother and other family members.
"I felt at home. I felt like I had been with them forever, even though I hadn't seen them in almost 11 years," she noted.
Koroma is going to college in a few months and hopes to study international development. Sierra Leone, she says, is still rebuilding from war. Her goal is to help build a hospital for women and children in the country.
"I'm really passionate about helping other people because it's a way of giving back because a lot of people have helped me along the way," she said.