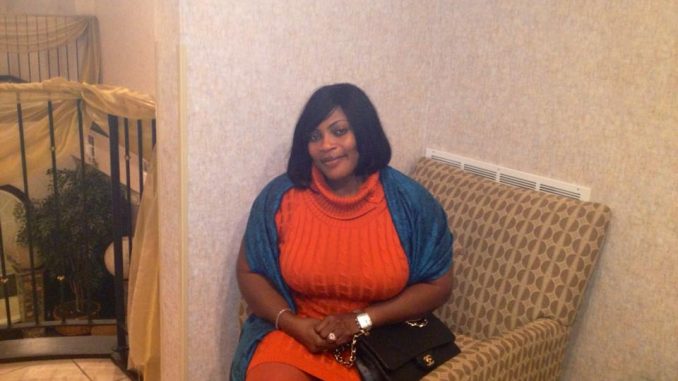 RABIATU KAMARA, who has become an instant celebrity since achieving the SPRING OF JOY Gems of Africa Award, has told COCORIOKO that she is exceedingly glad and proud for being recognized with the award . Since the announcement of the award two weeks ago , Rabiatu's telephone has never ceased ringing. It has been  virtually ringing off the hook  as well-wishers , supporters and family all over the world have been calling her to congratulate her. Not only that, she will command perhaps the largest following at the hall when the awards are given out tonight.
RABIATU KAMARA
Today,  when the Washington DC/Maryland version of the SPRINGS OF JOY Gems of Africa Awards Program is held  at the Comfort Inn Hotel in Beltsville , Maryland, Rabiatu will be one of the causes for celebration . The GEMS OF AFRICA Awards are given as a mark of honour and recognition to celebrated Africans making a difference in their communities. SPRINGS OF JOY  have held the Philadelphia and New Jersey versions of the event.
Rabiatu , a nurse and owner and administrator of the UNIQUE Health Care Services Incorporation , both a referral nursing and residential services agency , licenced and bonded by the Maryland Department of Health and Mental Hygiene., is being honoured for her enterprising spirit and ability which have provided  quality care for the sick and the aged. She has also provided employment for many Sierra Leoneans and other nationals.
Rabiatu Kamara is also the Founder of Samvee Foundations , a non-profit organization for underprivileged kids , named in honour of  her late father,Mr .Sammy Kamara and mother, Victoria. The Foundations are registered both in the United States and Sierra Leone.
Talking to COCORIOKO  yesterday, Rabiatu Kamara said that she felt both humbled and proud for the award, for the fact that she did not know that she had been under microscope  for what she had been doing in her community . She said her desire was to provide health care service to the community and help her community and she was delighted that she had gained recognition for it.
Rabiatu told this paper that she was overwhelmed by the excitement the announcement of the award created among her well-wishers, friends, family and supporters  She said that the desires of people wishing  to attend the program just because she was getting an award  was fascinating. "They kept asking for tickets to buy to be able to attend the ceremony. I have sold so many tickets ".
Rabiatu also said that she was amazed by the delight and enthusiasm in  her mother  and friends and family in Sierra Leone who read the COCORIOKO  online newspaper report about her award . They have been calling her to congratulate her and to tell her that they were very proud of her. Even her clients and employees are excited about the award.  " They have all told me they are proud of me  and I am  proud  too and thankful to God for the recognition of my efforts", she added.
The originator of the GEMS OF AFRICA Award is Mr. Abraham Siafa, who said that his desire was to honour Sierra Leoneans and other Africans who are making a difference in their community.