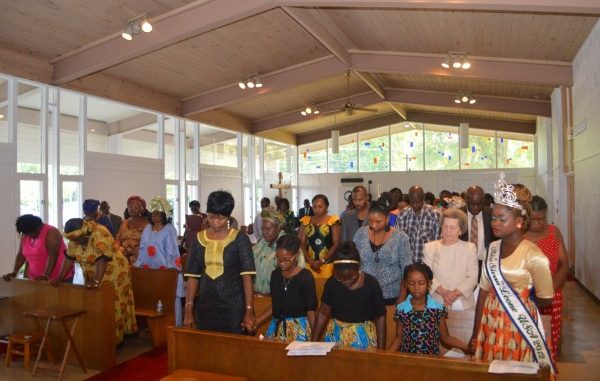 A cross section of Christians in the tri-state of Washington DC, Maryland and Virginia USA, held an afternoon hours of Ecumenical Prayer Service at the Good Samaritan Lutheran Church on Sunday August 10 2014 on 10110 Greenbelt Road Lanham Maryland for a Divine intervention that would facilitate the immediate stop of all destruction being wrecked by Ebola Virus Disease in West Africa in general and Sierra Leone in particular.
 ALHAJI  DENNY DAVIES -A MUSLIM– IN ACTION
The service which was characterized by several Hymns including "Christ is Made The Sure Foundation,"  "Help Us Accept Each Other Lord", "O God Of Every Nation", "God Of Ages" "My Country Tis of Thee" and several songs of praises, and consistent invoking of the presence of the most High God in the church, saw dedicated men and women of God pouring out their heartfelt desires in one spirit to end the existence of Ebola.
 AMBASSADOR BOCKARIE STEVENS GIVING HIS REMARKS
In his speech, Ambassador Bockari Kortu Stevens made reference to the regular updates from the Ministry of Health and Sanitation in Freetown and further updated the congregation about the statistics of infection regarding the Ebola virus disease in Sierra Leone.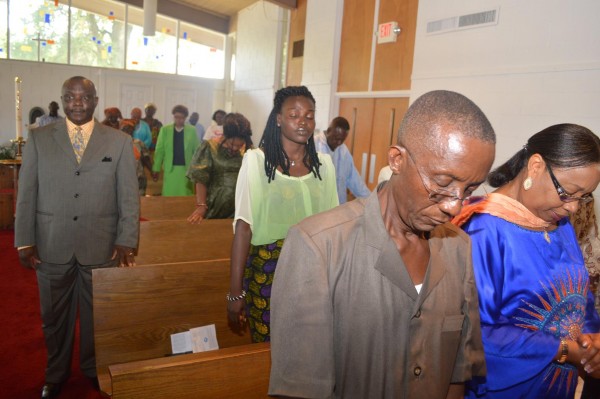 A SECTION OF THE CONGREGATION
He quoted the speech of President Ernest Bai Koroma and said the Church service resonates with the call of President Ernest Bai Koroma. "Ebola is real: Ebola kills".  "Ebola in any part of our country is a matter for everyone in the nation. "This is not only a matter for our brothers and sisters in the Kenema and Kailahun districts, it is a fight for every one of us, everyone in the government, everyone in every political party, in every region, every district, city, town and village.
He said "Many citizens have risen up to the challenge of fighting this disease, and we commend them including your great and noble services, from health workers, to paramount chiefs, teachers, police officers, religious leaders, youths and ordinary citizens.
"Let me also use this opportunity to commend all of our local and international partners at the forefront of the fight against Ebola." Concluded Ambassador Stevens.
Different individuals among the congregation emerged and offered prayers to God  in diverse languages and dialects including English, French, Yoruba, Krio, Temne, Limba and Mende.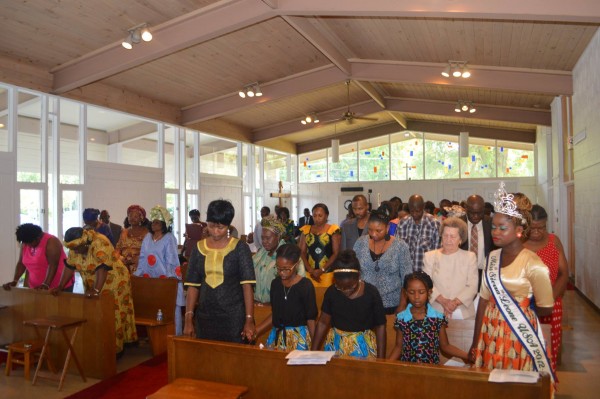 PART OF THE CONGREGATION
The congregation joined their hands, while the pastors knelt down in humility, raising their hands while at the same time, pouring out their hearts desires to their maker, for his divine intervention in seeing the end of Ebola in Sierra Leone.
The prayer session also witnessed Muslim clerics including Alhaji Alimamy Bangura President of the Ebilleh Cultural Muslim Jammat, Alhaji Denny Davies of the Ebilleh cultural Muslim Jammat, offered prayers in sequence and recited some Quoranic verses in the church, for Allah/God to miraculously end the destruction of Ebola Virus Disease in the West African Nations of Guinea, Nigeria, Liberia and Sierra Leone.
More than fifteen religious heads were drawn from various Christian communities and registered Sierra Leonean organizations in the United States of America. They prayed for the consecration of Hospitals, Clinics, protection of Doctors, Nurses, Medical Personnel, men, Women who work for public safety, Educational Institutions  Public, Private, those who care for the sick and needy and a prayer of thanksgiving.
According to host Pastor Reverend Gloria Cline-Smythe, the service was organized to enable Christians and Muslims with one determination converge and pray: "for Almighty God to work wonders and end the killing by Ebola in our Country."
During his sermon, Rev. Dr. Abdul K. Sesay, of Kings and Priests Court International Ministries of Silver Spring, Maryland recalled the days of Egypt, when the Israelites were in bondage, and Pharaoh refused to let the people go, but the day of the Lord came, and God Almighty through fervent prayers freed the Israelites and they went to the Promised Land.
Similarly, the rebel war came and raged- thereby killing people and destroying properties: yet it ended. Today, it is Ebola, by the Special grace of God; Dr. Sesay said Ebola will be a history in Sierra Leone.
Rev. Ken Turay served as the liturgist, while Rev. Thomas and Rev. Fifi Bhai Kamara served as Co- Pastors. Other Men and Women of God included Bishop Lucy Anthony, Rev. Dr. Abdul K. Sesay, Pastor Godwin Archibong,  Rev. Ernest Olufemi Williamson Taylor, Rev. Ghazi Fackie, Pastor Sammy Conteh, Pastor Antoine Ellong and others took the lectern and prayed to the Almighty God with one aim for God's Power to overcome the Ebola Virus disease.
They also prayed for the bereaved families at home and abroad and for the faithful departed to rest in peace.
Ms. Suna Nallo of NOSLINA gave the Vote of Thanks
Pasco Gerald Temple
Information attaché
Embassy of Sierra Leone
Washington DC
20009 USA
Tel- 2024466958