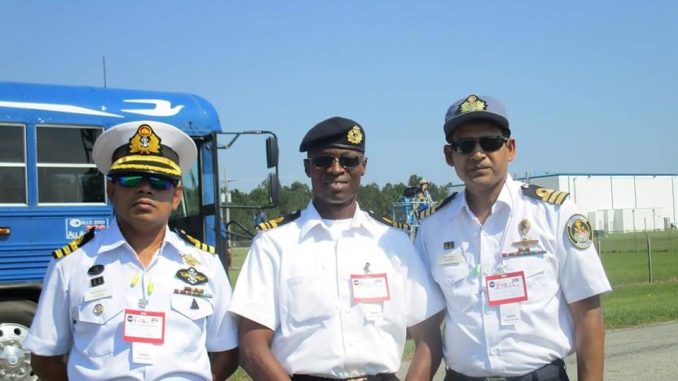 By AMIN KEF
Lawrence Jabati, a Commander in the Republic of Sierra Leone Armed Forces on the UK's Advanced Command and Staff Course, reports back from England on his experience so far.
I arrived in England at the Joint Services Command and Staff College in Shrivenham, England on 21 August, 2017. My course, the Advanced Command and Staff Course, commenced the next day. We were introduced to the course and the subjects we needed to be familiar with. The course will run until July 2018. There are 263 of us on the course, with 103 foreign students from 56 different nations across the world. The course is a fantastic opportunity to meet military staff from many different armed forces, and I consider myself very fortunate to have been selected.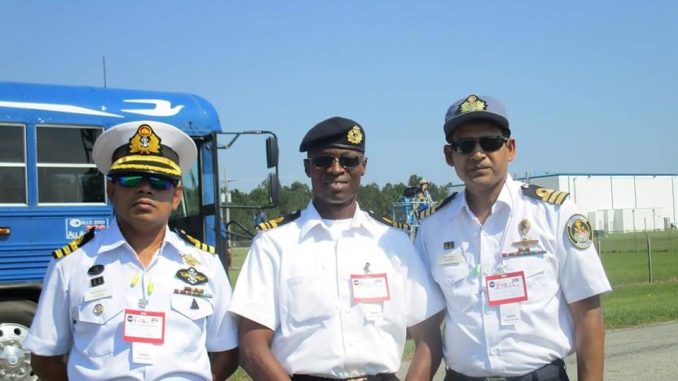 The Advanced Command and Staff Course aims to improve officers' analytic, decision-making and communications skills, testing ability to make or support timely, logical and sound decisions within a military context and in a demanding environment. We have already been tested: we recently visited Budapest, the capital of Hungary, to complete the Regional Security Exercise (RSE) and the Exclusive Economic Zone protection course.
My wife and 3 girls joined me two weeks after my arrival at Shrivenham. The Shrivenham Campus has an excellent array of facilities and activities available to staff, students and their families. We are already part of a warm, welcoming community and there's no shortage of things to do, both on and off Campus. The Academy Players lay on a number of productions each year. The Shrivenham campus has its own fitness centres, outdoor sports pitches, cricket, tennis, badminton and squash courts, running tracks, a golf course and riding stables.
My children are currently attending the local schools: Watchfield primary school and the Farringdon Community College in Farringdon. We currently occupy a 3 bedroom accommodation in Watchfield. In the United Kingdom, schools are either state schools, funded by government and free for all pupils, or they are independent schools and charge fees to the parents of the pupils. The school curriculum is different altogether from Sierra Leone, and is a great experience for the girls. While education is compulsory until 18, schooling is only compulsory to 16, thus post-16 education can take a number of forms, and may be academic or vocational.
Moving to the UK from Sierra Leone's tropical climate to a temperate one, was a great adventure for my family, especially for my eldest daughter. The UK's unpredictable weather can be sunny one moment, rainy the next, with cold winds. It can be windy with the risk of gales in places, particularly across coastal areas. Temperatures are low this time of year. My family's experience with the weather is amazing. Four to five clothes are worn at a time, including warm clothing. To acclimatise requires time. It is worst in winter which my children had been yearning to witness, an indelible period on their minds.
Seeing snow is their next intent. Due to their adaptive qualities, they have learnt about this different society, made new friends and adapted to a new life and culture. I think these are good qualities they would be applying at any level in their academic and career life.
Prior to leaving Africa, my family especially my youngest daughter had the intention not to eat any African food until her return. It was amazing to note that her first encounter with western meals was on board Brussels airlines. Traditional meals include bread and cheese, roasted and stewed meats, meat and game pies, boiled vegetables and broths, and freshwater and saltwater fish. English cuisine encompasses various cooking styles, traditions and recipes.
Sierra Leone faces a multitude of maritime security challenges. Illegal, unreported and unregulated fishing continues to be a major maritime threat as it becomes a source of livelihood for the perpetrators. Other threats include drug trafficking, smuggling, trafficking of persons, and poaching. This is as a result of the lack of appropriate platforms and resources, no effective or sustained patrols, weak or unreliable information or intelligence, weak legal framework to levee penalties on defaulters, limited logistic support, poor interagency cooperation, weak legal processes not domesticating international conventions, and the diplomatic connections of those arrested.
My completion of the Advanced Command and Staff Course will improve the capability of Maritime Wing and help it fulfil its role of ensuring maritime security in Sierra Leone. My participation on this course will also enhance my capacity and ability to handle and address strategic and operational level challenges facing the Maritime Wing and the RSLAF as a whole.
Britain is Sierra Leone's closest partner in Africa when it comes to defence engagement. During the civil war, Britain displayed its engagement and support for a stable and democratic Sierra Leone. The British participation in the long-lasting Civil War was decisive to hasten its end. Britain extended the scope of its initial participation and took full military engagement to defeat the rebels and bring back order to the country. Since then successive British governments have been committed to aiding Sierra Leone through a new phase of political stability and economic development.
My attendance on this course is just the latest example of this long standing partnership. The two countries also collaborate on training operations, helping any future government of Sierra Leone rely on a skilled and loyal armed force to keep its people safe. Therefore, Britain and Sierra Leone enjoy a relation that involves growing military links, economic partnership and aid, diplomatic goodwill and is an example of cooperation between two different countries connected by a long shared history.