NOBODY  will deny the fact that people need to stay home during the lockdown  imposed by government to combat the coronavirus and  ensure the safety of families and the public. However, Sierra Leoneans are appaled at the vicious beatings and gross human rights abuses committed by the security forces while trying to enforce compliance..
The security forces should have found  a more humane method to get those people home. They needed water, food and basic necessities. That is why people of them were  out there. Nobody was brutalized during the Ebola lockdown. Govt.ensured food, water and light and people conformed and stayed home
Humans are not dogs, so it is wrong to say "Kill dog befo dog make dog know say die day". That is human rights abuse .
MERCILESSLY BEATING AND MAIMING PEOPLE TO HAVE THEM OBEY WILL CREATE ITS OWN PROBLEMS .
Tyranny, dictatorship, violence, horrendous abuse by government  are  unacceptable. The world is watching Sierra Leone slide into a pariah state.
Shame on these Military and Police officers. I hope the authorities fired them and charge them to court. This is not a good image for our country Sierra Leone. Let make these vidoes viral. "Mob justice or anarchy"
Sam Jay
The military or police forces are trained to protect lives and properties of every citizens. This video just exposed how some of our men serving in uniform are undermining the good of the force. This is painful to watch.
21 hrs · 
I can't take it anymore. I've been to The Hague. I'm making a referral for crimes against humanity ASAP. Yesterday's beatings, woundings and killing of civilians in the guise of a lockdown in Sierra Leone was the last straw. I know the need for a prosecution referral when I see one.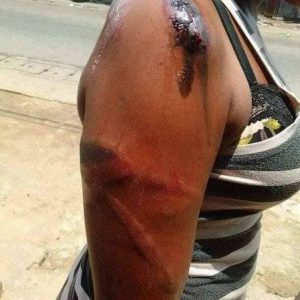 Abdulai Kamara James 3:8 But the tongue can no man tame; it is an unruly evil, full of deadly poison.
Madam Fatima bio this action comes form your lips. Remember your video.
John Kamara Sad news for our people in Sierra Leone but Allah will see you true
Aruna Cole Sad State really Bra
This is human rights violation,for God sake this is 21st century we dont need to use cane to discipline people.
This is so wrong and I know the government did not give anyone order to beat.
Kadi Karl Max
President Bio 2 years achievements are:
1)political prisoners 2)killings 3)stealing
4)insane wife
5)hardsh
Mohamed Mash Bangura
Yes the law must be upheld but our security personnel should not be overzealous. This is a moment of stress for our country, no need to heighten tension unnecessarily. Someone needs to caution our brothers and sisters in uniform to do their work with civility and human face especially in poor communities where people are coming out to fetch water. No need to beat and confiscate their jerry cans. Let's fight Corona if you have no business outside stay indoor.