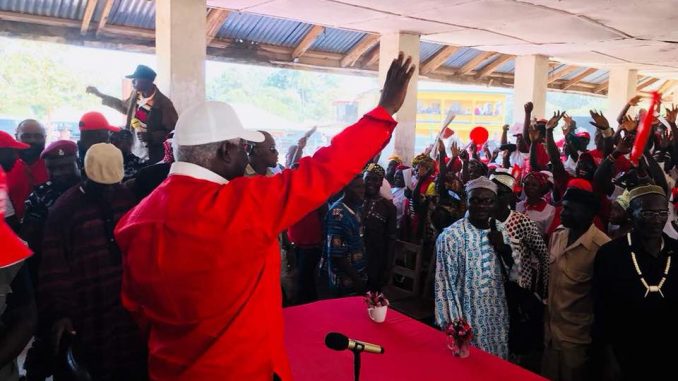 Sierra Leoneans cannot entrust the future of their country into the hands of a first time voter – President Koroma tells the people of Kychom and RokuprBy Jara Mina Jara President Dr Ernest Bai Koroma has described the National Grand Coalition (NGC) flag bearer as unfit to be president at this time. He made this statement during his 'thank you' tour to thank the people of Samu and Magbema chiefdoms in Kambia district for giving him the unique opportunity to serve as their president for two consecutive terms of five years each. "I like Kandeh Yumkella and he's my relative. In fact, there was a time when people within the APC thought I was grooming Kandeh to succeed me. But when it comes to choosing leaders, it's serious business. It's not about friendship or relations. It's about the future of this country. I like Kandeh but he is unfit to be president at this time. After March, we will find something for him to do," adding that the people cannot entrust the future of this country in the hands of a first time voter; someone who doesn't know what governance entails. Despite Kandeh Yumkella being his in-law, President Koroma said that he loves Sierra Leone more.

Posted by Jarrah Kawusu-Konte on Saturday, February 24, 2018
Sierra Leoneans cannot entrust the future of their country into the hands of a first time voter – President Koroma tells the people of Kychom and Rokupr

By Jara Mina Jara
President Dr Ernest Bai Koroma has described the National Grand Coalition (NGC) flag bearer as unfit to be president at this time.
He made this statement during his 'thank you' tour to thank the people of Samu and Magbema chiefdoms in Kambia district for giving him the unique opportunity to serve as their president for two consecutive terms of five years each.
"I like Kandeh Yumkella and he's my relative. In fact, there was a time when people within the APC thought I was grooming Kandeh to succeed me. But when it comes to choosing leaders, it's serious business. It's not about friendship or relations. It's about the future of this country. I like Kandeh but he is unfit to be president at this time. After March, we will find something for him to do," adding that the people cannot entrust the future of this country in the hands of a first time voter; someone who doesn't know what governance entails. Despite Kandeh Yumkella being his in-law, President Koroma said that he loves Sierra Leone more.