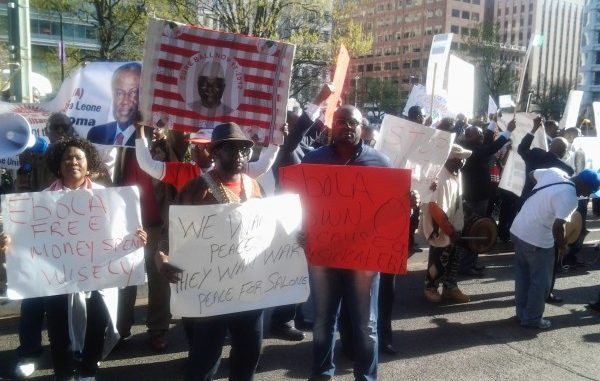 I just got home to New Jersey from Washington DC where I have been whole day with my President, Dr. Ernest Bai Koroma and his entourage , while also helping to stage another powerful counter-demonstration in favour of the President and the Government at the World Bank Headquarters in DC.
The Sierra Leone People's Party ( SLPP ) , disguised as the so-called Concerned Sierra Leoneans carried out their threats to demonstrate  at the World Bank Headquarters in Washington DC against the dismissal of the former Vice-President Alhaji Sam Sumana , as they say, though every rational person knows that they have taken advantage of the Sam Sumana issue to project their own personal agenda. But they were roundly neutralized yesterday  by the Sierra Leoneans For Peace, a coalition of APC  supporters and advocates of peace, democracy and the rule of law.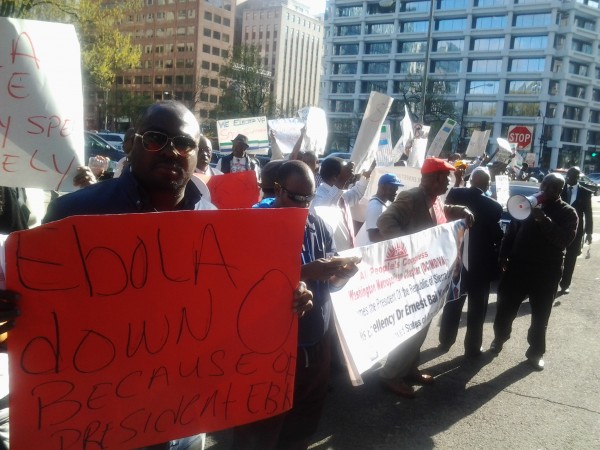 I did not have access to the internet whole day so I could not bring you the report of the counter-demonstration , but I want you to know that it was another very successful counter-demonstration which saw us go toe-to-toe with the other group that demonstrated against President Koroma. We expected more people to have turned out , though we had a sizable crowd, but we do not want to blame anyone because people have to go to work . In America, people have to work hard to pay their bills and feed their families. They cannot be expected to be taking off their jobs for these demonstrations. As time goes on, and we plan better , with long-range schedules, more people will turn up for these pro-Ernest Koroma demonstrations.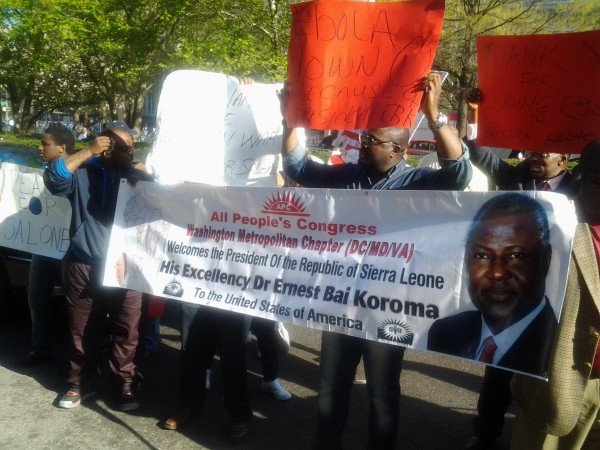 Today , it was not a question of who pulled the bigger crowd ; it was who were the loudest and who got the vantage point .I want to tell you that the pro-President Koroma demonstrators made their presence felt in such a manner with our chants in favour of the President, telling banners and brass band with loudspeakers and saxophones that I, your humble servant and some of our demonstrators, and Sylvia Blyden , who was standing across the street , were victims of extreme verbal abuse and near physical assault by rowdy anti-government demonstrators , led by Madam Kumba Sam Sumana, popularly known as Kumba Sam , sister of the ex-VP, the Hon. Alhaji Samuel Sam Sumana; a gentleman in dreadlocks holding a microphone and a short fellow in white. The photos of the culprits will be posted , when and as we receive them.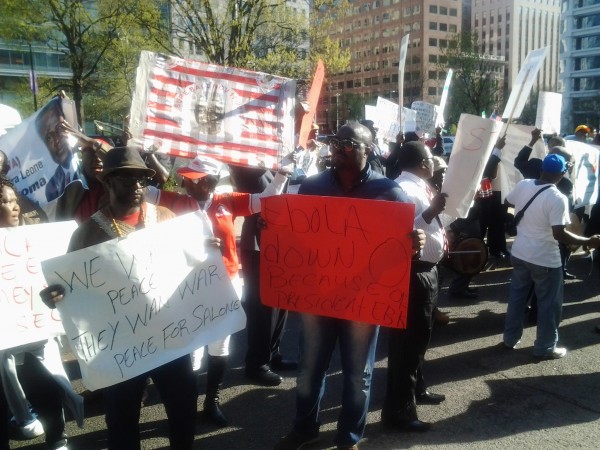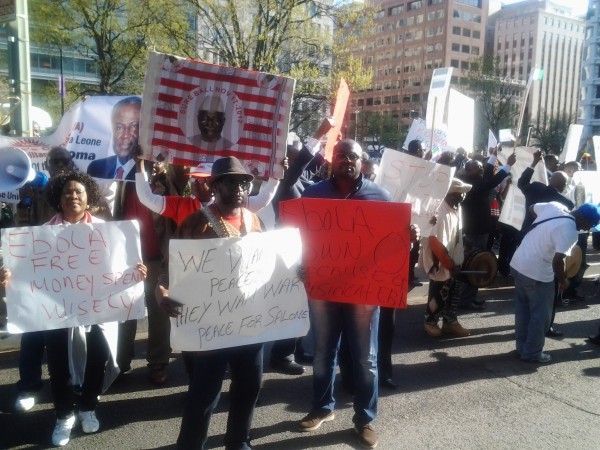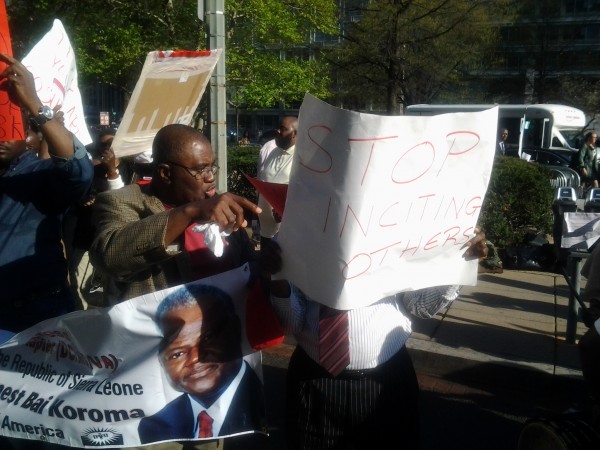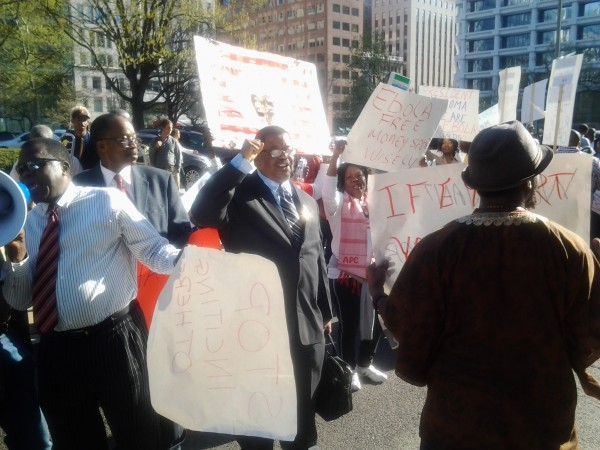 The reason that these pictures must be shown to the world  is that THUGGERY should not be any part of these demonstrations. THUGGERY AND DEMONSTRATIONS ARE ANTITHETICAL TO ONE ANOTHER. If the people protesting in favour of former VP Sam Sumana are really demonstrating in favour of the constitution, they do not need to resort to thuggery. They must let their voices and banners speak for them . But I have noticed in them the aggressive tendencies to assault demonstrators on the other side. During the demonstration at the White House, it was reported that they beat up a young man and also menaced Ms. Mary Faith Kanu, the daughter of the late Paramount Chief, Bai Makari N'SILK, whom they nearly manhandled . I spoke with Mary Faith herself and she narrated the story . I hope the Hon. Sam Sumana would not want to see his sisters in jail in America . He has to caution them to behave themselves , otherwise if they fall foul of the law by attacking anybody exercising his/her right to demonstrate , they could go to prison. The same applies to other demonstrators. Let the demonstrations be done without rancor , chaos or thuggery.If they believe they are winning the public relations war, then there should be no reason for them to resort to thuggery.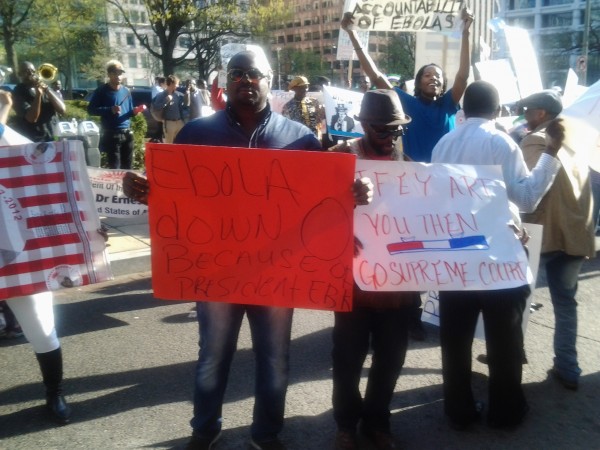 The second reason is that the SLPP , who have hijacked the Sam Sumana issue for their own personal and power-hungry ends, would want you to believe that they are making the better impact. If this is so, why have they resorted to thuggery against the pro-Ernest Koroma demonstrators. If you are winning a battle, do you need thuggery ?
I want to thank all the stalwarts who helped us demonstrate in support of our President, Dr. Ernest Bai Koroma and government at the World Bank yesterday . We succeeded in having our voices heard . We succeeded in having our presence felt. All objective observers at the World Bank yesterday learned one thing —There are two sides to the firing of the former Vice-President Alhaji Samuel Sam Sumana. To every issue there is a second side , unlike what some despicable Sierra Leoneans, some of them  extremely disgruntled , frustrated  and dishonest SLPP journalists  languishing in America would try to portray to the world ( Names unfit for mention in our honorable newspaper ). SLPP  journalists can malign us all they want but we will not relent from depicting the other side of the story.  If they believe in democracy and constitutionalism as they say, they should have no problem with the other camp articulating their views.
I again display the photos of the successful pro-President Koroma demonstrations at the World Bank. Pictures tell the story of a thousands words. Only somebody extremely sick in the head would look at these pictures and say that the pro-Ernest Koroma demonstrations were scanty and not successful or that the reporter publishing them is dishonest. Where is the dishonesty ? Americans and the world at large do not look at the size of the crowds, per se. They look at the messages . They know for sure now that there are two sides to the Sam Sumana issue. There are Sierra Leoneans who equally support the action of President Koroma to relieve Sam Sumana of his duties. And it is these Sierra Leoneans in the U.S. who will continue to have their voices heard as SIERRA LEONEANS FOR PEACE.
The last time we demonstrated at the White House , envious and jealous opponents of our successful demonstrations, including  clueless SLPP journalists, described us in expletive terms for showing photos of the Sierra Leoneans demonstrating on behalf of our President.  They have just started getting angry.
WE ARE DEMONSTRATING AT THE UN ON FRIDAY MAY 1, 2015. We chose that date because it is a Friday when we believe many people can take off their jobs to be able to be with us that whole day.
We will bring you a full report of yesterday's demonstrations. THIS IS JUST THE INTRODUCTION.