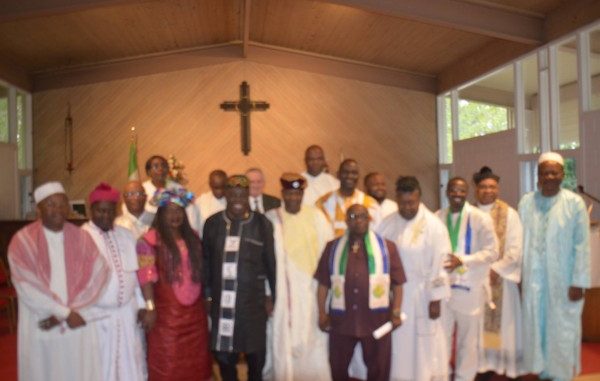 S/Leoneans in U.S. Metropolitan States hold Interfaith Prayer Service for Country
An Interfaith prayer service which saw a group of formal religious leaders from the Christian and Muslim faith conducting prayers and preaching sermons in turns using the same lectern to end the fifty fifth independence anniversary of Sierra Leone, took place Saturday April 30th, 2016 at the Good Samaritan Lutheran Church on 10110 Greenbelt Road Lanham Maryland.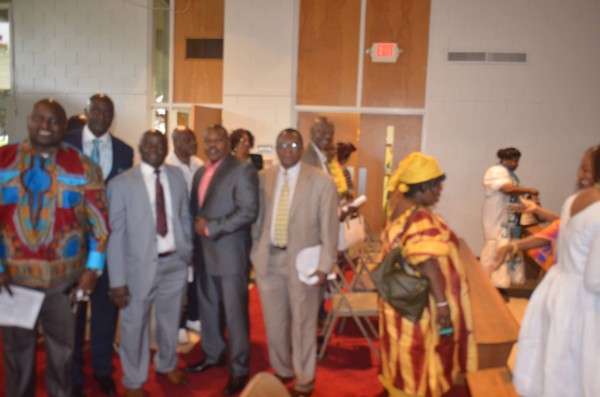 Organized by some members of the Sierra Leone Community in collaboration with the Embassy of Sierra Leone, the clergy men and women (Imams and Priests) representing different Muslim jamaat and Christian denominations alternatingly referenced the Holy Quran and the Holy Bible and prayed for President Ernest Bai Koroma, the Country Sierra Leone, the people and admonished government officials to judiciously govern the country and also for the people to change their attitudes.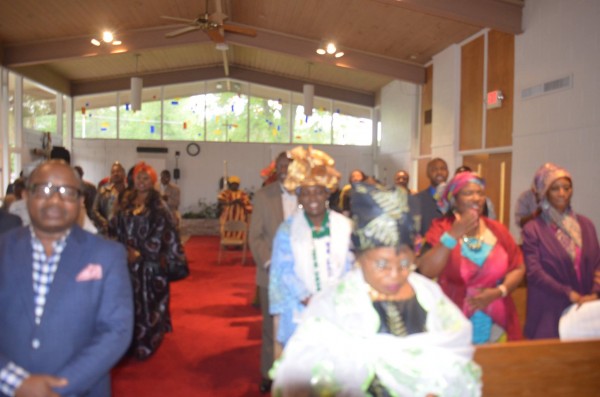 Led by The Rev. Gloria Cline-Smythe Host Pastor and Alhaji Teslimi Alghali of the Sierra Leone Muslim Jamaat, the service was opened by a processional hymn " O God Our Help in Ages Past" followed by a welcome and opening prayer including the "Lord's Prayer.
A recital of the Al Fatiha (Opening Prayer), followed by Al baqura (Cow), Al iqra (Knowledge), Al insan (Time) Sura Al maida (Pass over) and the recital of some Dua's including Rabana (Goodness),Ashifa (Protection)Adara (Guidance & Hope) also formed part of the opening prayer.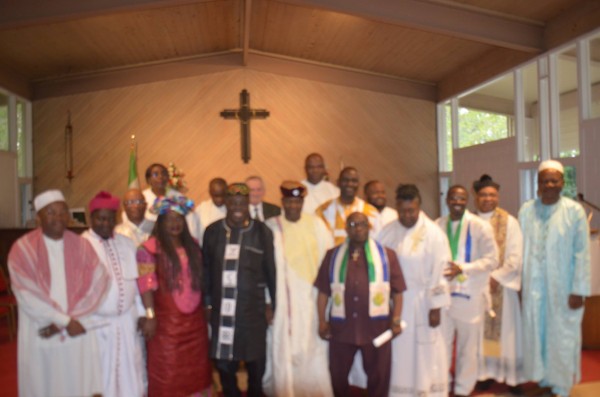 Alhaji Teslimi Alghali recited "Al-Tawhid" Quranic verses asserting that "Allah, is peerless and can never have a partner in His authority, or a similitude, while the sacred reading from the New Testament was done by Dr. Abdul K. Sesay followed by reflections and prayer.
Dr. Abdul K. Sesay cited several passages from Ephesians, the Book of James etc. and likened independence to Freedom and work towards economic, social and political freedoms. He advised Sierra Leoneans to move forward with positive thinking and admonished them to refuse being held back by negative talks and to refrain from all sorts of blame games.
He warned against the practice of tribalism and other evil isms and said, he had scanned through the Sierra Leone Passport and "i have not seen any provision for a passport holder to show the tribe he/she belongs to.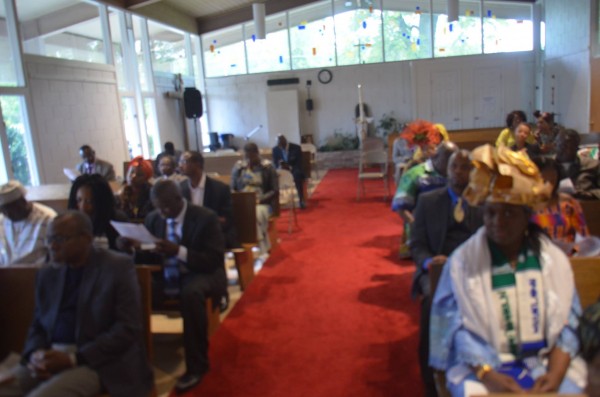 Sheik Muhammadu Cole & Rev. Gloria Cline Smyth prayed for the blessing of our leaders in Sierra Leone. According to her, leadership comes from God, and they must be respected.
"If something wrong happens, please add respect and say it." Said Rev. Gloria Cline Smythe. She cited several references in the scriptures where respect was used as tool for counselling and admonishment.
Rev. Dr. V. Fakondo interceded on behalf of the Country, while Rev. Ghazi Fackie and Imam Alhaji Teslimi Alghali prayed for the Houses of Worship. According to them, Houses of worship should be used for their intended purposes.
Rev. Cannon Prince Decker and Imam Alhaji Teslimi Alghali prayed for God/ Allah to have mercy on our Country and not to allow any sickness, curable and incurable in our Country.
From the chapter Al-Insan" meaning Time or Man, Imam Alhaji Teslimi Alghali recited several Quranic verses and prayed to Allah for Forgiveness, Mercy and for the aversion of any unforeseen disturbances in our land that we love our Sierra Leone.
The Rev. Dr. William Bultman and Sheik Momoh Kallon prayed for Hospitals, Clinics, Doctors, Nurses, Medical personnel and all workers of Hospital.
Citing the Chapter- Al-Maida Meaning "The Table Spread verse 32, "if anyone saved a life, it would be as if he saved the life of all mankind".
Sheik Momoh Kallon said nurses provide healthcare services to patients, families and communities as a manifestation of love for Allah. In Islamic traditions, caring is the manifestation of love for Allah and Muhammad. Caring in Islam, however is more than act of empathy: instead, it consists of being responsible for sensitive to, and concerned with those in need, namely the weak, the suffering and the outcasts.
Rev. Mrs. V. Beckley and Imam Alhaji Teslim Alghali prayed for men, women and Children who work for Public safety, while Rev Gloria Cline –Smythe and Alhaji Ahmed Sheik Nabay prayed for Educational institutions (public, Private and parochial).
Rev. Raymond Max Jones and Imam, Alhaji Teslimi Alghali prayed for those who care for the needy, and warned against greed.
In his sermon, Rev. Frank Hume Dawson related his address to the scriptures and further recited many other authorities which dwells on Love, Unity Freedom and Justice.
He abhorred the vices of religion and appealed for a turn to a new pages which have all the virtues of growth, progress, development and love.
He thanked Ambassador Bockari Kortu Stevens and staff for encouraging such a development in the United States, and appealed for such tolerance to be extended to one and other.
In his keynote address, Ambassador Bockari Kortu Stevens thanked the clergy for their sacrifice and members present for their time.
He said the momentum regarding the 55th anniversary celebration of Sierra Leone in the United States is a true replica of what happened in Sierra Leone (Low Key).
He said the time is changing and things are now turning around for the good of the Country.
Sierra Leoneans are now going home and the number of visitors from the United States to Sierra Leone is on the increase.
He said President Ernest Bai Koroma is working very hard to improve the Economic, Social, Health and Infrastructure of the Country.
Offering of prayers in different Sierra Leonean dialect by members of the congregation formed the highlight.