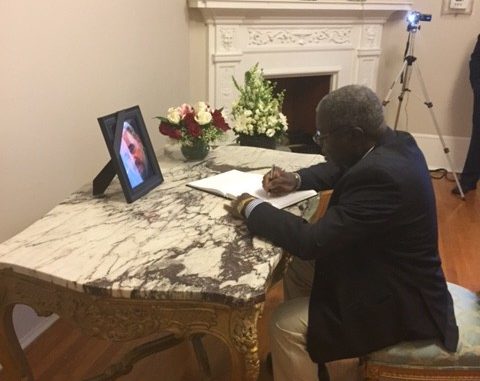 PRESS RELEASE
SIERRA LEONE'S AMBASSADOR  TO THE UNITED STATES PAYS HOMAGE TO LATE CUBAN LEADER FIDEL CASTRO 
Tuesday, November 29, 2016
 His Excellency Bockari Kortu Stevens, Ambassador Extraordinary and Plenipotentiary of the Republic of Sierra Leone to the United States of America, today signed the book of condolence in memory of Commander Fidel Castro, former President of the Republic of Cuba at the 16th Street Embassy of the Republic of Cuba in the United States of America.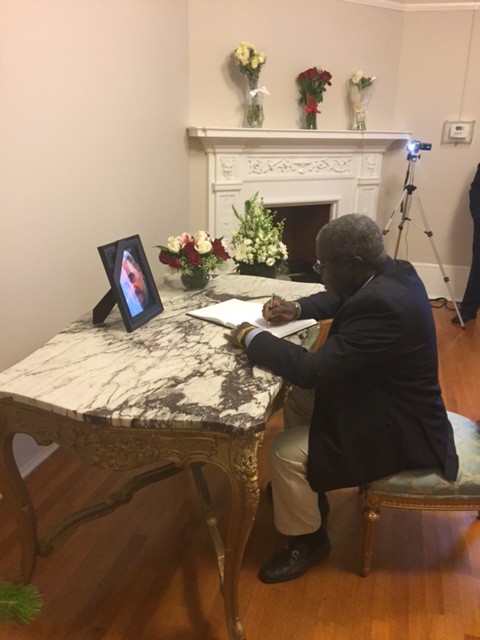 AMBASSADOR STEVENS SIGNS THE BOOK OF CONDOLENCE
President Fidel Castro died on Friday November 25, 2016.
Fidel Castro was not only a hero to  his country , Cuba, but  to the people of Sierra Leone and  Africa.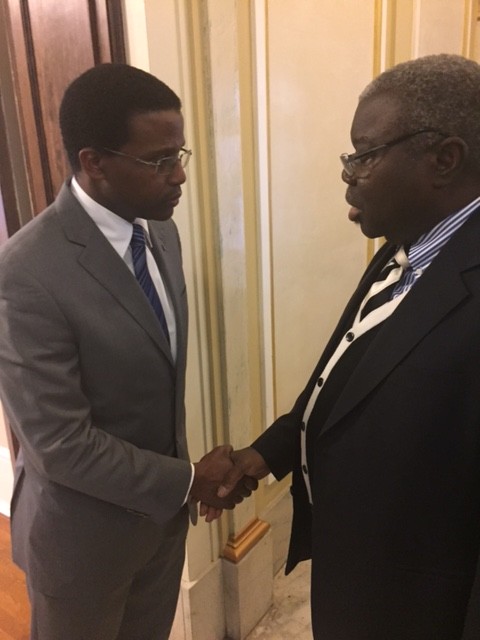 AMBASSADOR STEVENS ( RIGHT ) AND THE CUBAN COUNSELOR
At the signing ceremony, Ambassador Stevens recalled his personal encounter with the great leader of Cuba in Russia in 1978 during a meeting that left an everlasting impression in his development as a youth leader. He also recalled the visit of the Cuban leader to Sierra Leone in 1970 during the reign of President Siaka Stevens, which opened the door to closer co-operation between the two countries.
"Like him or loath him, no one can deny the fact that through his revolutionary zest, he has reserved for himself a place in the annals of the history of Cuba, Africa and the world.  He was an irreplaceable revolutionary icon" ,  concluded Ambassador Stevens.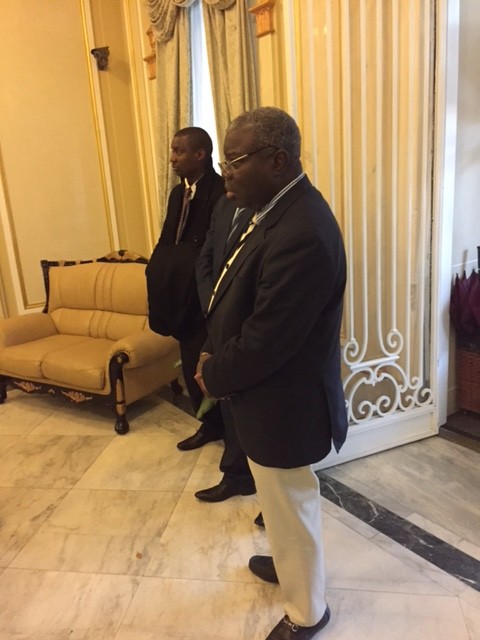 Mr. Stevens  was received by the Minister Counsellor of the Embassy of Cuba who thanked him  for paying homage to the fallen leader of the Cuban people. In their brief discussion, Ambassador Stevens recalled that Cuba has always stood gallantly side by side with the people of Sierra Leone especially in times of challenges.
Ambassador Bockari Stevens expressed his deepest sympathy to the people of Cuba during this grieving period.
Embassy of Sierra Leone Communications Unit
Washington, D.C.