In the bid to scale up the already cordial bilateral relations between the Republic of Sierra Leone and Turkey, the Deputy Minister of Foreign Affairs and International Cooperation, Dr. Ebun Strasser-King (Mrs.) signed the book of condolence on behalf of the Government of Sierra Leone in respect of the Turkish citizens who were killed by bomb blast during a peaceful demonstration in Ankara on Saturday 10th October, 2015.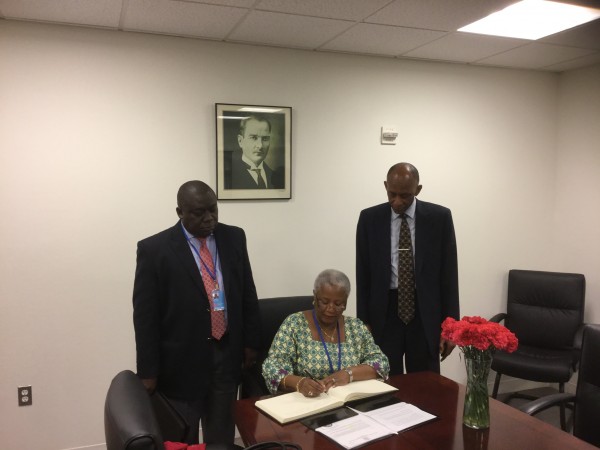 Deputy Minister Dr. Strasser-King signing the book of condolence. She is flanked on the left by Mr .Minah and on the right by Mr. Sesay
The Honourable Deputy Minister expressed her condolences to the Government of Turkey and the bereaved families over the unfortunate incident.
The Deputy Minister was accompanied by the Deputy Director General of the Ministry of Foreign Affairs and International Cooperation, Mr. Paul A.S Minah and the Minister Plenipotentiary and Head of Chancery of the Permanent Mission to the United Nations in New York, Mr. Alhusine M. Sesay.