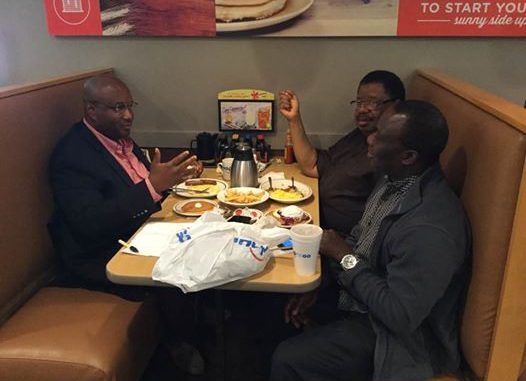 The Outreach Coordinator and the Spokesman of the Sierra Leone Government, Mr. Agibu Tejan-Jalloh , said in New Jersey last week that the Expenditure Rationalization Program launched last year , which  many people misconstrued as an austerity program that would have hurt the ordinary man in the street and plunged the nation into economic crisis, is yielding positive outcomes .
Mr. Jalloh said that through this Expenditure Rationalization Program , Sierra Leone has been able to cut unnecessary expenditure , while being able to fulfill her commitments to critical areas, which include  paying salaries regularly and on time; continuing its school fees subsidies, support for our foreign missions and the armed forces (Police , army and navy ), servicing of foreign and domestic debts and other essential services like energy, health care, education, water and sanitation, social protection etc. which would have been affected if it was really an austerity program, as some people misunderstood .
Mr. Agibu Jalloh was speaking during a working breakfast he had in Somerset, New Jersey with the Minister Plenipotentiary to the UN, Leeroy Wilfred Kabs-Kanu and the President of the All People's Congress ( APC ) New Jersey Chapter, Mr. Alimamy Turay.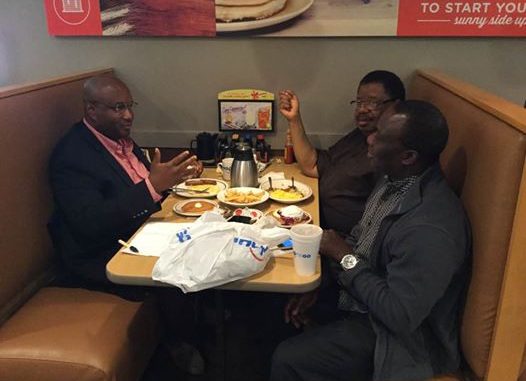 The Government Spokesman stated that the President Ernest Koroma Government " did not want to affect all the critical areas mentioned above and today, though the Ministry of Finance has not updated the cabinet yet or held press conferences , by observation, it could be seen that the expenditure rationalization program has not produced the negative outcomes that our detractors predicted because we have been able to support all the critical areas. " This, he went on, justifies what he said initially that it was not really an austerity program. "It was not austerity,  because if it had been, we would have  made cuts in critical areas that would have made the people suffer ."
Mr. Agibu Jalloh explained  that what happened was that the Ebola epidemic and the drastic fall in commodity prices, including iron ore, negatively impacted the economy and made it difficult to effectively implement the approved FY 2016 Budget. "It also caused a precipitous reduction in revenue-generation for government….Mining companies went into administration and they were not shipping minerals and we were not gaining anything. Government's revenue base sunk drastically . The Government realized that it had critical expenditure that as a government it could not afford to be affected. These are critical spending we had to continue .
Therefore, the government decided to engage in expenditure rationalization, "that is, look at other areas where we could tighten spending until the monetary and fiscal measures we will institute passed through lag time and take effect. Areas of expenditure rationalization were  clearly included in the press release of June 2016, all of which had no direct negative impact on the common man ; rather, the effects of the expenditure rationalization was to guarantee that commitments owed by the Government to the people of Sierra Leone continued uninterrupted.
___________________________________
BELOW IS THE PRESS RELEASE BY GOVERNMENT LAST JUNE ANNOUNCING THE EXPENDITURE RATIONALIZATION MEASURES
THE ATTENTION OF THE GENERAL PUBLIC IS INVITED TO THE FACT THAT THE EBOLA EPIDEMIC AND THE COLLAPSE OF COMMODITY PRICES INCLUDING IRON ORE HAVE HAD A NEGATIVE IMPACT ON THE ECONOMY RESULTING IN SERIOUS CHALLENGES WHICH PRESENTLY HINDER EFFECTIVE IMPLEMENTATION OF THE APPROVED FY2016 BUDGET.
DUE TO A SIGNIFICANT DECLINE IN REVENUE, IT HAS BECOME DIFFICULT TO FULFILL GOVERNMENTS COMMITMENT TO POVERTY-RELATED PROGRAMMES AND THE IMPLEMENTATION OF POST-EBOLA RECOVERY PRIORITIES.
IN CONSEQUENCE THEREOF, GOVERNMENT WISHES TO INFORM THE GENERAL PUBLIC THAT AT AN EMERGENCY MEETING OF CABINET TODAY, 3RD OCTOBER 2016, THE FOLLOWING EXPENDITURE RATIONALIZATION MEASURES WERE APPROVED TO ADDRESS THESE CHALLENGES. THESE MEASURES ARE GEARED TOWARDS IMPROVING REVENUE MOBILISATION AND FISCAL SUSTAINABILITY:
A 30% CUT IN RECURRENT EXPENDITURES ACROSS THE BOARD
PUT ON HOLD ALL NEW DOMESTICALLY FINANCED CAPITAL PROJECTS AND SUPPLIERS CONTRACTS UNTIL FURTHER NOTICE
NO NEW PROCUREMENT OF GOVERNMENT VEHICLES UNTIL FURTHER NOTICE
A 50% CUT IN FUEL ALLOCATIONS TO ALL MDAS
A 50% CUT IN MONTHLY OFFICE IMPRESTS
NO PURCHASE OF NEW OFFICE FURNITURE AND FITTINGS
A 50% CUT IN THE PURCHASE OF MOBILE PHONE TOP-UP CARDS
70% OF ALL PAYMENTS TO SUPPLIERS/CONTRACTORS THAT HAVE FOREIGN COMPONENT TO BE EFFECTED IN LEONES
50% CUT IN DSA FOR LOCAL TRAVELS
ELIMINATION OF PAYMENT FOR OVERTIME
NO PURCHASE OF OFFICE EQUIPMENT (COMPUTERS, PRINTERS, PHOTOCOPIERS ETC.)
STRENGTHENING PAYMENT VOUCHERS VERIFICATION FOR ON-GOING ACTIVITIES AT THE MDA LEVEL
SUSPEND ALL OVERSEAS TRAVEL FOR PUBLIC OFFICIALS EXCEPT FOR ESSENTIAL AND STATUTORY TRAVELS.
NO DSA-TOP-UP FOR SPONSORED INTERNATIONAL TRAVELS
ACROSS THE BOARD 50% CUT IN VEHICLE MAINTENANCE
ALL SEMINARS, RETREATS AND WORKSHOPS SHOULD BE HELD IN OFFICE FACILITIES
ELIMINATE DOUBLE PAYMENT OF PENSIONS AND SALARIES ACROSS THE BOARD
A MORATORIUM ON NEW RECRUITMENT IN THE PUBLIC AND CIVIL SERVICE, EXCEPT FOR ESSENTIAL AND CRITICAL VACANCIES
ALL BUSINESS OUTFITS TO PAY OUTSTANDING ARREARS OF TAXES IN THE NEXT 30 DAYS
MINIMIZE DISCRETIONARY DUTY WAIVERS AND RATIONALIZE STATUTORY DUTY WAIVERS.
ALL COMMERCIAL BANKS MUST TRANSFER MONIES IN TRANSIT ACCOUNT WITHIN 24 HOURS.
START THE EFFECTIVE IMPLEMENTATION OF THE TREASURY SINGLE ACCOUNT
THE ABOVE WILL SERVE AS A REFERENCE FOR THE PREPARATION OF THE 2017 BUDGET AND THEIR CONTINUED IMPLEMENTATION WILL SUPPORT DOMESTIC REVENUE GENERATION AND HELP REVERSE THE NEGATIVE IMPACT ON THE ECONOMY.
END
STATE HOUSE
FREETOWN 3RD OCTOBER, 2016