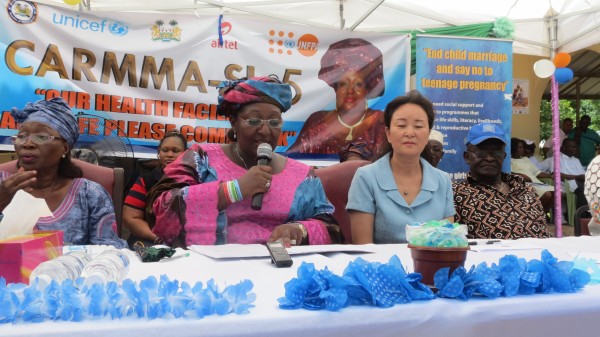 By Amadu Lamrana Bah
Sierra Leone's First Lady, Sia Nyama-Koroma, has challenged Paramount Chiefs and Religious leaders to break the cycle of teenage pregnancy and early marriage in the country.
According to Mrs. Koroma the issues of teenage pregnancy and early marriage have been on the increase due to the Ebola outbreak, which has also had adverse effect on safe delivery and maternal and child reproductive and health services.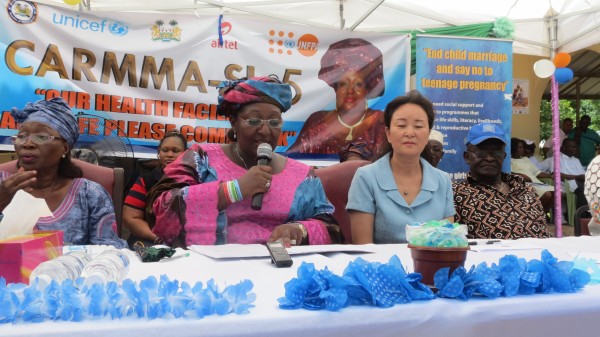 Speaking at a ceremony to commemorate five years of the launch of the Campaign for Accelerated Reduction of Maternal Mortality (CARMMA) at the Makeni Government Hospital, the Mrs. Koroma said as custodians of the country's customs and traditions the role of traditional and religious leaders in ending early marriage and teenage pregnancy is very important.
"To our traditional and religious leaders, we count on your leadership role in your communities in ending early marriage and pregnancy to end maternal mortality," she appealed.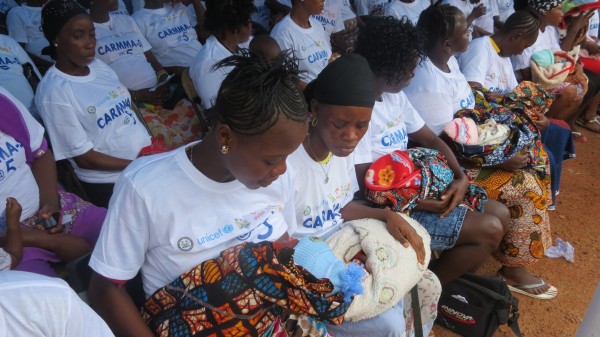 On the five years since the launch of CARMMA, Mrs. Koroma said the initiative has suffered a serious setback as most women are afraid of accessing reproductive health care services and instead resort to either going to unqualified health officers or giving birth at home which normally ends up with so many complications.
She said as part of the post-Ebola recovery it is very important for Sierra Leone to restore gains made over the years in maternal and infant mortality reduction and rebuilding the confidence of pregnant women and lactating mothers to return to the health facilities for safe delivery and proper medical care.
"The Ebola outbreak has caused fear in everyone, we need to rebuild the confidence of our women to get back to the health facilities and let them know that they are safe," she noted.
Whilst encouraging the women to access health facilities, she reaffirmed her commitment to continue with the CARMMA program in ensuring an end to teenage pregnancy and that women do not die when giving birth but rather have safe and healthy delivery.
"Giving birth should be a choice and not a chance for our women. We should all work together to end teenage pregnancy and reduce maternal mortality," she urged.
Sierra Leone through the Office of the First Lady launched CARMMA in March 2010 as part of its commitment to reducing maternal, newborn and child mortality in the country following the International Conference of African Heads of States meeting held in 2009 where commitments were made for the implementation of CARMMA at national level.
According to the United Nations Fund for Population Activities (UNFPA), over 2000 women die in Sierra Leone every day; almost 200 every month, seven every day and about four women die every day trying to give birth.
Early child marriage and bearing and teenage pregnancy is one of the problems also affecting the health, social, economic and political progress and empowerment of women and girls in Sierra Leone.
Current research shows a strong relationship between poverty and teenage pregnancies with teenage girls in the poorest communities being three times more likely to have a child before age 18 years compared to girls in well-to-do communities.
In Biriwa Chiefdom in Bombali District, Northern Sierra Leone, three out of every five teenage girls are pregnant and the Chiefdom accounts for the highest teenage pregnant girls in the North since the Ebola outbreak in 2014.
Chernor Bah, a girl child advocate, said the Ebola outbreak has worsened the situation and it is going to be a long term social problem the country has to deal with.
"There has been an increase in teenage pregnancy since this outbreak; the situation is worse than we can imagine especially when the girls are being barred from school and stigmatized," Chernor said.