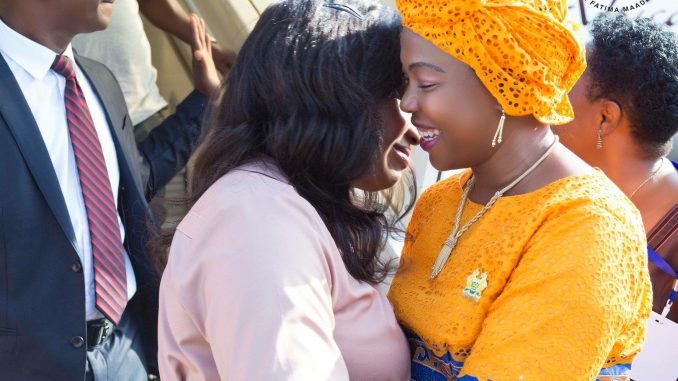 African First Ladies Launch Girls' Rights Campaign
By Ranger
First Ladies from Sierra Leone, Ghana, The Gambia, Liberia, Chad and Niger launched Hands Off Our Girls Campaign in Freetown on Friday 14th December, 2018 at Bintumani Conference Hall, Aberdeen in Freetown.
Launching the Hands Off Our Girls Campaign in Freetown, President Julius Maada Bio said the initiative is a way of sending a clear message to abusers of children, especially those committing sexual offenses, that there is no safe haven for them.
"We are committed to enact laws that will prosecute and punish sex offenders against girls. We will also support the First Ladies' initiative to remove barriers that restrict girls and women from enjoying their basic rights," Bio added.
He further stated: 'We have a moral and constitutional right to protect the girl child and to change her outcomes. It is ultimately good for our communities, our societies, and for our nation and our sub-region as a whole.
'As a nation and as a region, we must be inspired to change that which is wrong about our societies. We cannot achieve our goal of sustainable human capital development by discriminating against and summarily removing half of our population from schools and giving their hands in marriage, willy-nilly,' President Bio said.
Speaking to her audience, First Lady of Sierra Leone, Mrs. Fatima Jabbie Bio stated that they are working towards stopping sexual and other abuse against girls and women.
She spoke of rape, child marriage, teenage pregnancy, child labor, prostitution being serious societal problems as a cause of sexual abuse against girls and women.
She added there in Sierra Leone, there are lots of women with fistula HIV/AIDS and that the country has the highest infant mortality rate in the world. She added that the government of Sierra Leone led by President Bio has shown commitment in addressing this ugly issue that has the tendency to destroy a nation.
She stated that they meet to impose a sense of self-reliance, responsibility, pride and ownership among all Africans that we should have a primary responsibility for the solution of key issues affecting women and girls on the African continent.
She called on all Sierra Leoneans to come together and fight against rape, child marriage, teenage pregnancy, child labor and prostitution; especially singling out Paramount Chiefs, Parliamentarians, Traditional Leaders, Religious Leaders, the Judiciary, Police and Parents to participate because 'we are all on this together.'
She added that the money given to parents as bride price of our daughters can only last for a month or two, but that when you educate a girl she will feed the entire family for a lifetime.
H.E Rebecca Akffo Addo First Lady of Ghana said child marriage is a human rights violation that prevents girls from receiving education and puts them at great health risks.
H.E Clar Weah said Sierra Leone and Liberia have not only shared borders but enjoys bilateral relations, cultural heritage, economy, and have been brothers and sister for centuries.
She added that Sierra Leone and Liberia experienced similar problems ranging from the civil war to Ebola and other social problems. She maintained that, statistics of rape cases in Sierra Leone are over 1400 in 2018 and that most of them are children, adding that the situation is similar in Liberia where the Minister of Social Welfare registered over 900 rape cases in 2018.
On his part the Africell Chief Executive Officer Shadi Gerwani commended the First Lady Fatima Bio and the Government of Sierra Leone and all First Ladies for this bold move to launch such a very impotent campaign that calls for universal action to end all forms of violence against women and girls.
He added that the world over society is doing more to create a better atmosphere that will empower women and children who form the majority of the global population.
He added that at this point in time we should be talking of how we can get more from women in national development, how we can help keep them in more engagement in promoting social justice; how we can help them to benefit strongly from their unique talents and make them strong partners in building a nation.
He maintained that Africell condemns in the strongest terms all acts of sexual and physical violence against women and girls, and that as an institution it stands with its partners to address social problems to our full commitment using all resources at our disposal and sponsors to bring these issues to light.
The Hands Off Our Girls Campaign is being funded by the regional economic body ECOWAS and the UN Population Fund.

The main event was held  on Friday 14th December at Bintumani conference hall in Freetown, with  a peaceful protest march on the 15th. The protest march was to create awareness on violence against women. The March  commenced at the Supreme Court building at cotton tree Freetown from 7am.

Our First Lady and her counterparts deliberated  on programmes that adequately dealt with issues like child marriage, teenage pregnancy, sexual & gender based violence, child trafficking , cancer and other issues involving women empowerment.


The First Ladies with their team of experts and professionals from government and non-governmental organisations , will work towards having a very clear road map for 2019 – 2022.

Strategic Communications Division
Office of The First Lady
info@officeofthefirstlady.gov.sl
+232 303 68273