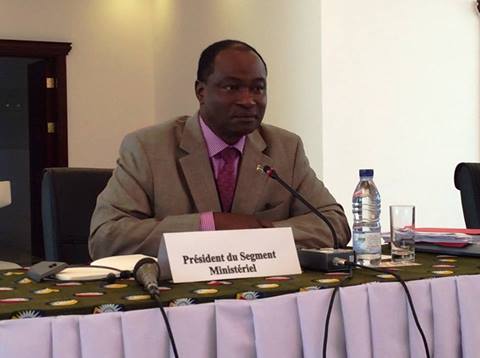 Dr Samura- Kamara Minister of Foreign Affairs and International cooperation of Sierra Leone at the C-10 Meeting in Brazzaville
Sierra Leone's Minister of Foreign Affairs and International Cooperation, Dr Samura Kamara officially opened the preparatory meeting of Foreign Ministers and Permanent Representatives of New York and Addis Ababa at the Alima Palace Conference Center, Oyo, Republic of Congo.
In his statement, the Minister of Foreign Affairs and International Cooperation, Dr Samura Kamara joined his colleague and host in welcoming their peers and delegates to the Ministerial preparatory meeting for the C-10 Summit scheduled for 16th May 2014. He expressed gratitude to the host Minister for the warm hospitality and support of the Republic of Congo, adding that the meeting is a sequel to the Ministerial meeting held in Freetown on the 22nd March, 2013. Dr Samura disclosed that the Ministerial report submitted to the Coordinator, His Excellency, President Dr Ernest Bai Koroma has been immediately transmitted to his counterparts, to be considered at the summit level of the C-10.
The Minister also noted concerns about the slow pace of the reform process as well as the lack of a quorum on the margins of the AU summit. He said the C-10 had committed themselves to meet outside the margins of the African Union to have focused discussions on the reform of the UN Security Council. Dr Kamara pointed out that the reform of the Security Council is now in its Tenth round and progress seems to be slow as such these stand-alone and focused meetings are intended to enhance the work their Permanent Representatives are doing in New York, and they brainstorm together on how to move the reform process forward to the point of real negotiations.
Dr. Samura Kamara further noted that their Permanent Representatives will be briefing them on the present state of play, the main interest groups engaged in the Intergovernmental Negotiations on the five key negotiable clusters, and what they consider as the way forward. He maintained that they will thereafter discuss the tenets of the briefing which will form their advice to their respective Heads of States, noting that by the end of their meeting, a draft outcome document will be submitted for consideration and adoption by the C-10 Summit. The Minister of Foreign Affairs and International Cooperation, Dr. Samura Kamara said the bright side of the meetings so far is that, their position has neither suffered any challenge nor dismissed by any of the interest groups or member states at the United Nations.
This he said underscores the legitimacy and validity of their demands and that the major challenge identified in their last report meeting is the P-5 which they must all endeavor to give serious thought to. The Minister described it as a noble continental assignment and aspiration which they should be proud of pointing out that their participation at meetings at the appropriate levels when required is therefore desirable.