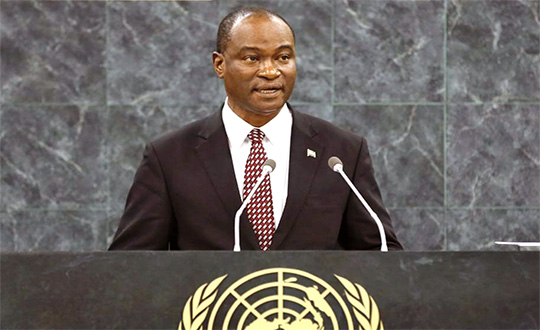 Sierra Leone's top diplomat has said that the Third Africa Arab Summit in the State of Kuwait on 19th and 20th November, 2013 is expected to discuss the possibility of creating an Arab-African common market.
Dr. Samura M. Kamara (in photo) who joined Arab and African foreign ministers in the oil-rich Gulf State on Sunday, 17th November, 2013 says in a brief telephone interview that their meeting hopes to accelerate a strategy to bolster economic cooperation, trade and investment ahead of the summit this week.
The foreign ministers meeting will adopt the agenda for the summit, where leaders are expected to approve a raft of new measures to upgrade economic ties between the two regions, including the oil-rich Gulf and sub-Saharan Africa.
The ministers will review a proposal to set up an Africa-Arab Joint Financial Mechanism to provide the necessary means for implementing projects and encouraging investment.
They will also discuss establishing the Africa-Arab Technical and Coordination Committee on Migration to help protect migrant workers.
Sierra Leone's President, Dr. Ernest Bai Koroma and an official delegation accompanying him are expected in Kuwait Monday, 18th November, 2013.
Organizers of the Summit say they expect thirty-four heads of state, seven vice-presidents and three heads of government to attend, which will bring together 71 countries and organizations.
Abdulai Bayratay is the National Publicity and Outreach Coordinator in the Office of Government Spokesman and he's currently in Kuwait attending on behalf of the Government of Sierra Leone. He says the theme of the conference, "partners in development and investment" clearly resonates with President Koroma and his government's "agenda for prosperity" – an agenda founded on the principles of attracting direct foreign investment, food security and the harnessing of the country's natural resources to promote better living standards of Sierra Leoneans thereby positioning Sierra Leone towards the path of attaining middle income status by 2035.