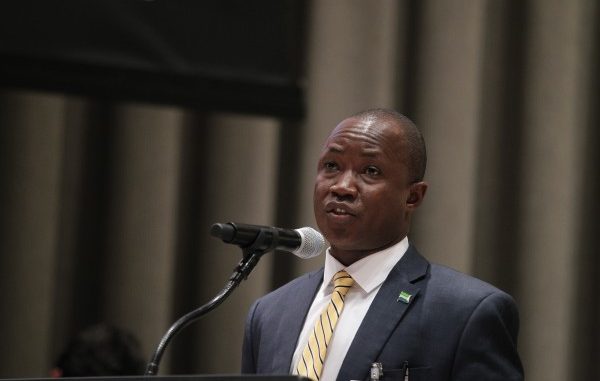 By KABS KANU :
The United Nations General Assembly this week commemorated the twentieth anniversary of the adoption of the United Nations World Programme of Action for Youth .
The concept document of the  United Nations World Programme of Action for Youth prepared by the UN Department of Public Information states that " In 1995, on the tenth anniversary of International Youth Year, the United Nations strengthened its commitment to young people by directing the international community's response to the challenges to youth into the next millennium. It did this by adopting an international strategy — the World Programme of Action for Youth to the Year 2000 and Beyond — to address more effectively the problems of young people and to increase opportunities for their participation in society. "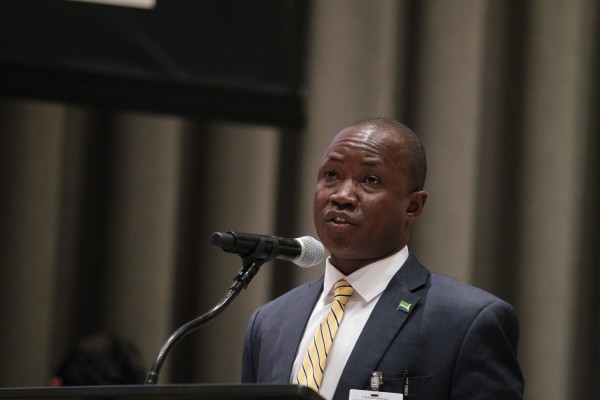 HON. ALIMAMY KAMARA ADDRESSING THE UN ON MONDAY : PHOTO CREDIT : UN LIBRARY
Speaking during  the High-level Event for the World Program  of Action on Youth at the UN General Assembly on Monday , the Secretary General of the UN, Mr. Ban Ki-Moon, who made the opening statement, said that  the 1995 World Programme of Action for Youth aimed to enhance the situation of youth everywhere.  The program, he went on,  provided a blueprint for action at the national and international levels, and had clear synergies with the new sustainable development agenda.  The UN Secretary General  called on all Governments to enhance their efforts to implement the Programme of Action, and urged the world's young people to "lead and act with courage" ( UN Department of Public Information ).
H.E. Álvaro Mendonça e Moura (Portugal), the Vice-President of the General Assembly, who delivered a statement on behalf of Assembly President Sam Kutesa (Uganda). noted that "We should seek to harness the innovative spirit of young people in addressing our development challenges".
Representatives of ministries and agencies dealing with youth delivered statements during Monday's High-Level event.
Hon . ALIMAMY KAMARA, Minister for Youth Affairs of Sierra Leone,  who led the country's delegation to the program,  in his statement told the UN General Assembly that  his Government had implemented programmes over the past 20 years in the 15 priority areas set by the Programme of Action.
According to Minister Kamara, some of the measures implemented by the Government included the establishment of youth bodies, such as the National Youth Commission and National Youth Council.
The Minister said he was  proud that many young people held positions in the Government and Parliament. The Government of Sierra Leone, he went on,  made  secondary education  free when schools resumed after the recent Ebola outbreak and  automatic scholarships were given to young girls.
Other participants  at the program included representatives of the International Labour Organization (ILO), International Telecommunications Union (ITU), Pan African Youth Union, United Nations Population Fund (UNFPA) and the Joint United Nations Programme on HIV/AIDS (UNAIDS) .