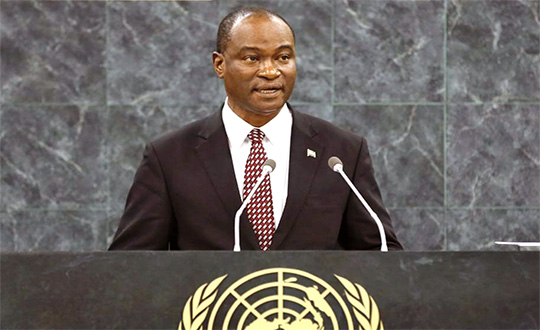 Sierra Leone's top diplomat, Foreign Affairs and International Cooperation Minister, Dr Samura Mathew Kamara has on Tuesday 5th November informed the workforce of the Sierra Leone Embassy in the People's Republic of China, that though a small country, Sierra Leone is raising its voice in international world affairs as well as its legitimacy in international diplomacy and cooperation and as such, there is no doubt "we need big countries and China is one of them.
Updating staff about his visit to China, Minister Kamara said his visit followed an invitation extended to him by the Chinese Foreign Minister, as Sierra Leone has been provided with the opportunity to revisit her country's perspectives of various international issues more particularly the reform of the United Nations Security Council.
Speaking specifically on the strategic position of the Sierra Leone Embassy in China, the country's top diplomat said, China is strategically placed today in world's development as it is second in the world economy "And when China sneezes, lots of countries will catch cool".
The ministry, he said is embarking on reform processes in developing a new strategy for Sierra Leone's Foreign Service "And we will revisit a number of issues on how to strengthen embassies like this, within the context of changes taking place in the world today." And given the growth of China today in the world economy, Minister Kamara said, people should not be surprised if the ministry's major preoccupation in the new strategy is how to strengthen the Embassy in the People's Republic of China.
Sierra Leone, he went on, has 19 Embassies the world over "and they are not all of the same. Some are small, some big and others getting bigger, so we should adequately respond to that". Speaking further on reforms, Minister Kamara said, "We want to change the philosophy of posting as it should be backed by qualification amongst other things. We also will tackle salary realignment in our strategy" The Ministry of Foreign Affairs and International Cooperation, the top diplomat said has a lot of challenges "but transformational mindset is the major one."
Welcoming Minister Kamara, Ambassador Victor Bockarie Foh briefed the Minister on commitment of the workforce, saying, "We have a committed and a very hardworking workforce. We have been representing Sierra Leone effectively as we represent the nation state of Sierra Leone and we try to observe all the rules of China."
Minister Kamara, who is in Beijing till the 8th will be meeting with the President of the Export-Import Bank of China, Li Ruogu, the Chinese State Councillor, Yang Jiechi and on the 6th November, he will be meeting with his Chinese counterpart, Wang Yi.
The Director of Policy and Planning, Ministry of Foreign Affairs and International Cooperation, Sulay Manah Kpukumu is accompanying the Foreign Affairs Chief.
John Baimba Sesay
Press/Information attaché
Sierra Leone Embassy-China