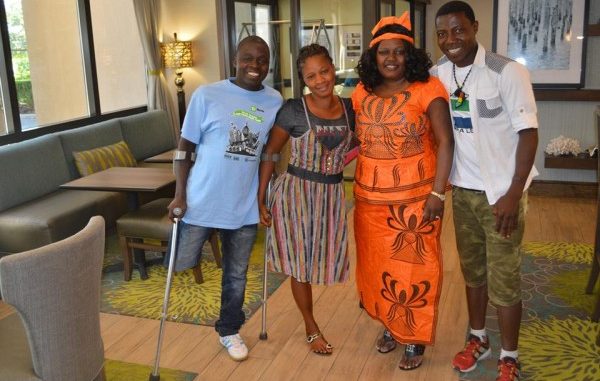 Six Members of the Sierra Leone single leg Amputee Soccer Association including Musa Mansaray, Jusu Vandi, Susan Davies, Albert Manley Mustapha and Jabati Mambu, Mambud Samai who are currently in the United States of America to participate in the 28th Annual Gullah Festival at the Technical College of the Low County 921 Ribaut Road Beaufort, South Carolina thrilled their audience when they practiced drum and dance routine, Friday May 23nd 2014,thereby making their audience to believe that disability is not inability.
Without any artificial aid, the single leg amputees were able to dance to several Sierra Leonean cultural rhythm with different styles coupled with Sierra Leonean cultural patterns – during which time they spin in the air couple of times before landing on the single leg. 
They were able to beat the African drum with different rhythmic chiming with a single arm to the admiration of their audience.
According to Mrs. Shirley Kablan Director of the Empowered Living Initiative sponsoring the visit, "the group is made up of amputees who participates in Sports, performs musically and discuss amputee concerns."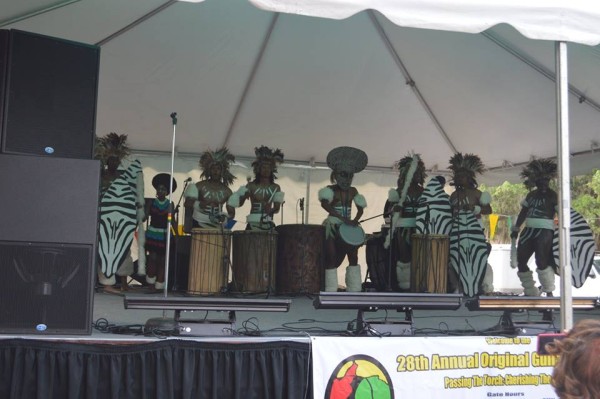 Victoria Smalls Director of History and Art Culture of Penn Center described the performance of members of the Sierra Leone single leg Amputee Soccer Association as "inspiring", because they are not just amputees from disease, but from war and violence. 
In 1986, five women came together with an idea that metamorphosed in to "The Gullah festival".
According to Ms. Pazanta Byars Chief Executive Officer (CEO) and President of the Original Gullah Festival of South Carolina Inc., the first festival saw about thirty five (35) people in attendance.   As you can see for yourselves, the original Gullah Festival is currently attracting very huge crowd of people from Soweto in South Africa, Yoruba's from Nigeria, Ghanaians, Senegalese, Liberians, Georgia Atlanta, New York, California, North Carolina, Washington DC, etc. and we are proud to see our brothers and sisters – members of the Amputee Sports club from Sierra Leone including you Mrs. Isatu Sillah and Mr. Pasco Temple from the Embassy of Sierra Leone. 
She thanked the government of Sierra Leone and Dr. Shirley Kablan for facilitating the movement of the physically challenged individuals and further anticipated the strengthening of ties.    Responding, Minister Counselor Mrs. Isatu Sillah conveyed greetings from President Ernest Bai Koroma and Ambassador Bockari Stevens, and thanked Mrs. Pazanta Byars for her warm reception at the airport and said the presence of herself and Information attaché Mr. Pasco Gerald Temple and members of the single leg amputees is a clear manifestation regarding the importance the government of Sierra Leone attaches to the Gullahs in particular and South Carolina in general.   The Gullah are a group of Black Americans in South Carolina and Georgia in the southeastern United States, who currently resides in small farming and fishing communities along the Atlantic coastal plain and on the chain of Sea Islands.
The Gullahs have been able to preserve more of their African cultural heritage. They speak Creole language similar to Sierra Leone Krio, use African names, tell African folktales, make African-style handicrafts such as baskets and carve walking sticks, and enjoy a rich cuisine based primarily on rice.   During the 1700s the American colonists in South Carolina and Georgia discovered that rice would grow well in the moist, semitropical country bordering their coastline. But the American colonists had no experience with the cultivation of rice, and they needed African slaves who knew how to plant, harvest, and process this crop.    The white plantation owners purchased slaves from various parts of Africa, with preference to slaves from what they called the "Rice Coast" — the traditional rice-growing region of West Africa, stretching from Senegal down to Sierra Leone and Liberia.
Africans from the Rice Coast were almost certainly the largest group of slaves imported into South Carolina and Georgia during the 18th century. Not too long ago, some Archeologists and Historians found the link between Sierra Leoneans and Gullahs.