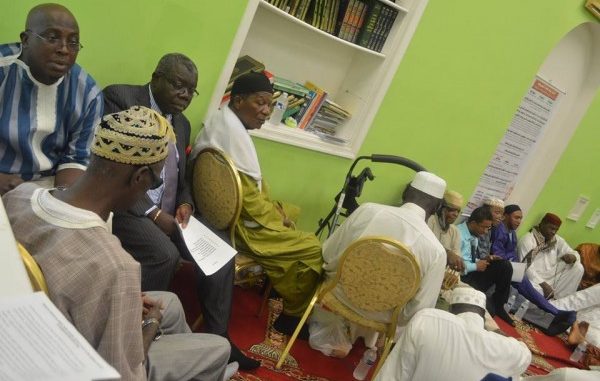 By PASCO TEMPLE :
A cross section of Sierra Leonean Muslims in the tri states of Washington Virginia and Maryland have on August 8, 2014 immediately after the (14.00hrs) "Juma" Friday prayers joined hands with some erudite Christian cleric and prayed to Papa – God/Allah for the instantaneous fulfilment of the wish of Sierra Leoneans to see the end of Ebola virus in Sierra Leone.
AMBASSADOR BOCKARIE STEVENS ( SECOND FROM LEFT ) 
Addressing members of the Muslim and Christian Faith at the Ebilleh Jamaat in Hyattsville Maryland USA, Alhaji Teslim Alghali, Acting Imam of the Ebilleh Jamaat described Ebola as a deadly disease and an enemy which is consuming our people for no just course. Illness like Ebola is part of a test from Allah that must be passed with patience (As-sabra), Courage (A-Jira) and hope (A – Raja). Allah is indeed merciful to all.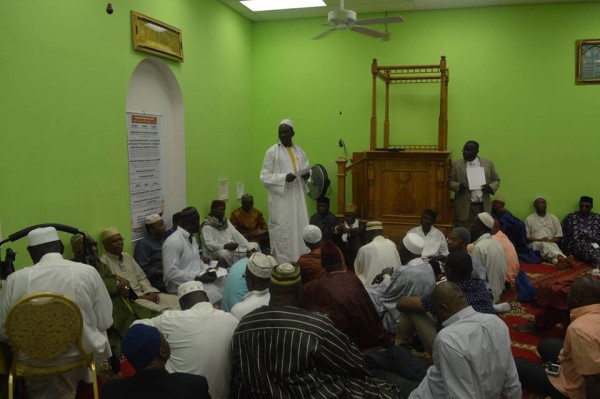 CHIEF IMAM ALHAJI TESLIM ALGHALI CONDUCTS THE PRAYERS
He thanked Ambassador Bockari Kortu Stevens for his time and dedication to the course of Sierra Leoneans by attending important functions like this.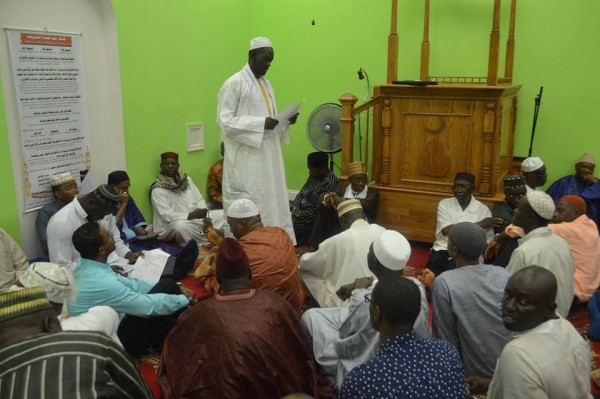 ALHAJI TESLIM ALGHALI IN ATTENDANCE
"Today, we join our hearts in prayers to the Almighty Allah for our sons and daughters, mothers and fathers and our brothers and sisters who are either dead or living with the Ebola virus." Said Alhaji Teslim Alghali.
The Acting Imam said the sanctity of life is given huge weight in Islam and quoted Sura Maida verse 32 and I quote: "And who so ever saves the life of one person is as if he saved the life of all mankind." According to him, "the true believers have to perform lofty deeds in life and discharge heavy responsibilities of state. "It is imperative therefore that they should have robust physique, intellect and sound mind, firm will, high morale and a life full of spirit, enthusiasm and sublime passion, and these are all what Ebola is taking away".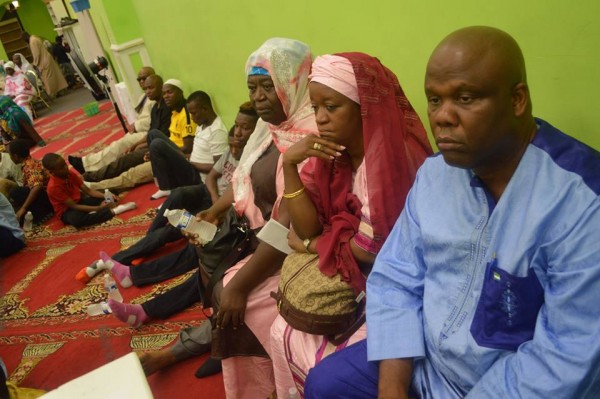 REV. KEN TOURE ( RIGHT) AND HAJA ZAINAB BANGURA
Today, we- together with our Christian brothers and sisters believe that "any health intervention should always acknowledge the importance of spiritual fulfilment and a healthy soul in completing a healthy mind and body. And most important for the world we live in today and as the Holy Prophet (SAW) himself showed through his example, we need to work with people of other faiths as we are doing with Rev. Gloria Cline –Smythe towards our common goal of improving health.
We continue to pray for the Government and People of Sierra Leone, the United Nations Agencies and other development partners as they collaborate to curb the scourge of Ebola and promote universal access and Rights. Sura Yasin and Sura Mulk were recited by the Jamaat.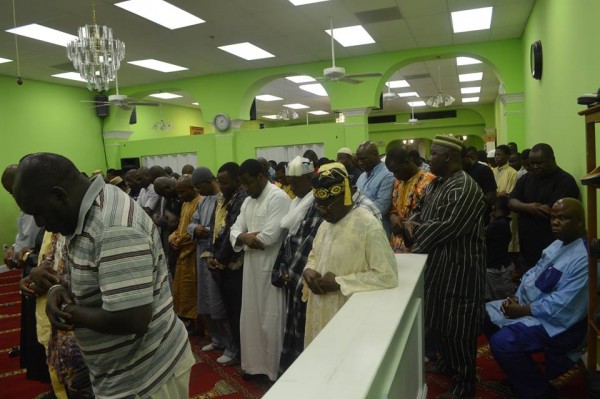 In his reaction, Ambassador Bockari kortu Stevens thanked the Ebilleh Jamaat for the organization of such event and praised the authorities for working closely with their Christian Counterparts at a time like this. "It shows the unique of religious tolerance we Sierra Leoneans have."
He said Ebola has been described as an "International Health Emergency" by World Health experts and it requires a coordinated approach.
He made reference to a meeting he (Amr. Stevens) attended together with Dr. Matthew Samura Kamara Sierra Leone's Foreign Minister where it was clearly stated that the possibility of further international Spread is likely.
The disease is beyond the capacity of the three Countries, we need greater International awareness.
In as much as we are getting International support, there is need for you the diaspora to add your own input.
He said Sierra Leone estimated the cost of its emergency measures at about $25 Million, but only have $7Million.
The government has contacted the United Nations and its partners to help meet the budget deficit.
The last time I was in Sierra Leone two weeks ago, I took some money from donors and five boxes of Emergency and essential kits. As I speak, we are about to take two forty feet Containers to Sierra Leone filled with emergency kits donated by philanthropists, so I take this opportunity to appeal to you for Gloves, Facial Masks, goggles, Isolation gowns, Bio hazard trash Bags, Sanitizers, Bleach Wipes Chlorine etc.
Earlier, acting secretary General of Ebilleh Jamaat Alfa Saidu Yansanneh welcomed guests including Haja Zainab Hawa Bangura, United Nations Special Representative of the United Nations Secretary General, Rev. Ken Toure, Rev.Philip Robinson and other distinguished personalities.
The delegation was received by Alhaji Dinnie Davies.