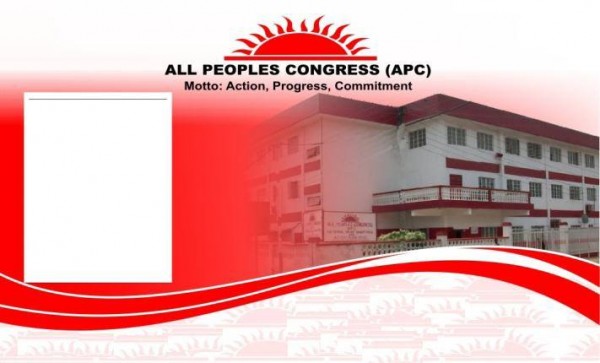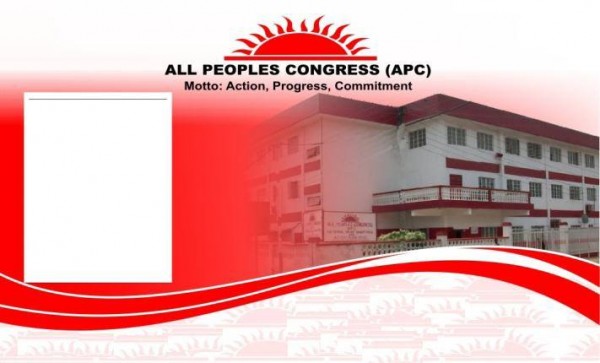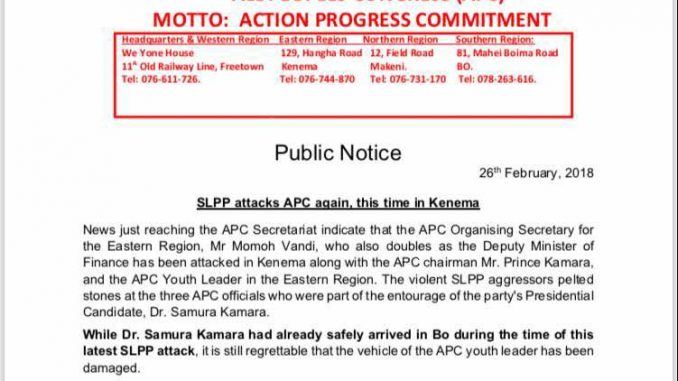 READ FULL STATEMENT HERE :
Breaking News
*SLPP attacks APC again, this time in Kenema*
26th February, 2018
News just reaching the APC Secretariat indicate that the APC Organising Secretary for the Eastern Region, Mr Momoh Vandi, who also doubles as the Minister of State, Finance has been attacked in Kenema along with the APC chairman Mr. Prince Kamara, and the APC Youth Leader in the Eastern Region. The violent SLPP aggressors pelted stones at the three APC officials who were part of the entourage of the party's Presidential Candidate, Dr. Samura Kamara.
*While Dr Samura Kamara had already safely arrived in Bo during the time of this latest SLPP attack*, it is still regrettable that the vehicle of the APC youth leader has been damaged.
This follows a series of SLPP attacks against APC supporters and posters in other parts of the country and in Freetown during their rally today 26th February, 2018.
It is worthy to note that in Kenema, it is the APC that is scheduled to campaign today 26th February, 2018. This means that the SLPP has no business to engage in any form of outdoor political activity in Kenema.
In view of the consistent violent attacks against the APC leaders and supporters, it is becoming increasingly clear that the SLPP are hell bent on disrupting the March 7 general elections by disturbing the peace and by threatening the safety of APC supporters especially in the South and Eastern parts of the country.
Once again the APC views this persistent acts of violence by the SLPP as typical of their Paopa disposition and a deliberate ploy to reverse our country's gains in building and consolidating the peace.
The APC party wishes to assure the general public of our unwavering commitment to peaceful, free and fair elections. We therefore appeal to our numerous supporters to continue to exercise restraint and to focus their energies on winning the March 7 polls on the first ballot.
*© The Publicity Secretariat*