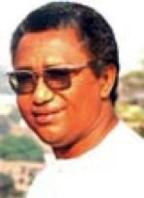 Tuesday September 6, 2005
John Oponjo Benjamin , a one-time Chairman of the National Unity Party ( NUP ) , has been nominated as Sierra Leone's new Minister of Finance in a surprising cabinet reshuffle effected today by President Ahmad Tejan Kabbah.
According to our reporter, Olu Faulkner, who called COCORIOKO  with the news, out in the cold  is the former minister, Mr. J.B. Dauda , just two days after he also lost his bid to become Leader of the SLPP and Presidential candidate . Also dropped in the reshuffle today was  the popular socialite , Mr. Emmanuel Orisejolomi Grant , whose position of Minister of Energy and Power will go to Mr. Lyoud During.  Mr. George Banda-Thomas is also replaced as Minister of Internal Affairs.
Former FBC Lecturer, Mr. Pascal  Egbenda, who was Deputy Minister of Transport and Communications, has been nominated for the post of  Minister of Internal Affairs, while the Minister of Tourism and Culture, Mr. Chernor Jalloh, switches posts with Minister of Fisheries and Marine Affairs Mr. Okere Adams.
This surprise cabinet reshuffle comes just two days after the dramatic SLPP Delegates Convention in Makeni , Northern Province, where the Vice-President , Solomon Berewa , in a winner-takes-all spectacle , captured the votes for the SLPP Leadership and the Presidential candidate for the 2007 General Elections. Sierra Leone is abuzz with juicy speculations that the cabinet ministers sacked were among high-ranking officials who did not support Berewa's bid for the presidency.
The political developments in Sierra Leone during the past week have been really breathcatching , starting with the Supreme Court verdict in the case filed against the ruling SLPP  by Chief Hinga Norman, who was delivered a shocker as the case was thrown out for want of locus standi for the plaintiff and jurisdiction for the court .This was followed by last weekend's earth-shaking SLPP Delegates Convention , which left the nation with mixed feelings.
Our reporter , Olu Faulkner, said more changes are expected in the government, especially with rumors that President Ahmad Tejan Kabbah may take an early retirement , now that the vexing problem of his successor  as SLPP leader has been solved in Makeni on Sunday
According to our reporter, some people who heard about today's cabinet reshuffle , described  it as "still too little" in view of the dismal performance of members of the Kabbah government. "President Kabbah has still not touched many of the sacred cows in the government, but who knows ? This might be just the beginning ", Faulkner quoted a work mate.