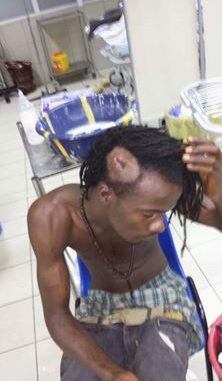 A group of men armed with cutlasses, knives, and sticks last Friday night attacked the residence of  former Sierra Leone People's Party ( SLPP ) Chairman and prospective presidential candidate for the 2018 elections , John Benjamin .
A returning resident interrupted them as they were attempting to scale the fence . He hit some of them with his vehicle,  ramming the gate open and alerting the residents inside and neigbours who were able to fight back and force the assailants to run away.
John Benjamin is safe, and has given statement to the Lumley police station on what ensued.
A neighbor and a resident were not so lucky ans sustained injuries to the face and head. They are being treated at the Lumley health center.
Suliman Forna, a commentator in the social media , writes : "Signs of what may befall the SLPP as this attack comes just few days after a so -called SLPP peace meeting where Julius Maada Bio or his men were not invited. So where is the peace in SLPP and how can we trust a party which has  so much taste for violence ?  Late President Kabbah's ten years rule was marred by SLPP violence and thuggery. Even when president Koroma returned sanity into the country only SLPP continue to create havoc throughout these years in every facets of our development, and even to themselves. "
This is the second attack on an SLPP  official in recent times. Dr. John Karimu was also attacked by thugs armed with cutlasses, knives and sticks few months ago. This dangerous trend within the SLPP  has raised fears that the party's flagbearership battle for the 2018 Presidential elections  wil be very turbulent.
More details to come..
See pics below…