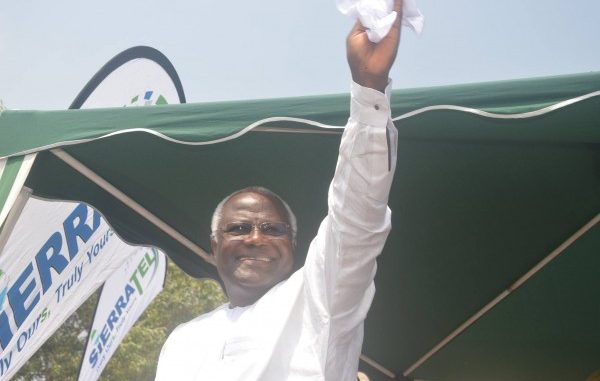 By Melvin Tejan-Mansaray
Last week Saturday, former Sierra Leone Teacher's Union (SLTU) Secretary General, former Minister of Labor and political activist-cum Lawyer Alpha Osman Timbo declared his intention to vie for presidential flag bearer for the main opposition Sierra Leone Peoples Party (SLPP) and also took time to evaluate the current President Ernest Bai Koroma's legacies.
"Today President Koroma has come and made sure that this road (which used to have a death bridge) is tarred for which I am very grateful. I hope you yourselves are happy for this road now. The prophet said when someone does well you must go and talk about it," Lawyer Timbo iterated.
He however contrasted that: "That is not to say we (SLPP) do not have issues with this current government. President Kabbah ended the war and set up institutions of good governance; he tried to promote democracy and human rights as part of his legacy before he died," adding that: "President Koroma will be remembered for a few other areas including the constitution; whether good or bad will go down in history but then he will also be remembered for the roads in Kailahun and in other places irrespective of who signed the document or agreement."
He said that the next president that is to come should among the many things must constitute policies, prudent measures for the development of the nation and its people and urged whosesoever that person might be to be fervent in prayers.
Registering his political ambition, the SLPP presidential aspirant said: "My people of Sanda, many people have come and gone for the presidency; red, green or whatever colors but it is the individual that matters; here people can vote but it does not necessarily mean that it is always that the people vote color instead of ability. I assure the people of Sierra Leone that if I have the flag for the SLPP the APC I will not get it dominantly here at all."
"I have not contested for Councilor, Member of Parliament because of contentment and I believe in God. I am here today because two years ago I told my people that I want to go for the leadership of the SLPP party which I believe has a problem of coming-back, and my conviction is that under my leadership, I will bring the SLPP back to power. I know how to do it. I have the sense to accomplish that and know how to go about it," Timbo said cataloguing the names (Eddie Turay a big political figure who contested for presidency under APC but did not win, Thaimu Bangura, under PDP etc) describing them as prominent presidential aspirants who hailed from the same area noting that; "I believe that if SLPP gives me the chance, what APC, PDP and Mohamed Bangura cannot do here, I believe that Sanda will get a president. Today is the start of my own process for the presidency."
He also announced his belonging to the 'Alliance' to which he said Maada Bio is not a part of but is welcome to join.
The event which took place at his birthplace, Rokolan Village, Sanda Tenderine, Bombali District northern Sierra Leone is a place that is held in the highest regard as stronghold of the ruling All People's Congress (APC) party.
According to Lawyer Timbo 'if the SLPP takes the fight to the North (APC stronghold) the APC will not have time to concentrate on the South (SLPP stronghold'.)
The aspirant described himself as a peaceful person but that his gentility must not be mistaken for weakness.
"I am a very peaceful person but that is not to say that when the time comes for change, I will be soft because it is necessary for change to happen, meaning I will not change," Lawyer Timbo underlined.
It has been the view of many people in the opposition that the Sierra Leone Police (SLP) is not allowing them to assemble and this as an infringement on their rights as citizens but this was not the case at this all-SLPP event despite there were attempts to muzzle the event.
"I just want you to know that a lot of things have happened. Since I wrote for permission two weeks ago; three days to this declaration I started receiving calls that I don't have clearance and that the event is not to go ahead but that did not happen. I don't know who did it but I know that the Police did it, and up till this morning I and the Political Parties Registration Commission (PPRC) were struggling here and there but I will hang it that way," the opposition presidential candidate explained.
The event however went on unhindered and uninterrupted, in fact there was no visible police or security presence and the SLPP had to paint the village in green with colorful display of mask devils and support from traditional groups from across the country drumming and dancing since the eve of the event.
Lawyer Timbo urged his fellow contestants to use this time to evaluate the SLPP strength and weakness for them to win the next election and not be individualistic.
He said: "My people of Sanda, I have come to talk to you that I joined the SLPP under conviction and not under cohesion," and recalled his junior secondary school days when a certain Mr. Saidu was slaughtered in front of him because of varying political views and political incorrectness and tribalism and regionalism triggered by hate preaching politicians.
He said unemployment is the next war that must be waged to make sure people earn their own living; which will give them personal dignity.
"Everybody wants to develop his or her own self esteem, so the next leader must make sure that there is policy to provide employment for the youths. I want you to know that women will occupy a central stage in our administration, we will push for that," the SLPP presidential aspirant promised.
Lawyer Alpha Osman Timbo said: "yes, among the many people who want the SLPP leadership, I am also one of them that want to lead the SLPP. But since I am the first that have had the chance to hold such a meeting, I want to appeal to the other intended aspirants to leave the position for me."
He said the reason for choosing the SLPP is because of it philosophy of 'one people, one country', and to bridge the political divide that permeates the political landscape and tackle negative pronouncements by some politicians that are using it to divide the people.
He said people vying for national leadership must take the right message to the people, improving the lives and welfare of the people for their appreciation.
"I joined the SLPP because I want to see that the North- South, East and West are united as one," he declared.
Apparently, Lawyer Alpha Osman Timbo paid special recognition to people he described as very important, the likes of Dr. Alpha Wurie, Ernest Ndomina, Alie Kabbah, Munda Rogers, Chief Sumano Kapen Chairman of the SLPP, the Timbo family, the Diaspora, Sanda as an organization, regional SLPP executives, chiefs and many other people.
COURTESY OF THE TRUMPET NEWSPAPER
PHOTO:-
Lawyer Timbo declaring his presidential intention in the presence of Alie Kabba, Chief Sumano Kapen and others