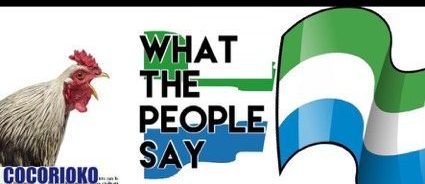 THE NEW DIRECTION IN SIERRA LEONE IS A FAILED DIRECTION!
The last 1 year of SLPP rule has left Sierra Leoneans stunned by the unlimited and unbridled use of "Executive Power". State governance has been treated by Maada Bio as if there are no constitutional injunctions or limitations under the 1991 Constitution. The result has been that the Rule of Law has suffered enormous damage in the last 1 year. Furthermore, state governing institutions have been subverted and misrule and corruption have become the order of the day.
AN OPEN LETTER TO HIS EXCELLENCY RTD. BRIGADIER JULIUS MAADA BIO
Dear President Bio,
You have been in office for 11 months now and during this period: You have made 98 trips abroad during this time = Zero returns
Minister of Foreign affairs has made 82 trips abroad = Zero returns
Trade Minister made 54 Trips abroad = Zero returns
The Free Education you promised us = A complete mess. Zero Financing capabilities
You promised to create 500,000 new jobs within 10 months, instead you have so far put people out of their jobs based on the region they are from instead of creating jobs = total number of people fired = 675 and counting
Commission of Inquiry will not create jobs. Please focus on development and in attracting investors. These are the people that actual create jobs. Stop using the COI to cover up your blatant incompetence.
President Bio please Focus on the main challenges including public safety, job creation and raising money for the government budget. Since the last 10 months, there has been a rise in violence, and violent acts. Investors will frown on these things and will not invests. Freetown has seeing rise in armed robberies, again investors will frown.
People are complaining about this increasing insecurity, Your Poapa Government has not been able to mitigate it. Sierra Leone relies on a great deal of foreign aid to function, particularly when it comes to health care and education. Foreign aid accounts for up to 70% of our annual budget. Work towards raising funds from the private sector of the economy through different schemes such as maybe a special economic zones to attract foreign investments. Stop creating chaos. Sierra Leone deserve better. Surround yourself with business people not inexperienced classroom academicians.
Yours Truly D'Prince
ONE YEAR SCORECARD OF THE NEW DIRECTION GOVERNMENT IN Sierra Leone 🇸🇱
LATEST 2019 PERFORMANCE OUTLOOK OF SIERRA LEONE THROUGH THE SPHERE OF INFLATION AND CONSUMER PRICE INDEX CPI which gauge cost of living
BREAD AND BUTTER IMPACT ON Sierra Leone 🇸🇱
Sierra Leone is hit hard by high food prices this one year of paopa Government.
Sierra Leone sufferring greatly from high food prices lately with the new direction.
The prices of basic food commodities including the staple rice , flour etc have gone through the roof. Below are some evidences
1)Alcoholic beverages and tobacco increased from 20.38 % in December 2018 to 21.05 % in January, 2019. The inflation rate increased by 0.67 percentage point year-on-year
2)Clothing and footwear increased from 17.62% in December 2018 to 18.25 % in January, 2019. The inflation rate increased by 0.63 percentage point year-on-year
3)Housing, water, electricity Gas and other fuels increased from 20.18% in December 2018 to 20.65% in January, 2019. The inflation rate increased by 0.47 percentage point year-on-year
4)Furniture, household equipment and household maintenance increased from 19.39% in December 2018 to 21.06% in January, 2019. The inflation rate increased by 1.67 percentage point year-on-year
7) Restaurant and Hotels increased from 24.26 percent in December 2018 to 24.42 percent in January, 2019. The inflation rate increased by 0.16 percentage point year-on-year
8 )Miscellaneous goods and services inflation increased from 14.21percent in December 2018 to 14.26 percent in January, 2019. The inflation rate increased by 0.05 percentage point year-on-year
9)A 50kg bag of flour which was recently sold for Le200,000 is today sold for Le280,000;
10)A 50kg bag of rice which was sold for Le200,000 is now sold for Le290,000
11) A 50kg bag of sugar which was sold for Le240,000 is now sold for Le340,000;
12) five gallon cooking oil which was sold for 120,000 is now sold for Le168,000;
13)A bag of onions which was sold for Le160, 000 is now sold for Le240,000.
14) According Madam Kadiatu Bah, a housewife, said this situation have becomeso dire with each passing day. She said that fish and meat are not affordable for the ordinary man. She said that it is very difficult for them as housewives to prepare a good meal for a family of four with a Le50,000.
15) "I use to take Le35, 000 to the market, but now I have to carefully expend Le60,000 for just a day meal for five people because of high prices of goods in the market," she said. She said food prices are affecting household savings.
16)According to the Bank of Sierra Leone exchange rates as at March 25, 2019, a dollar is selling at Le8,588.20 and buying at Le 8,761.70.
17)the price of peak tin powered milk (400g) has increased by 20 percent in one month or from 25 000 leones (about $3) in June to 30 000 leones (about $3.7) in July.
18) Fatmata Koroma selling eggs opposite the streets said one dozen eggs cost 10 000 leones (about $1.2) in June but price had increased to 14 000 leones (about $1.7) per dozen, a 4 percent increase. "It is the devaluation of the leone against the US Dollar"
19) The 50kg bag of rice I used to sell at 220 000 leones last month now cost 290, 000 leones" said a middle aged man who identified as "rice store owner."
20)High food prices are inflicting an untold suffering on ordinary Sierra Leoneans including Aminata Kamara, a single mother of four young children in a country
21) the leone, the local currency has lost over its value to the US Dollar since 2017 .In 2017 7,300 leones used to buy $1 in the foreign exchange market. Today $1 costs about 8,900 leones.
So tell us what are we celebrating in One year with so much hardship and suffering?
The grun dry !!
©Perspective Scope
The first failed year of Maada Bio led junta SLPP Government.
By Abraham Lincoln: the father of Democracy and the Voice of Voiceless.
I can categorically state that Maada Bio has failed in his first year. All that he promised is a mismatch to the current state of the country. Even his free education flagship is a mess including the trumpeted fight against corruption is nothing to write home about. Our people are suffering and dying from hardships, starvation, brutality, killing, tribalism, regionalism, and the high cost of living. There is no seriousness in Maada Bio and his propaganda SLPP Government in addressing the bread and butter issues and end the suffering of our people. He is busy fighting his political opponents as a result of his government failed to stabilize the economy and stop the depreciating of the Leone to the Dollar. It's a complete misdirection and disappointment from the ordinary Sierra Leoneans to bring these bunch of crooks and criminals to power. If Maada BIO is serious in developing Mama Salone, he will not have been wasting our taxpayers' monies in spree traveling to over 29 trips/countries with a high power delegation without bringing anything beneficial to Mama Salone. All that his SLPP Government is doing is to bring cooked and false alleged corruption reports to score political points and distract us from his one-year failures.
PRESIDENT BIO'S ONE YEAR IN OFFICE SCORES 35%
*Mahamood Fofana*
President Bio started in a very high speed with his statements and aspirations to change the dynamics of governance, but it seems all went to slumber as the dollar's price is sky rocketing in every second.
However, the bread and butter issue which many of my fellow countrymen (masses) believe is the driving force in this country is still the greatest challenge, if really this government is serious with its pledge of a new direction they should wake up.
The issue of Price control especially with basic commodities, on transportation etc are yet to be settled for a year now.
However, is president Bio another Buhari, Who took his entire four years to go after looters or corrupt personnel?
In the eyes of the international community, they might commend such a drive because it has something to do with their donors funding, But president Bio and his government should know that, they are governing Sierra Leoneans and not IMF or other international agencies. Therefore, citizens' needs should be treated with utmost interest and attention it deserves.
Education is a go to some extent, the Free, Quality Education's introduction was first of it kind, but the bottom line is, teachers' proposal is something to fast track, for an amicable furtherance of this dream, as they are the backbone of such a laudable venture.
On the contrary about teachers request, they are to be seen as one force and not divided forces in the name of achieving one course. Citizens should learn to embrace and be part of national interests instead of wishing for its down fall in the name of colour politics.
The Economics, rationally, many will agree that this government is robust in bringing our economic on track, but how does the huge NRA investments reflect in the lives of the common man?
In President Bio's one year, democratic governance, scales at 35%.
Make your own percentage and pick out what impresses you the most that will be equivalent to that percentage.
*Note*: president Bio should not be telling Sierra Leoneans one thing for a year, especially when him and his governments keep blaming the past administration, because citizens will scale him and hold him responsible if he fail to meet their needs and expectations.
Fighting corruption is very good and leaving a corrupt free country will be a gesture of celebration. But four years ahead, expectations are high.
If president Bio's led government uses the entire five years just to have a corrupt free nation, will he be given another five years to enjoy that liberty?
The most successful sector in president Bio's one year is the area of sports, Its Ministry has resurrected the game (soccer) for the youths.