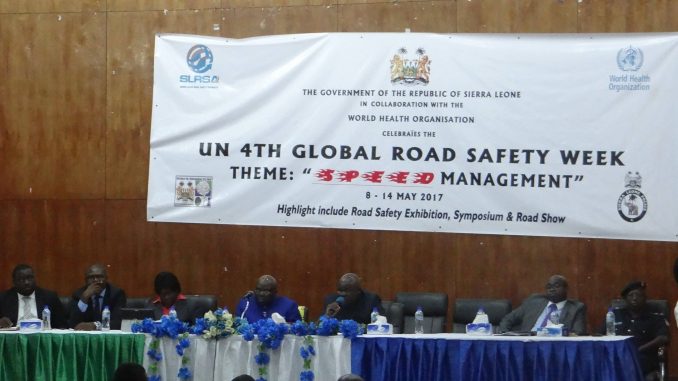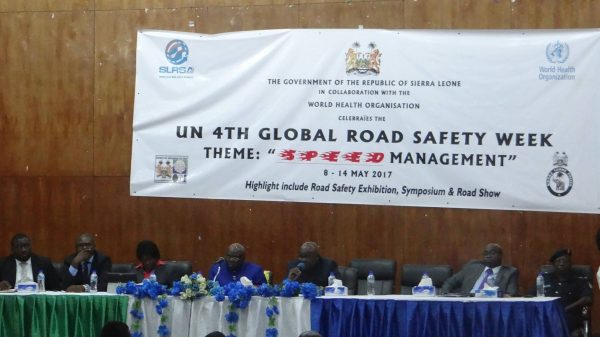 By Abdul R. Bedor KamaraThe Sierra Leone Road Safety Authority (SLRSA) on Tuesday 9th May 2017 commemorated the 4th United Nations Global Road Safety Week with a three-day symposium, exhibition, road shows and interfaith services to develop a modern Road Safety Strategy and Action Plan of the theme; 'Speed Management-save lives, slow down.'
The event was held at the Miatta Conference Center, Brookfields, Freetown.
Transport and Aviation Minister, Leonard Balogun Koroma stated that deaths are a tragedy for all affected while injuries cause suffering, economic loss and life changing misfortunes in society adding, "injuries also results to financial losses to individuals and families, as in many cases, not mitigated by adequate insurance coverage or safety nets, therefore families may lose their only breadwinner or left with very high healthcare bills."
According to the Transport Minister, quoting the 2015 World Health Organization Global Road Safety Report, 'the Global Status Report on Road Safety 2015, reflecting information from 180 countries indicates that worldwide, the total number of road deaths has plateaued at 1.25 million per year, with the highest fatalities in low-income countries."
He explained that road crashes and fatalities are as a result of the attitude of drivers and motorists, over-speeding, drivers' fatigue especially truck/lorry drivers, poor road conditions and poorly maintained vehicles among others underscoring that most of the harm and cost is avoidable and is not an inevitable consequence of road transportation noting, "government holds the view that further policies are required to strengthen the existing ones even though the agencies have tried their level best in implementing them."
The Minister reiterated that the attitude of drivers and motorists has mostly been negative and alarming in pursuit of road safety over the period which is of major concern to government, one of the main reasons for the commemoration of the UN Global Road Safety Week to address key factors to promote road traffic deaths and injuries affirming, "road safety is a shared responsibility and it has to be based on co-operation and co-ordination by all the state agencies, the general public and the private sector working together at every level- national, regional, local and community to develop effective and innovative road safety initiatives and interventions. Road safety is also the responsibility of every road user to ensure their own personal safety and to make a contribution to the safety of others through responsible road use."
Leonard Balogun Koroma further stated that the government has created the enabling environment that would support activities and programs that promote road safety precautions like the establishment of the Road Maintenance Fund Administration (RMFA) by an Act of Parliament in 2010 with the mandate to manage and utilize funds for the maintenance of the national road network in the country in collaboration with its principal implementing partners reiterating that SLRSA and RMFA are concerned about the need to improve road safety.
He disclosed that SLRSA is the leading agency responsible for developing and implementing programs aimed at reducing road crashes to actualize the UN Decade of Action by 2020 which has established, among others, functional team enforcers known as the Road Safety Corps and modern facilities to test the roadworthiness of vehicles.
Leonard Balogun Koroma also disclosed that it is almost five years since the launch of the Decade of Action for Road Safety which has five targets for accident reduction by 2020: building road safety management capacity; improving the safety of road maintenance and boarder transport networks; further develop the safety of vehicles; enhance the behavior of road users and improve post-crash care reiterating, "the government has been making strides in meeting these targets through the established authority, the Sierra Leone Roads Transport Authority that has improved over the years not just by change of name but in terms of developments and achievements by all indications including infrastructural not only in Freetown but also the provincial towns that has created massive awareness about road safety.
He continued that road safety was also recognized as part of the United Nations 2020 Agenda for Sustainable Development adopted in September 2015 included in two of the Sustainable Development Goals (SDGs) 3 in ensuring healthy lives and promote the well-being of all ages highlighting that by 2020, the number of global deaths from road traffic accidents should reduce by 50%; SDGs 11; make cities and human settlements inclusive, safe, resilient and sustainable as all governments should ensure access to safe, affordable and sustainable transport systems for all; improve road safety notably by expanding public transport system with special attention to the needs of the vulnerable.
He concluded that in 2013, the National Road Safety Policy/Strategy was launched that identified five thematic areas similar to the pillars for the Decade of Action for Road Safety as guidelines for effective planning and management of road safety interventions in the country taking cognizance of three major domains- pre-crash, crash and post-crash interventions.
Dr. Sarah Finda Bendu, SLRSA Executive Director, disclosed that the Authority has highlighted several activities that commenced with a highway patrol to check the behavior of drivers, symposium and exhibition and continued that the week focused on speed and what can be done to address this key risk factor that results to deaths and injuries as well as increase understanding of the dangers of speed and generate actions and measures to address it to save lives.
She also encouraged all stakeholders and the general public to plan and host events marking the week as speed has a positive effect on mobility in terms of reducing transport time but impacts negatively on road safety affecting both the likelihood of road crashes and the severity of its consequences pointing out, "speed also has adverse effects on levels of environmental and noise pollution and the 'liveability' of urban areas."
Dr. Bendu further stated that the 2017 UN Global Road Safety Week focuses on Speed Management which seeks to increase broader understanding of why speed is a risk factor in road traffic crashes and injuries and the importance of tackling it with a range of different measures underscoring, "to successfully promote, design and implement a management programme, it is important to understand the role of speed in road traffic crashes and the relationship between speed and the severity of those crashes."
She said that an adult pedestrian has less than 20% risk of dying if struck by a car travelling below 50 km/h but almost at risk of dying if hit at 80km/h has 60% certainty of dying.
Dr. Sarah Bendu further reiterated that the higher the speed of a vehicle, the greater the stopping distance required and hence the increased risk of a road traffic crash as when travelling at 80km/h on a dry road it takes around 22 metres to react to an event and a total of 57 metres to come to a standstill while at 50km/h it takes around 14 metres articulating that speed management encompasses a range of integrated measures that together bring road users to a safe speed and consequently reduce the number of road traffic crashes and the serious injuries and deaths that can result from them in addition to the need for enforcement, engineering and education as more widespread the measures particularly enforcement stressing that the greater the range severity and implementation of sanctions against speeding the more compliance would result.
According to the SLRSA Executive Director, to achieve wide public acceptance of enforcement, speed limits need to be appropriate and recognized and that the approaches include building or modifying roads to include features that calm traffic; establishing speed limits appropriate to the function of each road; enforcing speed limits and raising awareness about the dangers of speeding.