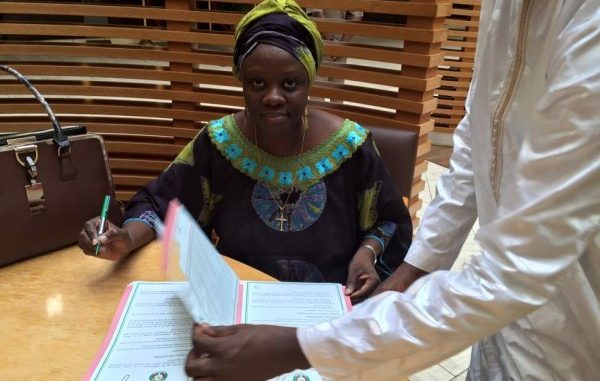 By Anthony Bangura–
Hon. Minister of Social Welfare, Gender & Children's Affairs Dr. Sylvia Olayinka Blyden is now leaving Nigeria and heading back to Sierra Leone. This follows 3 days of successful technical and political meetings at the ECOWAS Headquarters in Abuja.
During her official visit to ECOWAS, Hon. Dr. Sylvia Blyden has signed an agreement with the President of the ECOWAS Commission Marcel Alain De Souza, for the sum of approximately Le450,000,000 (four hundred & fifty million leones) that ECOWAS is going to send to the office of the Minister of Social Welfare, Gender & Children's Affairs to be applied towards seeking the welfare of Ebola-affected citizens.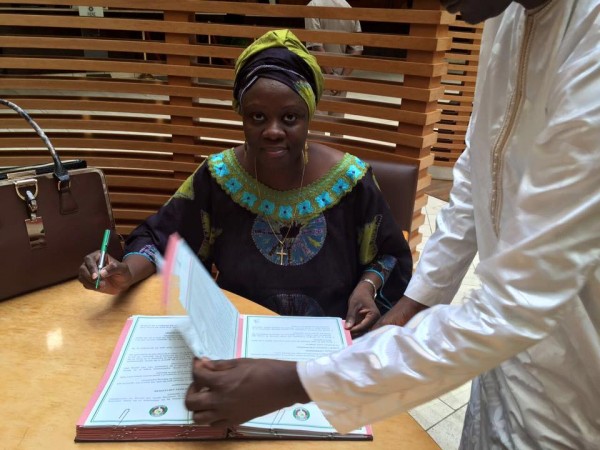 Accompanied by Mr. Sahr Paul Fomba, the Director of Planning & Programmes of her ministry, the Honourable Minister also engaged officials of the Spanish Government, NEPAD and ECOWAS on how to bring back on track, a proposed pilot programme for funding of empowerment of rural Sierra Leone women through assistance of rural business entrepreneur efforts. That program, now valued at around €270,000 (two hundred & seventy thousand Euros) had been derailed by the 2014 Ebola outbreak and even following the end of the Ebola threat, other issues had affected the full implementation. The programme is now back on track with the ministry encouraged to achieve certain milestones for disbursement to commence.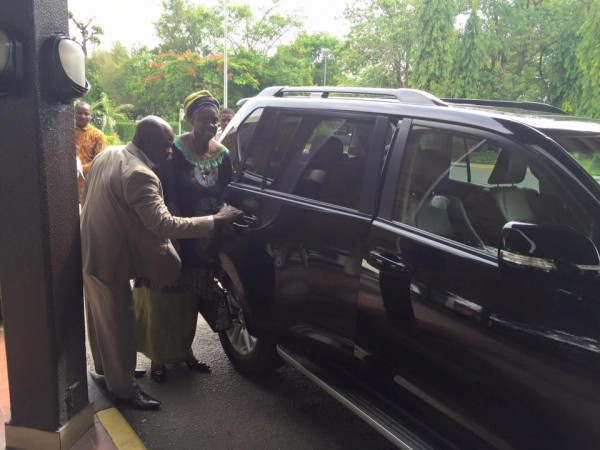 Hon. Dr. Sylvia Blyden had special high commendation for Hon. Dr. Fatimata Dia-Sow, the ECOWAS Commissioner responsible for Social Protection and Gender issues whom NEPAD and Spanish officials praised as being one who lobbied for Ebola-affected Sierra Leone not to be dropped from the Spanish-NEPAD funded financing support despite the time constraints and delays caused by Ebola disease outbreak.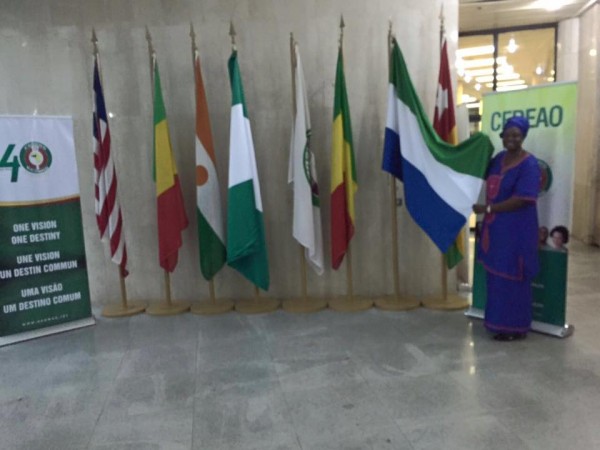 Hon. Minister Blyden also took time off her ECOWAS Meetings to visit with officials of the Sierra Leone High Commission including Sierra Leone's top diplomatic envoy in Nigeria, Her Excellency Haja Afsatu Olayinka Kabba.
It will be recalled that Hon. Dr. Blyden left Sierra Leone on Tuesday 7th June 2016. She is expected back at Lungi Airport on Saturday afternoon as she will be spending this (Friday June 10th) night in transit through Accra, Ghana. There are no direct flights between Nigeria and Sierra Leone.
On arrival in Sierra Leone, the very next day of Sunday June 12th, Hon. Dr. Blyden has consented to grace the annual Thanksgiving Service of ZONTA Women in Freetown where she is the Distinguished Grand Chief Guest.
Hon. Dr. Sylvia Olayinka Blyden will be back at her desk first thing Monday morning to continue to faithfully and loyally serve His Excellency President Dr. Ernest Bai Koroma, the Government & People of Sierra Leone.
Feel free to share this update with the accompanying photographs.
© SEA MEDIA PROMOTIONS