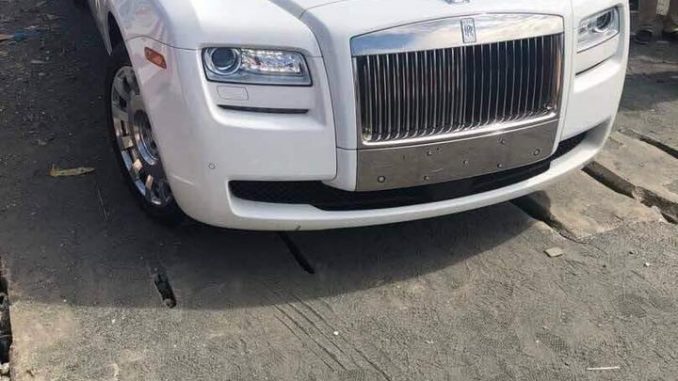 By KABS KANU :
The city of Freetown is buzzing with speculations about a mystery, extremely  expensive Rolls Royce luxury car that was offloaded at the Queen Elizabeth 11 Quay yesterday.
The big, gleaming limousine , the kind  that would be owned only by the British royal family or rich celebrities soon attracted lots of curious onlookers and photos of the limousine soon appeared on social media, with Sierra Leoneans wondering who would have imported such a very expensive car at a time when extreme poverty and starvation are looming in the country due to the near-collapse of the economy under the new Sierra Leone People's Party ( SLPP ) Government led by President Maada Bio.
Could it have been imported by a government official  in a nation where there has always been an outcry over wasteful spending by politicians and public officials, many people asked . With tongues wagging and social media also buzzing, many suggestions were proffered by Sierra Leoneans.
Some said that the limousine was imported by President Maada Bio because "According to reliable source this vehicle was cleared from a special letter from State House at the Sierra Leone Port Authority this evening. In fact state House security guards came to escort it from the sea Port to the Presidential Lodge, " one of them wrote on Facebook. But these allegations remained unsubstantiated until this morning.
Now, speculation is leaning towards the possibility that the limo may have been imported by a successful businessman or a Lebanese resident. Sierra Leoneans holding this opinion state that there are very rich people in Sierra Leone who have built mansions that are more expensive than this limousine and could afford to buy such a car.
As should be expected in present day Sierra Leone, the issue of the mystery Rolls Royce was soon politicized , with opposition APC  supporters trying to create suspicions that the limousine may have been bought by a ruling SLPP  operative which would directly contradict the hoopla the government had been creating since it came to power in March over corruption and wasteful spending.  SLPP  supporters at the same time tried to deflect these suspicions by contending that there are  private citizens  rich enough to procure the Rolls Royce.
This SLPP stance is clearly  hypocritical, because,   interestingly , if it had happened seven months ago when the APC  was in power, SLPP  supporters would have been at the forefront of speculating that the car was bought by a government official and they would have been more vigorous in denouncing the idea of anybody in Sierra Leone going out of their way to purchase such a very expensive car at a time when people are suffering due to the hard times in the country. They would have put APC supporters on the defensive and even produced fake news reports that APC Government officials bought the car. Today, because they are in power, it is SLPP  supporters fighting to hush all speculations about the ownership of the car  and downplaying the significance of such a very expensive limo surfacing at the port at a time when there was extreme hardship in the land and people could hardly afford a square meal a day. They are the ones drumming it home that the car was imported by a private citizen. P0LITICS ….?
As we went to press, it has still not been ascertained who owns the mystery Rolls Royce. Many Sierra Leoneans say they are watching and waiting to see who would ultimately turn out to be the owner . SLPP Supporters would wish it is not a government official, or President Bio, as APC  supporters are speculating.
 WE BRING YOU BELOW SOME OF THE COMMENTS ON SOCIAL MEDIA FROM SIERRA LEONEANS :
Freetown Rolls Royce: The talk of a mysterious Rolls Royce car in Freetown Sierra Leone is refusing to leave social media. Some say it was brought in by a top government official. Others say it was shipped in by a business man.
Its a concern to many because the cheapest Rolls Royce car costs btw $ 315,000 to over $ 10 million. Rolls Royce cars are usually owned by wealthy renowned celebrities, personalities and royals. Not sure if we have such in Freetown.
Sierra Leoneans are concerned because a country still battling with poverty, illiteracy, hunger and under development will be shocked to see some one driving a car worth hundreds of thousands or more USDs, be it a private business man or not. If it belongs to a government official past or present, well its a case for the ACC. Thats my take. Peace.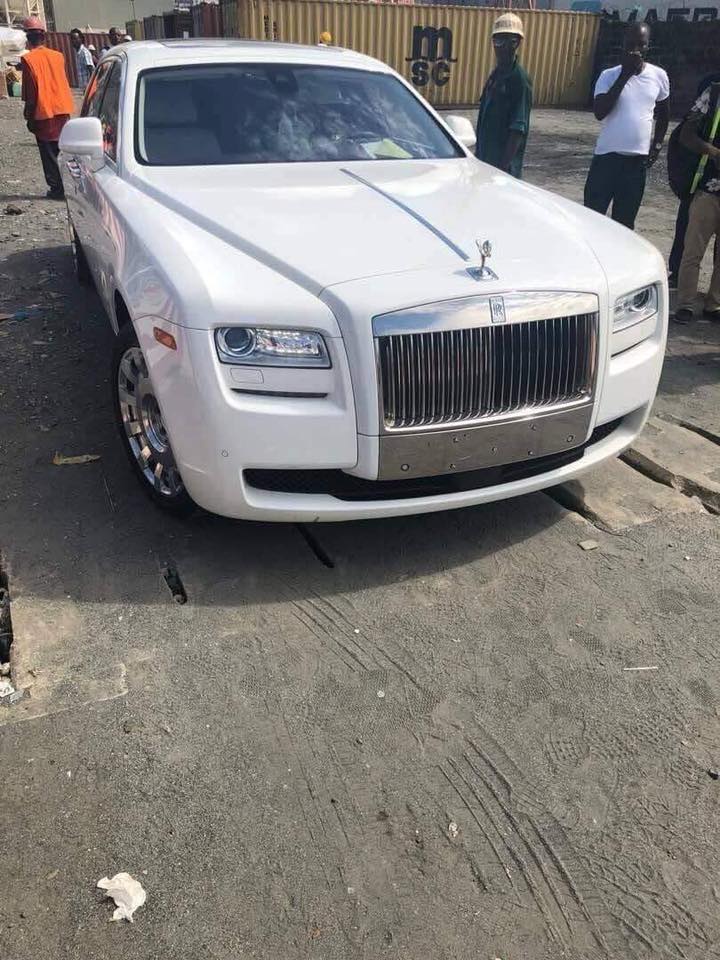 Mamu Al Conteh : Any one who can afford to buy this car, will definitely have no problem in paying the national duty to clear it. It makes no sense, especially when we all know how thieves and vandals cannibalise our cars when we ship them. The car is leaving the port. This is confusing.
Sesay Hafsat
Culled
CORRUPTION , CORRUPTION, OOOH SLPP! YOU GUYS HAVE DONE WELL FOR YOURSELVES!!!
PRESIDENT BIO' HENCHMAN, MR BABADI KAMARA WHO COULD HARDLY AFFORD TO PAY FOR A TAXI CAB NOW IMPORT 2018 ROLLS-ROYCE IN FREETOWN. WOULD THEIR TRASH COMMISSION OF ENQUIRY WITH THEIR TRASH NIGERIAN JUDGE COVER THIS??? OR DO WE EXPECT THEIR TRASH TRANSITIONAL COMMITTEE TO REPORT ON THIS. THIS IS THE NEW DIRECTION…