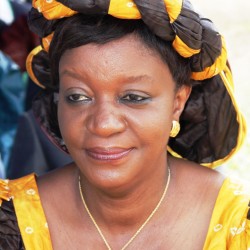 Project1808, Inc. in partnership with University of Wisconsin Madison African Studies, the Division of International Studies, Global Health Institute, Global Studies and International Studies Major, Human Rights Initiative ISS- Millennium Development Goals Awareness Project,School of Social Work, and the WUD-Distinguished Lecture Series are honored to present Mrs.Zainab Bangura , United Nations Under- Secretary-General and Special Representative on Sexual Violence in Conflict on November 6that the Great Hall, Memorial Union at 7pm on the UW-Madison campus.
Through actively engaging world leaders, rebels, militants, victims and communities in diverse regions of the world, Mrs. Bangura has been highly effective in bringing attention to the issues surrounding sexual violence. In June 2013, she was successful in garnering a UN Security Council resolution condemning its use in conflicts, such as war. Prior to her UN Position, Mrs.Bangura was the Minister of Health and Sanitation for the Government of Sierra Leone, and brings to the position over 20 years of policy, diplomatic and practical experience in the field of governance, conflict resolution and reconciliation in Africa. She was previously the second female Minister of Foreign Affairs and International Cooperation, including Chief Adviser and Spokesperson of the President on bilateral and international issues.
Mrs. Bangura has been instrumental in developing national programs on affordable health, advocating for the elimination of genital mutilation, managing the country's Peace Building Commission and contributing to the multilateral and bilateral relations with the international community. Mrs. Bangura's presentation on November 6 will focus on her work on sexual violence around the world, women's issues and human rights.
Her talk will be free and open to the campus and community. Please save the date and plan to attend. Mrs. Bangura will also give a public talk at noon the next day in room (Lubar Room), UW Madison Law School. Opportunities will exist to actively engage her in Q/A after her talks.