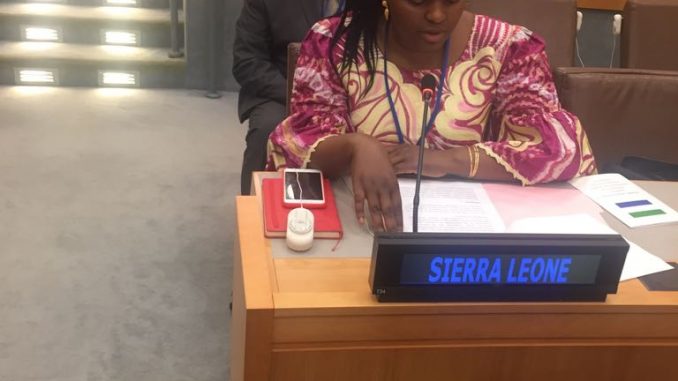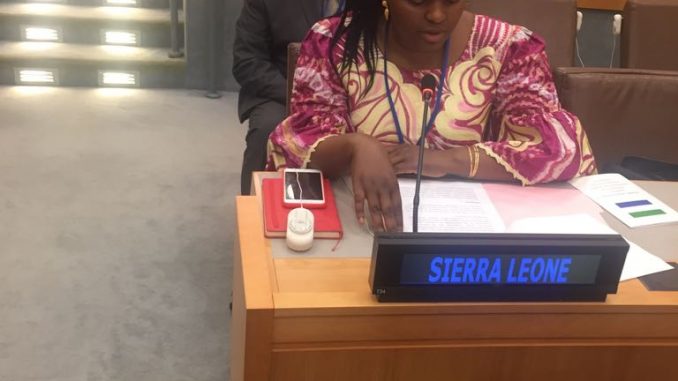 STATEMENT by HONOURABLE ISATA KABIA- Minister of State II, Ministry of Foreign Affairs & International Cooperation
at the Third Committee of the United Nations General Assembly
 Under Agenda Item: 28
"Advancement of Women"
 New York, 5th October, 2017
Chairperson,
Sierra Leone aligns itself with the statements delivered by the African Group, Ecuador on behalf of the Group of 77 and China.
While noting the tremendous efforts that have been made at the national, regional and global levels to ensure gender equality and mainstream gender perspectives into all policies and programmes, we also acknowledge the continued challenges regarding discrimination against women which are still pervasive and continue to undermine efforts towards women's full participation and inclusion.
Sierra Leone commends the Secretary General for his report on the advancement of women. We continue to recognize that in particular, violence against women is both an obstacle to, and a consequence of, the suppression of the advancement of women.
Chairperson,
The need to invest in women's development in our present day aspiration for global, regional and national development cannot be overemphasized.  Sierra Leone will continue to uphold the relevant protocols relating to women's empowerment, including the Declaration on Gender Equality, as well as and the Campaign to end Violence against Women.
In 2009 Sierra Leone developed a National Action Plan to fully implement the provisions of Resolution 1325 and 1820. In the Sierra Leone Peace building efforts, a new mechanism that was created to ensure systematic attention and resources to advancing gender equality within transitional recovery, reintegration and construction efforts.
Allow me to reiterate the Government of Sierra Leone's firm determination to reducing the gender gap, through the initiation of the twin policies of gender mainstreaming and the Advancement of Women aimed at eliminating gender discrimination, the Government of Sierra Leone continues to implement relevant policies including but not limited to:
The Domestic Violence Act 2007, Devolution of Estates Act 2007, Registration of Customary Marriage and Divorce Act 2007, Child Rights Act 2007 and the Chieftaincy Act 2009. In addition, the Sexual Offences and Matrimonial Causes Bills are at an advanced stage for their enactment into law. In view of the challenges that abound especially following the outbreak of the Ebola in 2014 that adversely affected among other things, Sierra Leone's Government free health care programme for pregnant women, lactating mothers and children under the age of  five year, we continue to intensify our efforts in such areas as maternal and childhood mortality. We look forward to sustained cooperation and partnerships in mobilizing the required resources to ensure progress at all levels.
Chairperson,
My delegation wishes to emphasize the need for renewed commitment to issues of empowerment of women which can hardly be achieved without economic empowerment. As it were, developing and driving solutions that enlarge Women's opportunities to meet with the sustainable development trends cannot be overstated.
To this end, let me reiterate the position of the African Group in highlighting the importance of building structures that promote the advancement of women, prioritizing inclusive and sustainable industrialization as well as transfer of technology and access to markets which remain extremely critical. We therefore appeal to Office of Development Assistance (ODA) to accelerate efforts in mobilizing resources to capacitate the new development agenda and other internationally agreed development agendas targeting women.
I thank you for your kind attention.