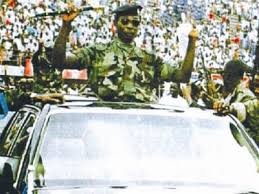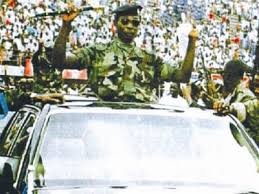 Wednesday April 27, 2005
Former Chairman of the National Provisional Ruling Council ( NPRC) Valentine Strasser will steal the limelight from the politicians on Saturday when he declares his intentions to contest the 2007 Presidential Elections.  Strasser is holding a big Press conference at the Stop Press Restaurant owned by the publisher ofThe Democrat newspaper, Pios Foray.
Strasser will be the second leader of the discredited NPRC  to throw his hat in the ring. The man who overthrew him, Julius Maada Bio , has already announced his desire to also contest the presidency in 2007. Many journalists from media houses in Freetown have been invited to the ceremony.
Strasser was the most senior officer  of the soldiers who staged the military coup that overthrew the then ruling All People's Congress ( APC ) in 1992.He became the youngest head of state then at 27 .But after ruling for three years, he was overthrown in 1995 by his deputy, Maada Bio , who accused him of planning to transform himself into a civilian President by highjacking the then scheduled 1996 General Elections.
Bio himself stalled and planned to hold on to power indefinitely  , once he entered State House, but stakeholders Britain , the U.S. and many other members of the international community forced him to stage the 1996 Elections and hand over to the present SLPP government who were adjudged winners.
Strasser had his UN scholarship withdrawn  while studying Law at Warwick University in England and the British government deported him because of the human rights abuses committed by the NPRC  during his leadership. Bio, fortunately, got by , staying in the U.S. and studying for his Bachelor's and Masters degrees. Why both  ex-soldiers think  that they are the answers to the country's problems at this time remains a mystery.