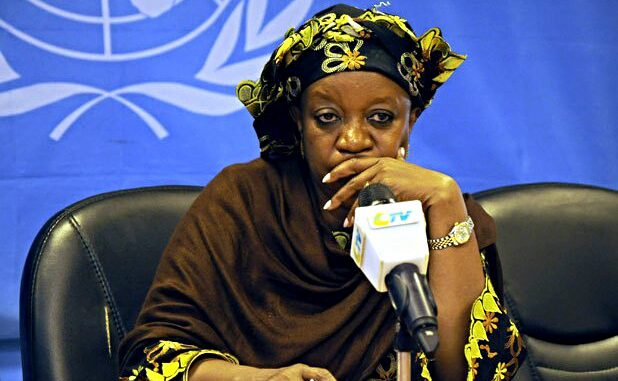 THE ISLAMIC State (ISIS) is sending the 'prettiest virgins' it has abducted to some of Syria's markets to sell them SEX SLAVES.
Young girls have been stripped and handed over naked to slave bazaars, according to Zainab Bangura from the United Nations (UN).
She discovered the extent of ISIS's cries against young women after getting information from Syria, Turkey, Lebanon and Jordan.
The Special Representative on Sexual Violence in Conflict said: "Women and girls are at risk and under assault at every point of their lives."
A report from Human Rights Watch found 'systematic sexual crimes' had been carried out against women and girls from Iraq's Yazidi minority – and now Ms Bangura said some are sold naked in cities such as Raqqa and Mosul.
The buyers take three or four girls each and keep them for a couple of months before they get bored. Then they are sold again.
Ms Bangura visited the Middle East last month and met women who had escaped ISIS and survived sexual violence.
She said: "We heard of one girl who was traded 22 times, and of a leader who had written his name on the girl's hand to show that she was his 'property'.
"Tens of thousands of the ISIS members expect that they will [get] women to [marry] following their recruitment."
There have also been reports of mass rapes carried out by ISIS jihadists.
Ms Bangura also said ISIS militants had burned a young girl alive after refusing to carry out what she described as "extreme sexual acts".She also said that some young women had their headscarves taken away after some of them used them to commit suicide.In April more than Yazidi 200 women and girls who had been held hostage after being taken last June were released.Among them was a pregnant nine-year-old girl who had been sexually abused by 'no fewer than' ten men.One Yazidi girl, known as Hanan, who had been kidnapped by jihadists near Mosul, said ISIS had taken girls as young as 10 as sex slaves.An article titled "The revival of slavery before the hour" in ISIS online magazine Dabiq outlines the group's perverted reasoning and guidelines for the enslavement of Yazidi women.

It said: "One should remember that enslaving the families of the kuffar (infidels) and taking their women as concubines is a firmly established aspect of Sharia."