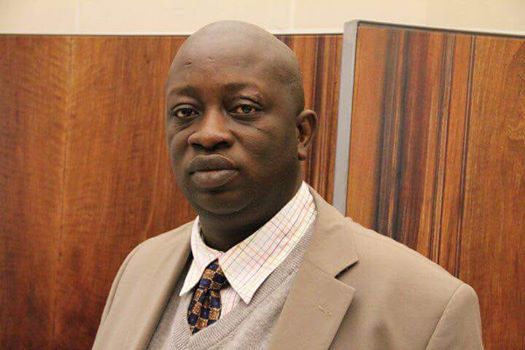 By KABS KANU :
One of the lifeblood of the All People's Congress ( APC ) media machine, who was also Minister Plenipotentiary and Press Attache at the Sierra Leone High Commission in the United Kingdom , Sorie Sudan Sesay , died suddenly in London yesterday. Sorie Sudan was also Publisher of the Sierra Update magazine and newspaper. He was 49.
The sad news of Sorie Sudan's death hit the social media yesterday afternoon ( though this Publisher had a missed call and greeting from him at Whatsapp at 1 : 37 pm on Saturday , discovered only after his death had been announced ) .
The news devastated members of the dethroned APC  and his former media colleagues and Sierra Leoneans in general, who expressed their shock, dismay and grief in the social media.
PUBLIC NOTICE
The Sesay family at home and abroad regrets to announce the sudden death in London of their son, brother and husband, the late SORIE SUDAN SESAY; who until his death was the Information Attache and Minister Plenipotentiary at the Sierra Leone High Commission in the United Kingdom.
The late Sorie Sudan Sesay died on Sunday June 18, 2018 at age 49.
Funeral arrangements will be announced later.
For further information, please contact the following numbers:+23276389323/+23277469957/+23230167726/+2327753751
SAD BREAKING NEWS:
Inna Lillah Wa Inna Ilaihi Raajioon
A highly respected Sierra Leonean Journalist/Diplomat has passed away in London.
Sorie Sudan Sesay reportedly passed away at the Royal Free Hospital in Hampstead London this afternoon.
Sudan, former Editor of the Freetown – based Independent Observer Newspaper, President of Sports Writers Association of Sierra Leone (SWASAL), Proprietor/Publisher of the widely read Sierra Update Newspaper and Magazine, Press Attaché to the Sierra Leone High Commission in the UK and lately Sierra Leone's Minister Plenipotentiary in the same Mission – a position he held until his death this afternoon.
Sudanese, as he was fondly called, was humble, patriotic, generous, friendly, forthright, and you name the other good qualities he had.
His demise is a not only a big loss to his family but the nation and journalism in Sierra Leone. He will be surely missed.
May Allah have mercy on him and make Janatul Firdaus his final abode… Ameen !
Sorie Sudan, you called me at 1:37pm yesterday and I missed your call. Only God knows what you wanted to tell me. This morning, you were gone. What a big blow and sadness you have left us.
You have left a void in our hearts that will never be filled.
May God grant you eternal rest.
I'm devastated! Very, very devasted. I've just lost a friend, brother, colleague in SORIE SUDAN SESAY, Information Attache, Sierra Leone Embassy, UK.
Rest in Peace, Sudan. I'll forever miss you!!